13 Reviews
Location:

York, United Kingdom

Duration:

Flexible
Step back in time and discover the darkest moments in Yorkshire's history with a visit to York Dungeon! With skip-the-line entrance, the ticket to the spooky walk-around attraction includes access to live shows, gripping rides and state-of-the-art special effects and staging. Learn of famous foes such as Dick Turpin and Guy Fawkes, and laugh at details of their exploits before they were caught. The top York attraction makes for a fun family visit; just prepare to be spooked!
Highlights
Skip-the-line York Dungeon ticket in central York
Enjoy an independent York Dungeon tour with theater actors, impressive stages and attractions
Step back in time and discover 2,000 years of Yorkshire's spookiest history
Come face-to-face with villains of bygone days such as Dick Turpin and Guy Fawkes
Prepare to be enthralled by stories that bring fascinating history to life
What You Can Expect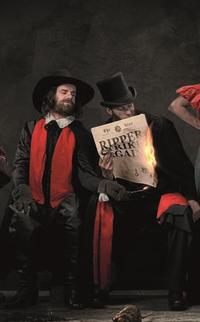 Head straight past the entrance lines outside York Dungeon with your skip-the-line ticket, and then step inside the exciting walk-around attraction to explore. Theater actors, special effects, stages and rides lurk around every darkened twist and turn so you can see, hear, touch, smell and feel York's murky past.

The dungeons take just over an hour to walk around, and the route covers some 2,000 years of dark Yorkshire history. Shows by actors are based on real-life events as well as freakish paranormal sights, but skip out any of the boring details. Learn about local legends such as Dick Turpin, the dashing English highway man who met his fate in York, and hear of Guy Fawkes and his cunning 'bonfire night' plan that backfired. State-of-the-art stages include the Golden Fleece Pub, where ghosts keep the drinkers company, and the Tudors room that features King Henry VIII on the war path.

Spine-chilling screams, moans and the clashing of steel are just a few of the sounds heard as you walk through the dungeons, learning all about the paranormal, strange, and downright spooky occurrences that have happened in Yorkshire throughout history.

A full list of York Dungeon's attractions can be seen in the Itinerary below. Please note that these attractions are subject to change.
Itinerary
Dick Turpin:
The highwayman Dick Turpin remains a legend and a villain to this day; that's quite an achievement for a convicted criminal who died some 300 years ago! In the late 18th century, Dick Turpin rode through the streets of York in an open cart to face his death. Hear his story as he vividly recounts tales of his infamous adventures before he hurls himself from the gallows.

So, what exactly did Dick Turpin do to deserve his renowned reputation and an immortal existence in folklore? After humble beginnings, Dick Turpin joined the 'gregory gang' and entered a world of criminality. He became revered in London for his daring raids, and then withdrew to tranquil Yorkshire to escape the law. Discover how he terrorized Londoners, shot a pursuer dead and was eventually caught and hanged in York.

Ghosts of York:
A creepy whistle rides on the cold air about York. The most haunted city in England is creaking to life as the shadows loom and sinister wails grow louder. A feeling of resentment and anger surrounds you as you begin to sense a ghostly presence. Suddenly, out of the darkness, a pale figure appears before you... will you hold your nerve or run for your life?

Gorvik:
The image of horned helmets, impressive beards and giant steel weapons still strike fear into the heart of the British when remembering the Viking's bloodcurdling invasions. The fearsome Nordic warriors arrived on huge longboats and started to raid villages with a ferocity that became legend. The city of York's history is tainted by the Vikings, and the true horror they inflicted is explained at York Dungeon. Prepare to be shocked and appalled at the merciless, bloodthirsty truths behind the Vikings that are laid bare inside the dungeons.

Guy Fawkes:
'Remember, remember the 5th of November; gunpowder, treason and plot!' Follow the explosive story of Guy Fawkes, from his traitorous plotting to destroy king and parliament, to the terrifying moment he was captured and his subsequent torture and execution.

Implements of Torture:
Prepare for a shock as a mischievous torturer tries to put the fun back into pain. Stretch your imagination with some back-breaking interactive torture treatments, and laugh until your head is about to fall off!

Judgement of Sinners:
The 18th-century judge at this attractions knows exactly what you've been up to. The court isn't impressed and so the punishments are harsh! You might be left to languish in the rat-infested dungeon or alternatively, be given a gruesomely fun task to perform. Who the judge decided to pick on is left to be seen.

Labyrinth of the Last Roman Legion:
Enter the 'labyrinth of the lost' at your peril! Deep beneath York Minster, the labyrinth takes in recreated sights from the ancient fortress of Roman York and Emperor Constantine. Every treacherous turn takes you further into the hidden realm of the lost Roman legion. Will you ever get out?

The Plague:
York Dungeon hosts the return of the most devastating and horrifying disease Europe has ever seen. The plague wiped out over 24 million people — almost half of Europe's population at the time! Society was thrust into chaos as farms, schools and businesses were brought to a standstill. The disease spread through civilization, leaving corpses strewn throughout the streets and countryside. The channel washed ashore ghost ships, and churches were flooded with people seeking shelter and answers.

Walk through the death-filled streets of 14th-century York, and try to keep your head as the panic and horror infects everyone. Just be sure to keep your distance from the unfortunate, diseased inhabitants.
September 2015
Excellent value for money
September 2015
A great day was had by all. The attraction gives you a brief history of the City of York from the Romans to present day. The actors get the crowd involved which adds to a great experience that will not be forgotten.
June 2015
Alot cheaper than on the door, very funny. Worth a visit!!
March 2015
Very informative and funny!!!!
December 2014
Funny, jumpy, good entertainment, crowd involving and thoroughly enjoyed it
November 2014
Not really a dungeon. Actors were wonderful. Really involved the audience. learned all about torture.
August 2014
An audience participation trip back to ye olde York. Great trip back in time. Cant say anything else without spoiling it. You will laugh and you will get the odd scare. I give this 5 stars :)
February 2012
excellent friendly helpful staff
March 2015
Tour was good. Bit of a delay at start waiting for sufficient to begin. My boys are 9 and 7 and had heard about it from friends so I thought it may be too scary. They were scared but they loved it and at the end talked about it for hours to me and their friends. With the discount it was good value
September 2014
This wasn't as much fun as the London Dungeon because it wasn't as interactive. Many of the rooms were done using video and static figures rather than actors so it wasn't as amusing but still worth doing. It was better organised than the London Dungeon because we didn't have to line up for as long once we passed the ticket collection point.
Advertisement
Advertisement