Walk to soaring cliffs and alpine meadows on a private, guided hiking tour of Yosemite National Park. Tailor this 5- or 6-hour trip to your interests and ability, then find your perfect trail into the wilderness. Learn about the history and ecology of the High Sierra as you walk alongside your guide, and find uncrowded paths in the heart of the park. Enjoy a backcountry picnic and discover stunning views of the Yosemite Valley or High Country, or challenge yourself to take on a longer hike with more elevation gain.
Highlights
Private guided hiking tour in Yosemite National Park
Take a hike that is suited to your family or group's experience level and interests, led by an experienced guide
Learn about the natural history and ecology of Yosemite and the Sierra Nevada

Get away from the crowds and hike 'secret trails' with the insider knowledge of your local guide
Stop for photographs and rest breaks at some of the most scenic spots in the park
What You Can Expect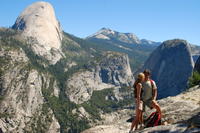 You'll meet your experienced guide at the trail and set out to see Yosemite from a different perspective. Every tour is designed to take advantage of the best locations available at the time of your visit, with an effort to avoid the crowds, even at the height of the summer season.

Travel along less-visited trails with your expert guide, getting an incredible experience of the forest, waterfalls and meadows around Yosemite Valley. You'll gain a deeper understanding of the Yosemite wilderness while your expert guide provides security and safety on the trail. Your guide will also be available to take photos of your group so that you have amazing shots from your day out in Yosemite!


Choose from two options for your family or group:

Beginner Hike
Enjoy a pleasant half-day hike on a gentle trail in Yosemite Valley or the High Country with excellent photo opportunities. You'll have a picnic at a scenic site, either a magnificent vista point or alongside a meadow, lake, or stream. Expect to hike four to five miles with minimal elevation gains on a tour that lasts approximately five hours.

Moderate Hike
You'll escape from the crowds and take some of Yosemite's most scenic trails a little further during a hiking tour that is perfect for novice hikers who want a bit more of a challenge. Expect to hike five to six miles with elevation gains up to 1000 feet (305m) on a tour that lasts approximately six hours.

August 2015
Scenery was incredible. Nice to get away from the madding crowd...
Mindy, our guide, was lovely. Knowledgeable, interesting, engaging and fun. Could and should have repeated the guided walk. Would HIGHLY recommend.
June 2015
Matteo was absolutely awesome.
Lots of fun and interesting info.
He was conscious of our pace and allowed us plenty of time to explore and recharge.
The views were breath taking, his demeanor was very approachable. He tailored his presentation to our interests.
Nothing but praise for Matteo.
May 2015
Our guide was very knowledgable about the park and gave us lots of information .
Advertisement
Advertisement