Location:

Yosemite, California

Duration:

5 hours

(approx.)
Discover Yosemite National Park on a private, 5-hour tour with a naturalist guide, and customize your day to your fitness level and interests. Walk through meadows that explode into a profusion of wildflowers, and spot the monkey flowers, lupine and Indian paintbrush that ignite the High Sierra. Birdwatchers can hunt for the park's 265 bird species at a series of diverse habitats, listen for the calls of vireos and tanagers, and watch for the sharp-shinned hawks and peregrine falcons that soar high above the Yosemite Valley.
Highlights
5-hour private Yosemite nature tour, led by a naturalist guide
Explore Yosemite National Park's wildflower meadows by foot or drive in search of diverse birdlife
Take photos of the stunning landscape or search for target bird species that inhabit the Sierra Nevada
Learn about Yosemite's natural history from a local expert
Customize the private tour to suit your interests
What You Can Expect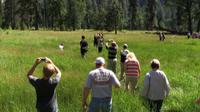 Meet at a prearranged location in Yosemite National Park in the morning for your 5-hour private tour, which can be customized to suit your fitness level and interests. You'll be greeted by your guide, a local expert in the region's natural history with more than two decades of experience leading tours in the Sierra Nevada. 

Camera in hand, walk with your guide through Yosemite's meadows, whose diverse wildflowers attract pollinators and nature lovers alike, or hop in your own car and follow your guide in search of prime bird habitat. Along the way, your guide shares knowledge of favorite places and connects you with Yosemite's ecosystems. (See tour options below.)
Stop frequently to rest, learn about your surroundings, and fuel up with your pre-packed snacks, water and lunch (own expense). Then continue exploring the meadows, fields and forests of Yosemite before your tour ends at the starting point.
Wildflower Walk

Yosemite is home to several unique species of wildflowers, which blanket the Sierra Nevada throughout spring and summer. With dynamic shifts in elevation, Yosemite is the perfect place to watch the progression of flowers as they move from the foothills to the high country. Hike with your guide to a region of the park with abundant blooms. Depending on the season, you may identify different species, including monkey flowers, tiger lilies, Indian paintbrush, shooting starts, asters, buttercups and lupines, each enchanting you with their brilliant displays of color and lovely scents.


Birdwatching Outing

If you love watching birds through your binoculars, you'll enjoy spotting some of Yosemite 's 262 species of birds, including 165 resident and migratory species, as you tour some of the park's most productive habitats. Drive your own vehicle, following your guide to locations where feathered friends are commonly spotted, and enjoy long stops at each site. The tour can be modified to search for certain target species, or to account for shifting bird populations. You might observe flocks of warblers, vireos, flycatchers and tanagers forage for insects, seeds and berries; listen to various birdcalls and songs; or learn about raptors like the sharp-shinned hawk and the elusive peregrine falcon.
Please note: A minimum of two people per booking is required.
Advertisement
Advertisement