Outdoor enthusiasts of every fitness and experience level can enjoy this amazing Yosemite hiking excursion. Choose from a beginner, intermediate, moderate, challenging or strenuous hike in Yosemite National Park to Sentinel Dome, Glacier Point, Cathedral Lakes, El Capitan, Clouds Rest or even Half Dome! You'll be away from the crowds for an intimate connection with your magnificent surroundings. Whether you are a beginner or an experienced hiker, you're sure to enjoy this trip of a lifetime.
Highlights
Hiking excursion in Yosemite
Follow your guide on an epically beautiful hike through Yosemite National Park
Choose a beginner, intermediate, moderate, challenging or strenuous hike
Soak up amazing views of Glacier Point, El Capitan, Cathedral Lakes, Yosemite Falls and more
Cross Half Dome off your bucket list!
All experience levels welcome
What You Can Expect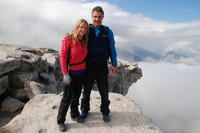 Depending on your fitness level and experience, choose a beginner, intermediate, moderate, challenging or strenuous hike. Your exact trailhead departure point in Yosemite National Park will be confirmed after booking.
Meet your expert hiking guide at 8:30am and get ready for an amazing hiking adventure! Be sure to bring plenty of water to keep yourself hydrated.
Itinerary
BEGINNER HIKE
These introductory hikes are perfect for beginners and those looking for a calmer, slower, less rigorous experience. Enjoy a pleasant walk along a gentle trail in Yosemite Valley or High Country, offering excellent photo opportunities and a chance to picnic atop a scenic lookout point or alongside a meadow, lake or stream.
Several possible routes may take you to Yosemite Falls, Mirror Lake, Sentinel Dome and Taft Point or May Lake, which sits directly below Mt Hoffman's summit.
Distance: 4 - 5 miles (6.5 - 8 km)
Time: 4 - 5 hours
Elevation gain: Minimal
MODERATE HIKE
The moderate hike is easier than the intermediate hike, but is still good for beginners and those looking for a relatively less rigorous experience. Several possible routes may take you to Yosemite Falls, Inspiration Point, Lembert Dome and Dog Lake, Sentinel Dome and Taft Point, Wapama Falls or Hetch Hetchy.
Distance: 5 - 6 miles (8 - 9.5 km)
Time: 5 - 6 hours
Elevation gain: Up to 1,000 feet (305 meters)
INTERMEDIATE HIKE
Longer than a moderate hike with more dramatic elevation gains, intermediate hikes are ideal for more experienced hikers who want a different perspective of the distinct character of Yosemite Valley and High Country.
Achieve new heights on some of Yosemite's most scenic trails to Vernal Falls, Glacier Point, Taft Point, Sentinel Dome, Dewey Point or May Lake.
Distance: Up to 8 miles (13 km)
Time: 6 - 7 hours
Elevation gain: Up to 2,000 feet (610 meters)
CHALLENGING HIKE
Experienced hikers, fitness enthusiasts and courageous adventures will love this challenging, physically demanding hike. You'll be rewarded with incomparable views and a greater sense of accomplishment as you hike to Upper Yosemite Falls, Mt Hoffman, North Dome, Cathedral Lakes, Nevada Falls or Glacier Point.
Distance: Up to 10 miles (16 km)
Time: 7 - 8 hours
Elevation gain: Up to 3,000 feet (914 meters)
STRENUOUS HIKE
Test your boundaries with this ultimate Yosemite hike along the most physically demanding terrain in Yosemite. Embark on a journey of self-discovery during this hiking experience and be rewarded with panoramic views as incomparable as the sense of achievement you'll feel.
Hike to Waterwheel Falls, El Capitan or Clouds Rest, or make the epic journey up Half Dome! These advanced tours encounter steep elevation gains and are for adventure travelers with extensive hiking experience and/or physical training. It is recommended that you train seriously for this hike.
Distance: More than 15 miles (29 km)
Time: 7 - 10 hours (Half Dome may take longer)
Elevation gain: Up to 5,000 feet (1,524 meters)
July 2015
The trek was hard as the initial description identified. IT was well worth it to finish and gain that sense of completion even through the rain and snow yes in July. The ends justified the means and we were both very happy to have made it to the top. To see the valley and panoramic views from that vantage point was truly awe inspiring. Thank you
June 2015
Beautiful views . Great family bonding. Tour guide was awesome. Full of knowledge, fun facts, very nice upbeat personality.
December 2014
October 2014
This trip was really a wonderful experience and undoubtedly made so by our guide Jade Wolff.
She was able to explain many facets of our trip such as geology, flora and fauna, together with the historical development of the park, with her obvious passion for the environment in which she lived.
Full marks to Jade for a very informative and enjoyable day.
September 2014
We drove to Yosemite Park as part of a 3 week honeymoon visiting the United States from England and the hike was a real highlight. The views on the walk were amazing and our guide Matteo was really knowledgeable and passionate about the nature and history of the park. We wouldn't have gotten half out of the experience had we gone on the walk independently so we'd like to say a big thanks again to Matteo. We would highly recommend the hike and we will definitely be visiting Yosemite again.
August 2015
A great experience, we completed the intermediate hike, which was around 8 miles. The guide Gabe provided lots of interesting information and was happy to answer any questions. Yosemite is breathtaking. Leave plenty of time to arrive at meeting points.
Advertisement
Advertisement