Explore the stunning trails of Yosemite National Park on this guided hiking excursion. Select a specific hike for your skill level, with options ranging from beginner to strenuous, and enjoy the views from Glacier Point, Sentinel Dome, El Capitan, Half Dome and more. Immerse yourself in the natural wonders of this renowned landscape as you hike in the fresh air. An experienced guide will provide insightful commentary along the way.
Highlights
Hiking excursion in Yosemite
Follow your guide on an epically beautiful hike through Yosemite National Park
Choose a beginner, intermediate, moderate, challenging or strenuous hike
Soak up amazing views of Glacier Point, El Capitan, Cathedral Lakes, Yosemite Falls and more
Cross Half Dome off your bucket list!
All experience levels welcome
Recent Photos of This Tour
Yosemite Hiking Excursion
What You Can Expect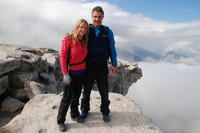 Choose a hike to best accommodate your experience and skill level, with options ranging from beginner to moderate to strenuous. You will meet your professional hiking guide at 8:30am in Yosemite National Park, and your specific trailhead will be confirmed post-booking.

Bring plenty of water regardless of the trail that you choose, so that you can keep hydrated along the way. A detailed list of hike options can be found in the Itinerary section below.
Itinerary
BEGINNER HIKE
These introductory hikes are perfect for beginners and those looking for a calmer, slower, less rigorous experience. Enjoy a pleasant walk along a gentle trail in Yosemite Valley or High Country, offering excellent photo opportunities and a chance to picnic atop a scenic lookout point or alongside a meadow, lake or stream.
Several possible routes may take you to Yosemite Falls, Mirror Lake, Sentinel Dome and Taft Point or May Lake, which sits directly below Mt Hoffman's summit.
Distance: 4 - 5 miles (6.5 - 8 km)Time: 4 - 5 hours Elevation gain: Minimal
MODERATE HIKE
The moderate hike is easier than the intermediate hike, but is still good for beginners and those looking for a relatively less rigorous experience. Several possible routes may take you to Yosemite Falls, Inspiration Point, Lembert Dome and Dog Lake, Sentinel Dome and Taft Point, Wapama Falls or Hetch Hetchy.
Distance: 5 - 6 miles (8 - 9.5 km)Time: 5 - 6 hours Elevation gain: Up to 1,000 feet (305 meters)
INTERMEDIATE HIKE
Longer than a moderate hike with more dramatic elevation gains, intermediate hikes are ideal for more experienced hikers who want a different perspective of the distinct character of Yosemite Valley and High Country.
Achieve new heights on some of Yosemite's most scenic trails to Vernal Falls, Glacier Point, Taft Point, Sentinel Dome, Dewey Point or May Lake.
Distance: Up to 8 miles (13 km)Time: 6 - 7 hours Elevation gain: Up to 2,000 feet (610 meters)
CHALLENGING HIKE
Experienced hikers, fitness enthusiasts and courageous adventures will love this challenging, physically demanding hike. You'll be rewarded with incomparable views and a greater sense of accomplishment as you hike to Upper Yosemite Falls, Mt Hoffman, North Dome, Cathedral Lakes, Nevada Falls or Glacier Point.
Distance: Up to 10 miles (16 km)Time: 7 - 8 hours Elevation gain: Up to 3,000 feet (914 meters)
STRENUOUS HIKE
Test your boundaries with this ultimate Yosemite hike along the most physically demanding terrain in Yosemite. Embark on a journey of self-discovery during this hiking experience and be rewarded with panoramic views as incomparable as the sense of achievement you'll feel.
Hike to Waterwheel Falls, El Capitan or Clouds Rest, or make the epic journey up Half Dome! These advanced tours encounter steep elevation gains and are for adventure travelers with extensive hiking experience and/or physical training. It is recommended that you train seriously for this hike.
Distance: More than 15 miles (29 km)Time: 7 - 10 hours (Half Dome may take longer)Elevation gain: Up to 5,000 feet (1,524 meters)
June 2016
Great days hiking, fantastic experience, with excellent friendly and very knowledgable guide in Stephanie, would recommend to others.

May 2016
It was a fabulous experience. The tour guides were attentive and knowledgable and they took great care of me as I was having some issues with the altitude. They allowed me to take my time and showed me better ways to deal with the challenges I was having. Not only did I learn about the park from them , but on the second half of the hike the guides told us about the local flora and fauna AND showed us the best places to take gorgeous photographs including some I would never have known to take had they not shown them to me.
We had lunch in a beautiful meadow near the river before we hiked out to see El Capitan and some more of the beautiful waterfalls Yosemite has to offer this time of year.
Not only did the guides take care of me during the hike, they also made sure I had the right directions to get back to my hotel.
it was a truly enjoyable and worthwhile trip. I would highly recommend this tour to everybody.
April 2016
John is the best when it comes to hiking and knowledge about the whole Yosemite park. We enjoyed the hike and his experience helped my son and I overcome the fears we had related to the dangers there are when hiking on your own....specially when you have no experience. I recommend Yexplore to anyone.

April 2016
I had the best time on the tour, John was a great guide. He made sure to give me facts, history on the park, its indigenous people and names of the mountains. I had quite the adventure at the top of Upper falls, we walked into a snow storm and it quickly became the highlight of the hike. It was majestic being so high up a natural beauty and seeing the roaring falls within feet of you. I really enjoyed the fact that John took the time to take photos and capture those memories for me. I would highly recommend this tour for anyone that ones a catered trip and experience. I can't wait to get back out there and hike Yosemite again.
November 2015
It would be very hard not to be wowed by Yosemite, such a stunning place. Opting for a guided hike was a great option for me, received lots of interesting information and facts from my guide Jay, and he took me to the best spots around the route we hiked. We did an intermediate level hike, around 8 miles with 1300ft of climbing - you need to be reasonably fit, some of it was hard going, but all worth it when you get to the high spots, such as Sentinel Dome with a 360 degree view of the whole park. Amazing.

November 2015
Loved it. AMAZING views and Jay my tour guide was a really nice guy! Highly recommended.
November 2015
Wonderful tour, highly recommended
November 2015
This was fantastic! Our tour guide was called Tim, he was warm, friendly and so knowledgeable. He went at our pace and we never felt rushed. It felt like we had known each other years by the end of our hike. Definitely a must when visiting Yosemite, called speak highly enough of this! Would defo do again if we get the chance to return.
November 2015
A fascinating hike and breathtaking views. 4 hours in the company of Matteo was interesting and fun.
October 2015
Had a top day. Tim our guide was a great guy! The views of yosemite are incredible!
Advertisement
Advertisement