Feast your senses on the mountainous majesty of the Swiss Alps during a 2-day tour of Mt Pilatus and Mt Titlis from Zurich. Begin your Alpine adventure with a sightseeing tour of pretty city, Lucerne, and then ascend to the lofty summit of Mt Pilatus in an aerial cable car. Spend the night in a hotel at the 7,000-foot (2,132-meter) peak and feast upon a delectable 3-course dinner while overlooking the snow-capped spires of the mountain range. Wake refreshed and head to the frozen wonderland of Mt Titlis to explore the Ice Grotto, ride the Ice Flyer and cross Europe's highest suspension bridge.
Highlights
2-Day Alps Tour from Zurich: Mt Pilatus and Mt Titlis

Enjoy a fairy-tale-like overnight stay on top of Mt Pilatus, surrounded by the mountains

3-course dinner and buffet breakfast included
Enjoy a great excursion into the eternal snow and ice with the Ice Grotto walk, the IceFlyer, the Funlift slide and a walk over Europe's highest suspension bridge

Visit Lucerne and be part of a guided tour to Mount Titlis summit to see glaciers and ice boulders

Why Our Insiders Chose This Tour
It's wonderful to be able to spend the night high atop Mt Pilatus, and the next day, you can play in the never-melting snow and take in more awe-inspiring views from Mt Titlis. A lavish Alps adventure!
What You Can Expect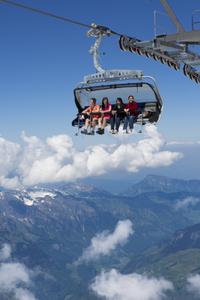 Appease an appetite for adventure on a 2-day tour of Mt Pilatus and Mt Titlis from Zurich. During your alpine adventure, take aerial cable car rides to vertiginous mountain peaks; spend a night at the summit of Mt Pilatus; explore the fairytale Ice Grotto at Mt Titlis; get up close to glaciers on the Ice Flyer; and experience the ultimate adrenaline rush as you cross Europe's highest suspension bridge.
Included on this tour is the following; one nights accommodation in a 3-star hotel on Mt Pilatus; 3- course dinner; buffet breakfast; entrance tickets; and round-trip transportation by an air-conditioned coach.
Itinerary
Day 1:
In the morning on your first day, leave Zurich in a comfortable coach for a one-hour journey to the lake-side city of Lucerne. On the bus, enjoy a a guided orientation tour of the city's highlights and stop at attractions like the Lion Monument and the Old Town, from where you can walk to Chapel Bridge. After enjoying some time at your leisure, continue to Kriens and board a gondola to the top of Mt Pilatus and admire panoramic views. Venture down Dragon's Path and take a short hike to the summit before checking in to your 3-star mountain-top hotel for a fantastic overnight. You'll be welcomed with a complimentary beverage and enjoy a delicious 3-course dinner while taking in breathtaking views of the surrounding mountains. Spend the night cradled in the Swiss mountains at 7,000 feet (2,132 meters) -- a truly unique experience.

Day 2:
The next morning, enjoy a scrumptious buffet breakfast before descending Mt Pilatus by the world's steepest cogwheel train to Alpnachstadt and from there by train to Lucerne. At the Tourist Information Center Lucerne, join a guided tour to Mt Titlis for your eternal snow and ice adventure! Enjoy a comfortable coach ride to Engelberg, where the breathtaking journey to Mt Titlis begins. Take a revolving Rotair cable-car ride and enjoy spectacular sights of the glacier's deep crevasses and gigantic ice boulders. And now that the new gondola system has been implemented, you will spend more time on top of Mount Titlis as the new ride takes you up in a shorter time!

At the top of Mt Titlis, enjoy magnificent panoramic views of the Alps from the restaurants where you will have some lunch (own expense) or the sun terrace.

Visit the Ice Grotto and enjoy the unique opportunity to walk through a glacier and over Europe's highest suspension bridge. Or, take a ride on the IceFlyer and get an exclusive up-close view of the glacier's crevasses. Don't forget to slide down the Fun Lift -- a 492-foot (150-meter) snow tube!
After this exciting Swiss winter experience, conclude your two-day adventure with a scenic drive back to Lucerne and then on to Zurich.
October 2014
Awesome, awesome, awesome

April 2014
We had a wonderful overnight stay on Mt Pilatus. We were very lucky as it started snowing again on the night we were there (it was not suppose to be snowing anymore in April). The hospitality of the staff from Mt Pilatus was great. Lunch, dinner and breakfast were provided and it was delicious. Highly recommended if you are visiting Switzerland. It was an unforgettable experience.
January 2014
This tour is my trip of a lifetime. The arrangements made by Viator is as smooth as can be. The bus guide gentlemen speaks perfect English. Hotel Bellevue 6000 feet on top of Mt. Pilatus was clean, spacious, comfortable and warm. We were above the clouds with Luzern below us. We watched sunset and sunrise. The next day, the tour took us to Mt Titlis 10,000 ft above Luzern. We were standing at the same height as snow clad mountains around us. What a breathtaking view. The trip is every bit worth it.
Yang, Yuen and Yuen
August 2013
THE HIGHLIGHT OF MY EUROPE TOUR; THE MOST BEAUTIFUL PLACE IN LAND EVER; YUMMY CHEESE IN MT PILATUS HOTEL PREPARED JUST FOR THIS HOTEL. LOVED ALL THE SCENERIES. THE WAITRESSES AND WAITERS IN HOTEL BELLEVUE IN MT. PILATUS WERE EXTRAORDINARY!
August 2013
THE HIGHLIGHT OF MY EUROPE TOUR; THE MOST BEAUTIFUL PLACE IN LAND EVER; YUMMY CHEESE IN MT PILATUS HOTEL PREPARED JUST FOR THIS HOTEL. LOVED ALL THE SCENERIES. THE WAITRESSES AND WAITERS IN HOTEL BELLEVUE IN MT. PILATUS WERE EXTRAORDINARY!
July 2013
We thought this was the highlight of our recent visit to Switzerland. The tour was very well organized and met our expectations. The tour guides we had over the two days were very informative. Our trip up and down Mt. Pilatus was wonderful and so scenic. We had good weather so we could see the gorgeous vistas. Our hotel room had a spectacular view of Lucerne Lake and the city and at night, it was clear enough to see all the lights. The weather came and went while we were there, some rain, some cloud but lots of clear as well. A very lovely dinner was served . Our second day on Mt. Titlis however, was not as good. The weather did not cooperate and weather is everything on the mountains. We did enjoy the visit just the same. Lots to experience on Mt. Titlis. We enjoyed the glacier caves. Being from Canada, snow was not a thrill for us as it was for many. Overall a wonderful two days experience. Our one comment to the tour company, would be a slight change in the itinerary on Pilatus. We were told to descend Pilatus via the cable cars and take a bus (ticket was provided) back to Lucerne to meet the tour bus for our trip to Mt. Titlis. However, we decided to descend via the cog railway (and our ascent ticket allowed us to do this)and then took the train back to Lucerne. We found this added to our experience. So we would recommend that the train ticket be provided instead of the bus ticket.
July 2013
We loved it. Great views and good hotel on Mt Pilatus. Our guide on second day, Valerie, was exceptional. She was extremely helpful and knew a lot about Switzerland. Very glad we took this tour:)
April 2012
Excellent value for money. Fantastic. I would advise that you confirm100% with guide for pick-up the next day. We spend money on going into Lucerne, but the bus went back to Pilatus. Little bit confusing.
July 2015
We stayed a night in Mt Pilatus. It was worth the money and the service was very good. Then we headed on to Mt Titlis. Everything was well planned and we were well taken care of.
July 2014
The tour was conducted by the tour company in Zurich and they did a great job. My mum and I had an amazing time staying on the top of Mt. Pilatus, the air was so fresh and our view was breathtaking. Because we stayed the night, we were able to see the mountain later at night when most of the tourists had departed, otherwise it can get quite crowded in the general area. The three course dinner was fantastic as well with great service staff. Breakfast was also excellent. The trip down from the mountain would have been better if we could ride the steep train instead of the cable cart. We had to take the bus from the bottom of the mountain to the rail station and the walk between the bottom of the mountain and the bus station was actually quite a walk so make sure you don't have heavy luggage with you. Mt. Titlis was amazing but would have preferred if Viator told us to dress appropriately for the snow that we were not expecting during even during summer time (apparently it snows all year round, so dress appropriately to actually do the activities which are outdoors). Overall, we had an amazing time visiting the mountains and was well worth the expensive tour money that we paid.
Advertisement
Advertisement