11 Reviews
Location:

Zurich, Switzerland

Duration:

2 days

(approx.)
Combine a trip to Mt Rigi with a relaxing experience at the Rigi Kaltbad Mineral Baths & Spa on this overnight tour from Zurich. Enjoy the scenic views as you head toward the Alps by coach, and then take a cable car ride followed by a train ride up Mt Rigi to the peak of Rigi-Kulm. Spend free time here before relaxing in the hot mineral pools, which are included with your stay at the Hotel Rigi Kaltbad. On Day 2, take a cruise on stunning Lake Lucerne and see the centuries-old sights of the town of Lucerne. Dinner, breakfast and overnight accommodation are included.
Highlights
Overnight tour from Zurich to Mt Rigi
Ride an aerial cable car and Europe's first cogwheel railway to the top of Mt Rigi
Have free time on the peak to hike, take photos or just relax
Soak in the mineral-rich indoor and outdoor pools at the Rigi Kaltbad Mineral Baths & Spa
Enjoy fabulous views of the Alps and Switzerland's many alpine lakes
Take a cruise on Lake Lucerne and see Lucerne's medieval sights like Chapel Bridge and Old Town
Spend a blissful night at the 3-star Hotel Rigi Kaltbad

Why Our Insiders Chose This Tour
Such a lovely way to unwind! Relax in mineral baths, sleep in fresh Alpine air and take all the photos you want! On the second day, you get free time to see the sights in Lucerne and do some shopping.
Recent Photos of This Tour
2-Day Mt Rigi Tour from Zurich Including Mineral Baths and Lake Lucerne Cruise
What You Can Expect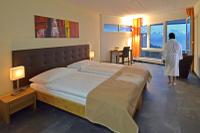 Day 1: Zurich – Weggis – Mt Rigi (D)
Meet your guide in central Zurich and begin your journey to Mt Rigi with a scenic coach drive through the beautiful countryside and along the Lake of the Four Cantons (the official name of Lake Lucerne) to Weggis! Here, your guide will leave you to board the aerial cable car independently for the ride up to Rigi-Kaltbad (you'll receive all tickets, instructions and documents needed for the rest of the day). Get off the cable car at Rigi-Kaltbad and switch to Europe's first cogwheel railway to complete the trip up to Rigi-Kulm, at an elevation of 6,000 feet (1,800 meters).

When you arrive at the top, be wowed by the spectacular views over the Alps and several Swiss mountain lakes. The views are simply incredible, and you'll have approximately three to four hours of free time here to soak it all in. During your free time, go for a hike on one of the well-maintained trails or rent a sled (own expense) for a little wintertime fun. Have lunch (own expense) at the Rigi-Kulm restaurant, or simply relax, enjoying the majestic alpine atmosphere and filling up your camera with one great shot after another.

In the afternoon, take the cogwheel train back down to Rigi-Kaltbad to check in to your hotel – the three-star Hotel Rigi Kaltbad – and take advantage of your included access to the Rigi Kaltbad Mineral Baths & Spa. Designed by well-known Swiss architect Mario Botta, the spa offers mineral-rich indoor and outdoor pools with relaxing temperatures of 95 degrees F (35 C) and fabulous mountain vistas. Additional spa features include a whirlpool, herbal sauna, steam bath and crystal spa bath, all of which you have access to until the 7pm closing time.

Round off your day at the hotel's SunSet restaurant, where you'll enjoy your four-course a la carte dinner of seasonal, regional specialties before retiring to your tastefully furnished hotel room.

Day 2: Mt Rigi – Lucerne – Zurich (B)
Begin your day with a rich breakfast buffet and then return to the Mineral Baths & Spa, if you wish, for a late morning dip. Around noon, take the cogwheel train down to Vitznau, where you'll board the boat for your one-hour, ultra-scenic cruise on Lake Lucerne to the town of the same name.

When you reach Lucerne, you have free time to explore on your own and have lunch (own expense). See the city's top sights like Chapel Bridge, Old Town, the town hall and the Jesuit Church. Maybe visit the Swiss Museum of Transport (one of the biggest museums in Switzerland) or the Rosengart Museum, home to works by Picasso and Paul Klee (any entrance fees at own expense). Or just stroll around town, admiring the medieval streets and popping into local shops.

At a pre-arranged time, meet your guide and board the coach for the ride back to Zurich.
October 2015
This was an incredible tour. The guide was very informative the whole trip up the mountain. Our room was upgraded to a balcony which was good, however that meant they switched us to twin beds instead of a double which was a little annoying. The views from the top were spectacular and if you are in reasonably good shape you can see how far down the mountain you can walk and catch the cogwheel further down or at the top if you prefer
October 2015
If you can splurge a little on your trip to Zurich this is what you want to do! Highly recommended as a romantic getaway. There are three distinct parts of the trip. FIRST you drive through the Swiss country side which is beautiful then you head up Mt. Rigi which is a neat experience to see the alps and get a little hiking in. When there are no clouds the views are amazing! SECOND you go to the Rigi resort - Room had a breathtaking view, mineral baths were awesome and relaxing make sure you go downstairs to the crystal bath and the four course dinner is excellent and very romantic expect 2 - 3 hours for dinner because the courses are fairly spaced out The next day you get to wake up to an amazingly large breakfast buffet and enjoy the mineral baths all to yourself and then start the THIRD part of the excursion- Head back down the mountain, get on a boat cruise and head to the beautiful Lucerne! The city has beautiful water ways and we spent our day shopping and just walking along the water enjoying the views. Overall a fantastic way to enjoy Switzerland! Everything they say is included is and the guides provide you with excellent direction and a cheat sheet that is very helpful! Follow the times on the cheat sheet. They are on point. The cogwheel train runs on a specific time every hour so make sure you keep track of that. They give you the option to drop your luggage off at the hotel on day one before heading up to Mt. Rigi so if you take advantage of this be cognoscente of the time the cogwheel train leaves because if you miss it you have to wait a whole hour or start hiking! We got lucky and made it by one minute but that would have been a big bummer if we missed it because you can't check into your hotel until the afternoon. Food is pretty expensive in Switzerland but there was a grocery store right next to the hotel for snacks which was nice. I recommend packing lunch on Day 1 to eat at the top of Mt. Rigi bc lunch is 20/person. OVERALL 5 STARS!
April 2015
September 2014
We had a fantastic vacation ! Mt. Rigi Kaltbad Hotel and spa was magnificent !
I haven't seen a more beautiful location in my life. Views from top of the mountain are just anazing
Thank you Viator.
August 2013
We had a wonderful time up on the mountain and at the hotel, but it was pouring rain when we were on the cruise. Nevertheless, we enjoyed the trip very much.
December 2012
An amazing experience! Fantastic views from Mount Rigi, beautiful mineral baths indoors and outdoors designed by Mario Botta, the hotel rooms are basic but everything you need and the view from our room was spectacular, 4-course dinner and breakfast were excellent - we couldn't have asked for more!
Anonymous
December 2012
A quite amazing setting. Nothing beats swimming outside in a hot pool with snow lying all around while taking in views of the Alps across the valley. The hotel rooms are a little basic, but I suppose most people are enjoying the spa or the great outdoors most of the time so that doesn't matter. Dinner can't be faulted - superb food. Outside, Rigi is stunning - we took the train to the top (Rigi Kulm) then walked back through the snow passing by beautiful alpine chalets and the smell of woodsmoke. Just what you want from the mountains, and a relaxing journey by boat and train to get there too. Chris, UK
December 2014
I had an amazing time. The hotel was beautiful, and the people were great:) I wouldn't exactly call it a tour. I got the bus from Zurich to the cablecar and was pretty much on my own from there. But the scenery was worth the trip:)
June 2014
Great tour, highly recommend it.
January 2014
I've been extremely pleased with the tour right from the last minute booking I made on the phone. Viator accommodated me despite me booking the tour later than the online 48hr deadline. They also managed to arrange for a odd pick-up location along the route out of town despite my tight schedule that would have made me miss the bus. Most of it was a self tour, but with rather clear guidelines. Great touch from the tour guide to provide us with a little folder with all the necessary information. The folder fitted snugly into my travel clutch.
Mount Rigi was definitely worth the stay, the mineral baths were great - literally overlooking the alpines. You might want to check up on the weather, as you won't be able to see much if there's too much fog. I was lucky as the fog cleared up on my second day, so I got to dip in the baths with the amazing views before I left. The hotel staff were great and for those who don't own swimwear, you could well loan a bathing suit directly from the hotel. It's probably advisable to go as a couple or with company if you're doing an overnight stay as there is a candlelight dinner and was mighty awkward for me as I traveled solo. Neat collection of drinks at the hotel bar, so going with friends will be enjoyable too. my only gripe was that I was given a room without a view, turns out a couple that arrived half an hour before me was given dibs to my original room that had a view.
The Lake Lucerne Cruise is a great way to travel, as you're flanked by mountain ranges that are absolutely breathtaking. Trip back to the hotel was great, with a friendly guide whom I sadly forgot to tip in my sleepiness. She offered to drop me straight at my Youth Hostel as it wasn't a busy night. Fantastic experience and very helpful staff from Viator and all other partners!
Advertisement
Advertisement