Let the Alpine allure of the Bernese Oberland region impress you on a full-day excursion from Zurich. Climb aboard a luxury coach and gaze at spectacular scenery as you travel via Interlaken to Lauterbrunner on a scenic route; on arrival, take a seat on a mountain railway train and travel through idyllic panoramas of flower-filled meadows and dense forests. Explore the quaint village of Wengen and then ascend to the 2,016-meter (6,763-foot) summit of Kleine Scheidegg to admire breathtaking vistas of the Monch, Eiger and Jungfrau mountain ranges. Explore the area independently before returning to Zurich in the late afternoon.
Highlights
Day trip from Zurich to the Bernese Oberland

Take the Wengernalp rack railway up to Kleine Scheidegg at 6,762 ft
Enjoy magnificent alpine views of the Eiger, Jungfrau and Monch mountain range

See the imposing Eiger North Face just within touching distance
Visit the famous mountain village of Grindelwald
Why Our Insiders Chose This Tour
A placid rail journey up to Kleine Scheidegg rewards you with a majestic view of three mountains: Eiger, Moench and Jungfrau. If you're in the mood for something a little different along the way, check out the car-free village of Wengen.
Recent Photos of This Tour
Eiger - Jungfrau Glacier Panorama View (from Zurich)
What You Can Expect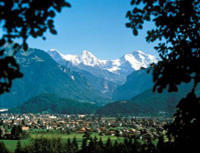 After pickup from a central Zurich location, sink back into the seat of your luxury coach and admire the gorgeous scenery as you travel along a scenic route to Lauterbrunnen via Interlaken. On arrival, take the world-renowned Wendermalp mountain railway through enticing natural tableaus of dense forests and vibrant meadows and arrive in Wengen, a charming village located at the foot of the dramatic Kleine Scheidegg mountain.
Opt to disembark at Wengen and explore the natural charm of the resort; simply take the next train to the mountain summit of
Kleine Scheidegg
afterwards and continue your independent exploration from there.
Continue to the 2,016-meter (6,762-foot) summit of the mountain and absorb sweeping vistas of the Eiger, Monch and Jungfrau mountain range; see the foreboding Eiger North Face up close and then decide how you would like to spend the remainder of your afternoon. Have more time exploring the mountain summit and its incredible views, or take the train down to Grindelwald, a mountain village nicknamed 'Glacier Village' due to its plethora of icy glaciers.
Reconvene with your guide and group in Grindelwald and climb aboard your awaiting coach for the return journey to Zurich.
May 2016
November 2015
Our tour guide KID was a totally AWESOME guide, he knew where all the great picture places were, while keeping everyone highly energized like himself.
The scenery was awesome right from Interlaken to the top of Jungfrau and back down again.
It was well worth the cost of going to the top, the views from there were exquisite. A totally awesome day we will not ever forget.Thank you KID for putting all your heart into your job.
From Jim, party of four. October 25th. Tour.
September 2015
Initially we booked the Eiger Jungfrau panorama tour which leaves you with unguided free 4 hours at Wengen,Kleine schedeigg and Grindelwald,but at the last moment changed our minds and upgraded to the full 12 hour guided jungfrau experience tour and went up the mountain to the top of Europe and felt glad that we changed our plans,as the experience to the top of Europe was definitely worth more than what it costed.Our tour guide Kid organised the tour very well and made sure every attraction was covered and the punctuality was maintained,he also made sure that every individual gets a memory of the picturesque adventure by pointing the photo opportunities at the right time and he even took some priceless pics for everybody himself.This tour is ideal for people who fear heights,have vertigo or feel nauseated in rotating cable cars as this one takes to top of Europe without you having to take a single cable car.You complete the full journey in coach and trains,the first half is exploring the scenic beauty of interlaken with some shopping and refreshment opportunities and the second half is the beautiful unforgettable train journeys to the mountains.On the way to the mountains you have numerous photo opportunities wherein you capture snow clad mountains,car free villages,cattles with swiss bells,old houses.lakes and lush greenery.On top you have many adventures to witness like the sphinx,snow fun through the plateau,ice palace and alpine sensation.I would definitely recommend this tour as me and my wife thoroughly enjoyed it and are going to nurture and cherish the memories for the rest of our lives.
December 2014
The tour was amazing , perfect .... But pse be noted this is NON guided , we were only given the train ticket from wengen - mountain - grindelwald .Trust me Do NOT take the extension tour to Jungfraug as the tour guide (Kid) suggested as it means u only see the mountain without explore the village
September 2014
Great tour and great day. Just enough time with the guide and a good bit of free time which was welcomed. It is what you want from a tour in the Alps. Get me there, tell me how to get around and then tell me where I need to be to return.
August 2014
Amazing! I would recommend taking the Eiger-Jungfrau tour for a small group of younger adults who want to explore. We had 5 hours to manage on our own between 3 towns and plenty of time to eat lunch, hike, explore. The top of the mountain tour seemed too structured, and it seems that most of your time would be spent on trains and only on the top of that mountain. We were the only 2 people out of 60 people who did not do the top of the mountain tour and we definitely had more fun after listening to the stories of the group when we met back up.
August 2014
The tour is a high end service!
We love our tour guide and the bus driver!
The tour guide is very professional and knowledgeable.
We upgraded our tour to go to the top of Europe, an unforgettable experience!
December 2013
Trip was fantastic gorgeous view on the way up by train. Unfortunately was snowing heavily at top of mountain unable to step out for picture taking. Highly recommended.
August 2013
It was an amazing trip from Zurich to Jungfrau.We upgraded to include the the highest level.It is a beautiful day trip when u r surrounded by timeless beauty of the Alps.Thoroughly enjoyed it.
November 2012
Very, very good guide: a young man from Thailand who was very energetic and helpful. Wonderful scenery-we had great weather. I would recommend people not used to higher altitudes take asperin and plenty of water.
Advertisement
Advertisement