Discover the picturesque beauty of Lucerne on a full-day trip from Zurich. Cruise the shimmering surface of Lake Lucerne during a tranquil boat ride; absorb gorgeous panoramas of the Albis Pass mountain range; and explore the historically rich city independently during some leisurely free time. Delve into Lucerne's fascinating past on a guided sightseeing tour and listen to illuminating commentary from an expert guide. Enjoy the convenience of round-trip transportation from Zurich on this magical excursion.
Highlights
Day trip from Zurich to Lucerne including short city tour and Lake Lucerne cruise
Travel through the Albis Pass mountain range, passing the Lake of the Four Cantons
Learn about the history of Lucerne attractions like Chapel Bridge and the Lion Monument on a city tour
Enjoy plenty of free time to explore Lucerne independently
Admire lakeside scenery and mountain views on a Lake Lucerne sightseeing cruise
What You Can Expect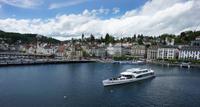 Depart from your Zurich hotel, or a centrally located pickup point, and relax during the scenic journey to Lucerne by air-conditioned coach. Admire resplendent scenes of Swiss countryside before embarking on an introductory coach tour of the city on arrival.
Cruise past impressive monuments like the Baroque Jesuit Church and Chapel Bridge while listening to interesting narration from your erudite guide. Receive insightful recommendations on where to explore during your segment of free time and then disembark the coach to stroll the quaint city streets independently.
Wile away the hours in one of Lucerne's many charismatic cafés; famed for its thriving café culture, the city is the perfect place to kick back with an aromatic beverage and traditional Swiss lunch (own expense).
At a time that suits your schedule, head down to the shores of Lake Lucerne to redeem your complimentary cruise ticket. Climb aboard a modern boat and listen to interesting audio commentary as you explore the shimmering surface of Lake Lucerne.
Stroll around the ancient city center to see historical relics like the 14th-century Musegg Wall, or browse the artistic exhibition within the Richard Wagner Museum.
At a prearranged time, reconvene with your guide and group and relax during the return journey to Zurich.
October 2015
Just a short motor coach ride away from Zurich, Lucerne is a MUST SEE while in Switzerland. So much history, the town has a village atmosphere, with many small shops, restaurants, and historic places.
Go see the Lion of Lucerne monument, the Church of St Leodegar, and the covered wooden chapel bridge that crosses the Reuss River in the heart of Lucerne. Also, take a cruise on Lake Lucerne that lasts about an hour. All in all, a nice trip that only took about 6 hours from starting point in Zurich and back.
September 2015
This is an excellent tour and Lucerne is a very beautiful old town not to be missed. The boat ride was amazing as well. The tour guide was very good. Highly recommended
August 2014
Well organized tour director. Very clear information.
August 2014
It a very good tour, really enjoyed it and like the 6 hrs to roam around the town on our own.
August 2013
Excellet trip. Free time in lucerne was ample to see the place in relaxed way. Cruise was excellent.
June 2015
The tour operators were professional and punctual. Unfortunately the weather was not that cooperative.
Overall barring the weather it was a great visit.
September 2014
Enjoyed the trip going through quaint little towns and liked the free time we had in Lucerne. Was disappointed in the city tour. Expected more time going around seeing important sights. Really turned off by the stop at Henry's Clock Shop to"allow" us opportunity to make purchases.
greene.katherine USA
June 2014
Excellent Swiss guide, boat trip, some information about Lucerne. Too much free tine to explore on our own. Would have enjoyed city tour with more history and information about Zlucerne's past and present.
Dennis USA
September 2013
First, there were too many people packed into a small van that made the ride uncomfortable. Second, though we nearly ran to catch our cruise which was difficult for us old folks, we still missed the boat without knowing what to do next since our guide had gone back to the van. Fortunately, we were told by the missed-boat, ticket vendor we could take another boat that was about to leave, if we ran. Finally, we made it and the cruise was scenic; but if preparing for the next summer Olympics is not an interest to you, I would consider an alternative tour.
August 2013
Very poorly conducted tour beginning with the starting point - the coach. Our first guide Evelyn asked us to be seated when the bus came which took a few minutes. Then when we were rather comfortably seated - all four of us, she asked that we get down from the bus since there were " more people than expected" ! And we were put into another van which had miscellaneous tourist going to different places like Mount Rigi. The Lucerne trip of about 45 Kms or so took us 3 hours since we got the " scenic route" The 9.30 start was delayed initially and that got us to Lucerne at about 12.30. There we see the first coach that had reached at 11 am and meet Evelyn who asked what kept us so long!
Urs - our second guide tried very hard to make amends to the best he could but having already lost a couple of hours we were clearly not happy. The return- in the van- took about 45 minutes and Urs was kind enough to drop us to the hotel enroute.
All -in-all I don't recommend this trip since a train is probably faster and gets you more time to spend in Lucerne. And I definitely don't recommend this company for not being professional in the way they conducted this tour.
Advertisement
Advertisement