Delight in the frozen enchantment of Mount Rigi on a full-day tour of the 'Queen of the Swiss Mountains' from Zurich. Enjoy a balanced combination of independent and guided exploration and experience an aerial cable car ride to the summit of Switzerland's most magnificent natural landmark. Take Europe's first cogwheel train down the steep mountainside and soak up sweeping alpine vistas from a charming terrace above Lake Lucerne.
Highlights
Winter day trip from Zurich to Mount Rigi in the Swiss Alps

Guided coach tour includes rides in a cable car and on a cogwheel train
Boat ride to Lucerne
Two hours of free time to explore Old Town
Pickup and drop-off at the Sihlquai Bus Terminal
Why Our Insiders Chose This Tour
This is a great choice for independent travelers since most of the day is unguided, but you will receive all the information you need to make the most of your time. You'll see the fantastic views from Mt Rigi, ride a cog-wheel train and cruise to lovely Lucerne.
Recent Photos of This Tour
Mount Rigi Winter Day Trip from Zurich
What You Can Expect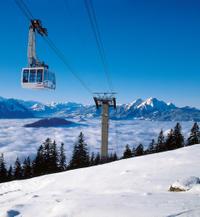 Climb aboard a comfortable, climate-controlled coach at a central Zurich pickup point and relax during the scenic journey to Weggis, a charming resort at the foot of Mount Rigi. Climb onto an aerial cable car and soar up a super-sleek cable to the mountain's lofty summit.
Gasp as you rest your eyes on striking, snow-smothered panoramas of the Swiss Alps. Scour the scenery for thirteen lakes and inhale fresh mountain air during your leisurely free time at the highest point of Mount Rigi. Descend the steep mountainside by Europe's first cogwheel train, and then climb aboard an awaiting boat for a tranquil ride to Lucerne.
On arrival, set out to see the city's historical highlights independently, strolling through the Old Town and visiting an ambient café for coffee (own expense). Reconvene with your guide and group at a prearranged time and location, then relax during the journey back to Zurich, where the tour concludes.
Please see the Itinerary section for additional information regarding guided and self-guided tour elements.
Itinerary
Please note:
This tour includes a multi-lingual guide throughout the tour except for travel up and down Mount Rigi and during the boat ride. For this part of the tour, you will receive timetables and detailed information sheets about the journey. You can choose to stay on the mountain for one or two and a half hours.
Between November 7 and 18, the aerial cable car is under maintenance. In this case you will travel up and down Mt. Rigi by cogwheel train.
June 2016
Mount righi is best place to enjoy sceanic view. Also plenty of opportunity to enjoy playing with snow. Train, cable car and boat ride is fantactic. Best time I suggest is mid if march
March 2016
February 2016
We were the only two on board our coach who went to Mount Rigi and I do not know why! It's a popular destination for locals and we enjoyed watching them ski and sled. We took the aerial cable car up, which is about a 12-15 minute ride. We watched the lush green scenery turn into wintry beauty of snow capped mountains and newly fallen snow. The cable car stops near the Hotel Rigi Kaltbad which is just a couple minutes walk to the cogwheel train. The train is heated and takes you up to the top of the mountain where there's another hotel, places to eat and breathtaking views at an altitude of about 1,800 metres. We made our way up to the Rigi-Kulm-Hotel for a window-side table, with amazing views, and enjoyed lunch and a glass of wine while we warmed up and watched the show fall. We spent about three hours up at the summit before taking the train back down to the ski resort area where we went into the Hotel Alpina for a beer and a snack then again boarded the train to the bottom of the mountain There we took a Lucerne River cruise aboard the MS Europa. She's a gorgeous 70 foot boat and once again, the scenery was breathtaking. All the mountain-top snow was, unfortunately, rain once we got into Lucerne so we didn't get to see as much of the city as we had hoped. All in all, my husband and I agree this trip far exceeded our expectations. Our guide Annette, kept an interesting and informative commentary going while on the coach, and we enjoyed the un-accompanied time up on Rigi. Looking back, this day definitely ticks a box on our Bucket List and we would go again if given the opportunity. I highly recommend this day out.
March 2015
Very satisfactory, giving you the chance to enjoy beautiful Swiss nature, mountains and lakes. Nicely organized and leaves plenty of private time. Actually you are with the guide and other participants only when in the bus on the way from Zurich to the cable car, and on the way back from Lucerne to Zurich.
December 2014
Excellent value, especially given how expensive things can be in Switzerland. Unfortunately it was snowing so much on top of the mountain that I couldn't see the amazing views until I started down the mountain on the train. But still a fantastic tour, which I would pay to go on again. Also the city of Lucerne was very pretty and the tour guide was very helpful and informative.
December 2014
Mind blowing, the most amazing pictures we have from the trip, were taken on this tour. This was a highly organised and adventurous trip. The entire tour lasted about 9 hours, just as it mentions in the description. The details of the trip are true to their description. It was a combination of bus, cable car, cogwheel train, boat and then bus back to Zurich again. My husband and I did not imagine Mt Rigi would be so breath-taking. Everything we did thereafter, we compared with this trip. Even in the winter there was so much sunshine once we reached the peak. Lovely restaurants and cafes for snacks as you climb up the mountain, and there was enough time to take a walk, get a bite and take lots of pictures before departing for the boat.
April 2014
excellent trip.host was very knowledgeable and happy and loved to make us laugh.trip up mt rigi and down was excellent,as was the boat cruise,Lucerne was beautiful.great day all round
February 2014
January 2014
This excursion was the best part of our holiday to zurich. The views from mount rigi are breath taking and looking at all the swiss houses on the way to it was magical. definitely worth the money. make sure you pick a day that is supposed to have clear weather for clear views
January 2014
For folks who want to explore on their own this is a perfect trip. We were provided all the instructions and meeting points and them basically spend the day exploring Rigi and Lucerne on our own
Advertisement
Advertisement