Discover the spectacular sights of Zurich on a 2- or 4-hour private tour of the cultural Swiss city. Admire legendary landmarks and historical monuments like the Bahnhofstrasse and the charming Old Town while enriching your knowledge of the region's rich history. See the Swiss Federal Institute of Technology, the place Albert Einstein imparted his wisdom; browse the exhibits within the Swiss National Museum; and take a tranquil cruise on the shimmering surface of Lake Zurich. Customize the itinerary of this private tour according to your interests and receive the undivided attention of your personal guide.
Highlights
Customizable private tour of Zurich's highlights by minivan
Visit Old Town (Altstadt), Bahnhofstrasse, the Swiss Federal Institute of Technology and more
Admire the renowned Chagall Windows in Church of Our Lady (Fraumünster)
Enjoy amazing views on an aerial cable car, take a Lake Zurich ferry ride, and drive along the Gold Coast (4-hour tour)
Learn about the sights you see from your bilingual guide
Choose a 2-hour or 4-hour tour, with a morning or afternoon departure
Why Our Insiders Chose This Tour
A must-do for all first-time visitors to Zurich! I like that the itinerary is flexible and you can choose a 2-hour or 4-hour tour depending on how much time you have.
What You Can Expect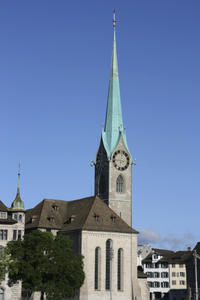 Depart from your Zurich hotel at a time that suits your schedule and climb aboard a luxury minivan for your 2- or 4-hour private sightseeing tour. Receive a fascinating introduction to the history and culture of Zurich before adapting the day's itinerary to suit your interests. Make known to your guide the attractions you wish to see and then set off to enjoy the spectacular sights of Zurich.
Listen to illuminating commentary throughout your tour and enjoy an immersive experience and intimate atmosphere.
Please see the Itinerary section below for suggested plans for each tour.
Itinerary
2-Hour Tour:
Start with a trip to Bahnhofstrasse, Zurich's main downtown street and one of the world's most expensive and exclusive shopping avenues. Then, m
ake your way to the Limmatquai, a vibrant, historical shopping, dining and hotel area with many interesting buildings dating from the days of the rich Guilds that governed Zurich until 1789.
In Old Town (Altstadt), view the Lindenhof, the historical site of a Roman castle situated on a hillside, from where
you can get great views of Old Town during own exploration later.
Head to St Peter, one of the four main churches in Old Town whose clock face is the largest in all of Europe.
Admire the castle-like Swiss National Museum, visit the Zünfte guilded houses and the Zurich Opera House, and stop at Lake Zurich for photo ops.
The 2-hour tour includes a ride on the cogwheel railway (Dolderbahn). Travel uphill to the Zurichberg district, where you'll marvel at superb mansions and the renovated five-star Grand Hotel Dolder.
See the Swiss Federal Institute of Technology, whose most famous former student and professor is Albert Einstein. Finally, stop at Church of Our Lady (Fraumünster) to admire and learn about the world-famous Chagall Windows, created by famous artist Marc Chagall. These beautiful stained-glass windows bathe
the chapel in a rainbow of light.
4-Hour Tour
This tour combines Zurich's culture and natural beauty. Similar to the 2-hour tour, you'll see major attractions including Old Town, St Peter church, the Bahnhofstrasse, the Limmatquai and the Zünfte guilded houses.
Make a photo stop at Enge Harbor to enjoy a beautiful view of Lake Zurich, the city and the surrounding hills, and then visit Church of Our Lady (Fraumünster) to admire and learn about the famous Chagall Windows.
Your journey continues to Adliswil for a ride on an aerial cable car, affording incredible panoramic vistas of the city, Lake Zurich and the snow-covered Alps. Disembark at
Felsenegg, a vantage point offering sweeping city views.
This experience is highly recommended!
Finally, take a 10-minute ferry ride across Lake Zurich. When you reach the shore, you'll take a drive back to Zurich along the stunning Gold Coast, a prosperous region on the northeastern shore of the lake that's graced by the warm yellow light of the evening sun.
September 2015
The tour was fantastic and very informative! Our guide was extremely patient, spoke very good English and did a great job!
May 2015
Heintz our tour guide was truly amazing, best tour we have ever been on
Worth every Aussie dollar we spent
If you go to Zurich you should do the tour
Excellent! Thanks Susan and Lex.
December 2013
It was perfect, Keller was a joy to be with, very knowledgeable and wanted us to understand the history of Zurich and Switzerland.
June 2014
Excellent tour just the 4 on a private tour and the guide was excellent
April 2014
This was a fantastic private tour definitely the best way to do a tour! My friends and I had a wonderful tour guide, Heinz, a perfect gentleman who was very polite and had plenty of patience as he showed three senior ladies around his lovely city. He even was willing to wait whilst we did a little souvenir shopping.
We were unable to do the cable car ride due circumstances beyond his control but the cog wheel train ride was a unique experience and thoroughly enjoyable'. Jean one of three happy customers.
Rate 10 out 10
August 2015
Seriously over priced....would not recommend it
Advertisement
Advertisement