Special Offer
Book this trip and save up to 12% compared to booking the tours separately
Combine the cultural highlights and natural delights of Zurich at a discounted price on the Zurich Super Saver 2 tour. Emerge early and travel to Rhine Falls waterfalls, a spectacular natural wonder set amid verdant forest, and then spend the afternoon discovering Zurich's most popular attractions. Listen to expert commentary as you cruise past impressive monuments like Fraumunster Church, and opt to upgrade to three tours in order to experience Zurich West, the Lindt Chocolate factory and a relaxing boat ride on Lake Zurich.
Highlights
Enjoy 2 or 3 best-selling Zurich tours in one day

Visit the beautiful Rhine Falls and embark on an optional boat ride (April to October only) amid stunning scenery

See top Zurich attractions on a comprehensive coach tour of the city

Add-on a third tour to see Zurich West before shopping at the Lindt Chocolate Factory outlet and enjoy a boat ride on the Lake Zurich

Why Our Insiders Chose This Tour
An ideal mix of city and countryside if you only have one day to spend in the area, this tour shows you Europe's highest waterfalls and Zurich's top historical and cultural attractions. Add on the Lindt Chocolate Factory Outlet tour to end the day on a sweet note!
Recent Photos of This Tour
Zurich Super Saver 2: Rhine Falls including Best of Zurich City Tour
What You Can Expect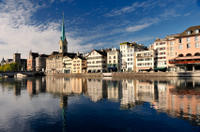 Rhine Falls Tour from Zurich (3 hours):Depart from a centrally located pickup point in an air-conditioned coach and relax during the scenic journey to Rhine Falls, Europe's largest waterfall. On arrival, marvel at the colossal power of the cascading water and capture fantastic photographs from a variety of vantage points.
Opt to enjoy an incredible boat trip through the waterfall spray (June to August only), and then return to Sihlquai for a brief interlude of leisurely free time before the next tour.
Best of Zurich City Tour (2 hours):Climb aboard a comfortable coach and set out to see Zurich's most spectacular sights. Listen to insightful commentary from your guide as you cruise past monumental landmarks like the National Museum, the sophisticated Bahnhofstrasse shopping street and the charming Old Town of Limmatguai.
Stop to admire the scenic beauty of Lake Zurich and then board the Dolderbahn (cogwheel railway) for a scenic ride to the grand Zurichberg district. See the school at which Einstein taught and admire the prismatic stained glass windows of Fraumunster Church before concluding at the Old Town.
If you opt to enjoy the third tour, simply stay on the coach and await your guide.
Zurich West including the Lindt Chocolate Factory Outlet tour (3 hours):Stray from the conventional tourist trail and discover a vibrant and cosmopolitan side of the city in Zurich West. Hear of how the trendy enclave transformed derelict industrial warehouses into thriving bars and nightclubs, and then travel onward to the Lindt factory outlet.
Awaken your senses to the rich aromas of chocolate as you browse the shop for sweet treats and delectable souvenirs. After satisfying your sweet tooth, board a boat for a relaxing cruise on Lake Zurich and bid your guide farewell at a central Zurich location.
June 2016
I did the two tours together but did not opt for the third simply because my chocolate preference is Sprungli! Really enjoyed leaving early for the Rhine falls. The optional boat tour to go on the water and near the falls is super super worth it- the glacial water is so fresh and clear you can even see the fish swimming in it! It was a really powerful and moving place to visit.
The city tour was also really nice. We stopped to go to Fraumunster where Marc Chagall's famous windows are and also up to the Zurichberg district which has really gorgeous views all around.
Very recommended.
June 2016
Both tours were superb. Optional boat ride at Rhine Falls was very much worth it. Tour guides were very helpful and friendly. Very pleased we went. Would definitely go again if and when opportunity presented itself.
May 2016
Was great tour, and guide was so help full. Zurich so beautiful city.

May 2016
April 2016
Great day at just about the right pace.
November 2015
Rhine falls...Excellent trip with superb tour guide. Highly recommended.
Best of Zurich city tour..... Very informative and our guide Andreas was the best.
The 3rd part. The Trip to the chocolate outlet shop was short and in a rush because of the traffic. It happened because the first part was obnoxious. Walking through those old buildings and factories was really a total waste of our time. We could just spend it going straight to the outlet choco store. Obviosly, the tour guide named Urs knows the traffic situation in Zurich, BUT he did nothing but stayed longer to the coffee shop and burnt our time. We only stayed in the outlet store for 10 mins as the store is about to close. In fairness to him, he did his best for this tour to be better BUT we were disappointed because of poor time management. This trip to chocolate outlet store and old factories of Zurich is to be avoided. It's a total waste unless you have loads of patience, and plenty of time to waste!
October 2015
Was a great tour and worth the money. Bus area of train station is a bit difficult to find but people are helpful to show you where you need to go.
October 2015
August 2015
excellent trip, everybody to go for it
August 2015
We had nice time at Rhine Falls and Best of Zurich City Tour. We highly recommend these tours.
Special Offer
$89.82 Save $10.44
Advertisement
Advertisement