While Dubai may get the most tourist attention in the United Arab Emirates, Abu Dhabi -- the capital city -- offers a completely different and more traditional experience. Where Dubai is filled with mega-malls and skyscrapers, Abu Dhabi has grand mosques, luxurious desert palaces and busy camel markets. To fully appreciate the diversity of the UAE, you should plan to spend time in both cities.

If you're basing yourself in Abu Dhabi, it's possible to visit Dubai on a day trip, allowing you to see some of the highlights of the country's modern hub. Thanks to a five-lane highway connecting the two cities, the 81-mile (130-kilometer) trip only takes two hours by car or bus. On a Dubai City Sightseeing Tour from Abu Dhabi, you'll make the quick, air-conditioned drive, followed by visits to the Burj Al Arab -- Dubai's most recognizable landmark and the Jumeirah Mosque.

Follow your guide through the winding alleys of Al Bastakiya, Dubai's old quarter, for a look at what the city was like before its rapid modernization. Continue your tour with a little shopping at the fragrant spice souk and the famous gold souk before making the return trek across the desert.

Fancy a bird's eye view? See the sprawling desert landscape from above on a Dubai Seaplane Flight from Abu Dhabi. During the 45-minute flight, you'll see Ferrari World, Emirates Palace, the Palm Jumeirah and Burj Al-Arab from above. Upon landing, spend the afternoon shopping at Dubai Mall, the world's largest shopping complex.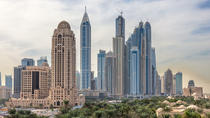 30 Reviews
Discover the different faces of glittering Dubai on a day trip from Abu Dhabi. Travel to the neighboring emirate by air-conditioned coach and explore its ... Read more
Location: Abu Dhabi, United Arab Emirates
Duration: 9 hours (approx.)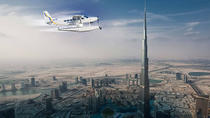 3 Reviews
Fly above desert landscapes and architectural marvels as you soar over the Arabian Gulf on a 45-minute seaplane flight from Abu Dhabi to Dubai! Take off from ... Read more
Location: Abu Dhabi, United Arab Emirates
Duration: 6 hours (approx.)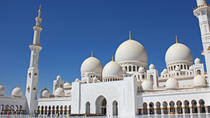 Make the most of your time in Abu Dhabi with this trio of disparate and delightful activities: start off with a desert safari, complete with a delicious ... Read more
Location: Abu Dhabi, United Arab Emirates
Duration: 12 hours (approx.)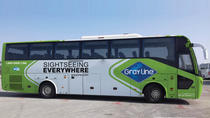 On this organized Gray line tour, you will have the opportunity to discover Dubai. Our visits starts with photo-stops of some iconic hotels such as the famous ... Read more
Location: Abu Dhabi, United Arab Emirates
Duration: 12 hours (approx.)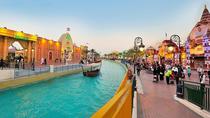 Enjoy afternoon tour to the Miracle Garden and Global Village in Dubai departing from Abu Dhabi
Location: Abu Dhabi, United Arab Emirates
Duration: 7 hours (approx.)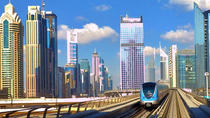 Dubai City Tour HIGHLIGHTS OF THE TOUR: Dubai Museum Spice Market Glod Souk Water Taxi (Abra) Dubai Mall Madinet Jumeirah (Arabic Souk) Burj Al Arab, Palm ... Read more
Location: Abu Dhabi, United Arab Emirates
Duration: 10 hours (approx.)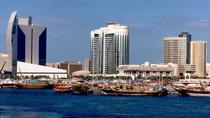 12 Reviews
Visit Dubai while you're in Abu Dhabi, and discover the historic sights and glittering modern landmarks of Dubai City , the official name of the city within ... Read more
Location: Abu Dhabi, United Arab Emirates
Duration: 8 hours (approx.)
Discover Marvel and its adventures , but before we have to go to DUBAI on the Gray line tour, you will have the opportunity to discover Dubai. Our visits ... Read more
Location: Abu Dhabi, United Arab Emirates
Duration: 1 day (approx.)
Dubai City Tour offer a wide horizon of some of the city's most beautiful landmarks. we start from the your location in Abu Dhabi and drive towards Dubai & ... Read more
Location: Abu Dhabi, United Arab Emirates
Duration: 8 hours (approx.)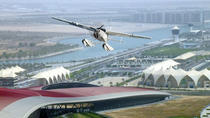 Luxury seaplane tour combined with the ultimate fine-dining cruise experience! Board a seaplane for a 45-minute sightseeing flight, with water take-off and ... Read more
Location: Abu Dhabi, United Arab Emirates
Duration: Flexible