Maybe it's the romantic history of spice ships and pirates; maybe it's the golden beaches, tropical jungles and lagoons; or perhaps it's the high-rise hotels, glittery nightlife and famous cliff-divers that have made Acapulco the foremost resort town in Mexico.
Acapulco's weather is close to perfect all year round. The wet months are between June and October but temperatures stay comfortable and the humidity never gives too much cause for complaint.
Day 1: In and Around Acapulco
Get the measure of this famous resort town with a morning tour. You'll see sweeping Acapulco Bay, stroll through lush tropical gardens, shop for authentic handicrafts and see the city's famous La Quebrada cliff divers, who plummet from over 90 feet (30 meters) into the ocean below (at night it's even more spectacular). In the afternoon, discover Mexican masks at the Casa de la Máscara or visit the outstanding 17th century fort now housing the Museo Histórico de Acapulco. Then again, if you came to Acapulco looking exclusively for outdoor fun, start hitting the region's excellent beaches. Say hello to the Pacific at the superb Playa Revolcadero, to the city's south.
Day 2: On and Under the Water
In the morning, see Acapulco from a different angle as you go snorkeling off La Roqueta. Watch colorful fish as you swim in warm waters, and stay in the area to enjoy a day of beachside fun. Or bring out your hidden Hemingway with some deep-sea fishing. Head out early on a 44 foot fishing boat and with any luck you'll return with sailfish, dorado or even a marlin. Or how about a beginners' scuba diving course? You'll learn all you need to know and see beautiful coral and fish while you're at it. Finally, relax and enjoy the magnificent views at El Olvido restaurant as you enjoy the best of Acapulco at night.
Day 3: Up and Down the Mountains
It's a day trip day! Travel into the mountains north of Acapulco and discover Taxco, a wonderfully preserved colonial city in a stunning slope-hugging setting. It was long associated with the silver trade, with numerous mines in the area yielding the precious metal. Visit amazing Santa Prisca Cathedral – if you think the spires are ornate, wait until you see the altar. Even the humblest houses here retain an 18th century air. Or if you'd prefer to stay on the coast, explore the tropical splendor of Coyuca Lagoon with an unhurried cruise which includes lunch at a beachside restaurant.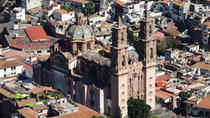 5 Reviews
Taxco is a quaint colonial city located 170 miles north of Acapulco, in the mountains of the North Sierra. With a unique architectural style, the city is ... Read more
Location: Acapulco, Mexico
Duration: 14 hours (approx.)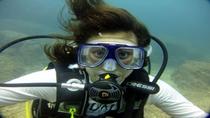 1 Review
Want to scuba dive in the azure waters of Acapulco but don't know how? This half day beginners course is a family friendly activity for those looking for ... Read more
Location: Acapulco, Mexico
Duration: 6 hours (approx.)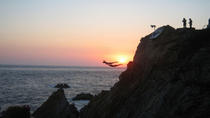 24 Reviews
A trip to Acapulco is not complete until you witness the fearless cliff divers of La Quebrada! Experience the sophisticated atmosphere of the club La Perla ... Read more
Location: Acapulco, Mexico
Duration: 3 hours (approx.)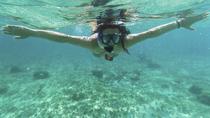 9 Reviews
Enjoy a relaxing day in the sun snorkeling from the stunning La Roqueta Island, one of Acapulco's main attractions. With plenty on offer including a range of ... Read more
Location: Acapulco, Mexico
Duration: 5 hours (approx.)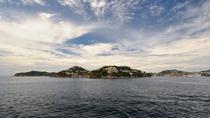 8 Reviews
Enjoy a cruise along the Coyuca Lagoon, one of the most picturesque and colorful parts of Acapulco. This area is famous for its tropical vegetation and has ... Read more
Location: Acapulco, Mexico
Duration: 7 hours (approx.)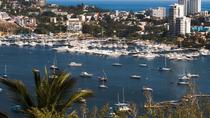 30 Reviews
Located on the west coast of Mexico, this picturesque seaside resort city is the epitome of fun and relaxation. Once the playground of Hollywood's rich and ... Read more
Location: Acapulco, Mexico
Duration: 3 hours 30 minutes (approx.)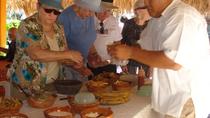 Discover Mexican cuisine at a cooking demonstration followed by lunch. Stop at the market to buy the ingredients to cook the famous Mexican fajitas. The chef ... Read more
Location: Acapulco, Mexico
Duration: 5 hours (approx.)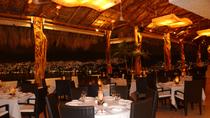 Acapulco is great by day, but it really sizzles at night! Enjoy a sumptuous dinner at Q.K Brisas restaurant, overlooking sparkling Acapulco Bay. Enjoy a ... Read more
Location: Acapulco, Mexico
Duration: 4 hours (approx.)