Acapulco is practically synonymous with beaches, with a golden fringe of sands lining the semicircular curve of Acapulco Bay. The city is Mexico's premier beach resort, famous for more than 60 years for its holiday atmosphere, high-rise apartments and vibrant nightlife.

The city's famous beaches are just four hours from Mexico City by road, an easy weekend destination for the capital's residents. In the north of the bay are Acapulco's classic hotels from the heyday 1950s and '60s, when Hollywood stars flocked here in droves. The boardwalk here is tailor-made for people watching or strolls to the main square. Further south, newer high-rise apartment hotels have sprung up on the more developed and modern fringe of beach.

Acapulco's beaches line the bay and continue around to the ocean. On the bay's western edge, seafood restaurants overlook calm family-friendly beaches like Caletilla and Playas Caleta. A 20-minute sail just offshore is Isla de la Roqueta, a magnet for snorkelers and divers. Glass-bottom boat tours circle the island for glimpses of La Virgen de los Mares, the magical submerged statue of the Virgin of Guadalupe.

On the opposite, eastern side of the bay, the calm waters of Puerto Marques attract water-skiers and yachties. Surfers head for nearby Playa Revolcadero, where swimmers paddle under the watchful eyes of lifeguards. This long straight stretch of beach is also a popular destination for horseback riding.

You'll find the iconic cliff divers of La Quebrada on the west side of the bay near La Angosta. The local divers have been swan-diving off the cliffs here since 1934, plunging up to 115 feet (35m) into the ocean below.

To take the plunge while on vacation, snorkeling tours cruise to La Roqueta island. Relax for the day on a secluded beach, taste local flavors at a seafood restaurant, or strap on some snorkel gear for an underwater adventure in the tropical waters.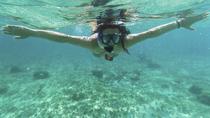 9 Reviews
Enjoy a relaxing day in the sun snorkeling from the stunning La Roqueta Island, one of Acapulco's main attractions. With plenty on offer including a range of ... Read more
Location: Acapulco, Mexico
Duration: 5 hours (approx.)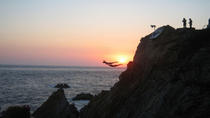 22 Reviews
A trip to Acapulco is not complete until you witness the fearless cliff divers of La Quebrada! Experience the sophisticated atmosphere of the club La Perla ... Read more
Location: Acapulco, Mexico
Duration: 3 hours (approx.)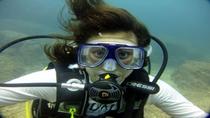 1 Review
Want to scuba dive in the azure waters of Acapulco but don't know how? This half day beginners course is a family friendly activity for those looking for ... Read more
Location: Acapulco, Mexico
Duration: 6 hours (approx.)