If you think Acapulco is hot during the day, wait until nightfall – this is when things really heat up. With your choice of bars and clubs to go to, you can choose what suits your interests, tastes, and musical preference. Definitely one of the best places in all of Mexico for a good time at night, couples, singles, and everyone in between can have a great time while out in Acapulco.
A night out in Acapulco involves only as much or as little as you want to experience. Without a doubt, there are plenty of bars to go to, and clubs to dance in. From all night discothèques to the random happy hour at Senor Frogs, to private karaoke sessions – the nightlife in Acapulco aims to please. Pepe's Piano Bar offers a more tranquil setting to Nina's Club Tropical, but any way you want it, you can have it in Acapulco. An easy night out or an all-night club-a-thon, the choice is yours.
One thing not to miss, however, is heading to La Perla in Quebrada to watch the nighttime cliff jumpers. Have a tasty bite to eat and watch these daring young men scramble over the rocks at sunset, then light flaming torches and dive off into the inky black sea below – definitely not for the faint of heart, this nighttime spectacle is the pinnacle of nightlife in Acapulco, and no trip here is complete without it.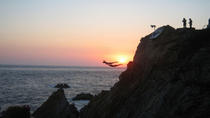 24 Reviews
A trip to Acapulco is not complete until you witness the fearless cliff divers of La Quebrada! Experience the sophisticated atmosphere of the club La Perla ... Read more
Location: Acapulco, Mexico
Duration: 3 hours (approx.)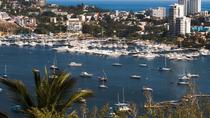 30 Reviews
Located on the west coast of Mexico, this picturesque seaside resort city is the epitome of fun and relaxation. Once the playground of Hollywood's rich and ... Read more
Location: Acapulco, Mexico
Duration: 3 hours 30 minutes (approx.)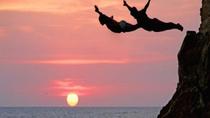 1 Review
In this tour you will be able to enjoy a delicious dinner and watch the world famous high cliff diver's show at La Quebrada.
Location: Acapulco, Mexico
Duration: 3 hours (approx.)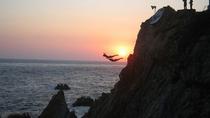 If you come to Acapulco and you do not see the High Cliff Divers you have not been to Acapulco. The tradition of cliff diving goes back to 1934, when two ... Read more
Location: Acapulco, Mexico
Duration: Flexible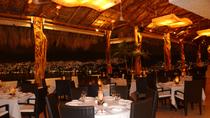 Acapulco is great by day, but it really sizzles at night! Enjoy a sumptuous dinner at Q.K Brisas restaurant, overlooking sparkling Acapulco Bay. Enjoy a ... Read more
Location: Acapulco, Mexico
Duration: 4 hours (approx.)