Markets of Accra
By Viator, July 2014
No reviews, be the first!
The steaming streets of Accra are alive with life, and now here is this electric West African energy more apparent than amid the bustling markets, where fragrant food, screaming music and a wide variety of goods draws locals and travelers alike to crowded stalls.
Makola Market, located in the heart of Accra, is the city's largest and most popular shopping market. Hundreds of vendors selling everything from discarded car parts to giant land snails and medicinal herbs gather daily to hock their wares. Established in 1925, Makola is also one of the most historic markets, making it a destination for travelers seeking a true West African shopping experience.
Though slightly smaller in size, Salaga Market offers energy that's similar to Makola but in much tighter quarters. Travelers who are hesitant to embark on the chaos of Accra's largest market can still find a wide-range of products, food and crafts for sale here, but with less intimidating crowds. Be sure to grab a refreshing cup of "palm wine"—this creamy concoction of condensed milk toffee and pungent herbs is a favorite among locals.
The less obvious and more difficult to find Timber Market is another popular stop for travelers to Accra. Its rickety stalls are packed with typical West African items like musical instruments, hand-carved statues and giant seashells. But it's true oddities, like animal hides, dried frogs and crusty chameleons that make wandering these stalls an experience that's almost otherworldly.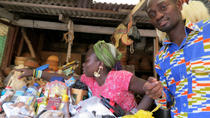 Delve deep into the heart of the Ghanaian capital's vibrant market scene on this 3-hour walking tour. Follow a guide through the bustling markets of Makol and ... Read more
Location: Accra, Ghana
Duration: 3 hours (approx.)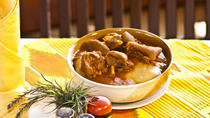 Get to grips with the exotic food, flavors and dishes of West Africa on this captivating 2-hour tour of Accra's markets! With an expert guide beside you, delve ... Read more
Location: Accra, Ghana
Duration: 2 hours (approx.)