Running 1,500 miles (2,520 km) from the peaks of the Snowy Mountains through three states to the Southern Ocean in South Australia, the Murray River is the country's longest river and 
has long been the lifeline of the region known as the "food bowl of Australia." Winding through the rapids and waterfalls of Kosciuszko National Park and flowing along the state border of Victoria and New South Wales, the river passes through some of Australia's most jaw-dropping scenery, lined with sandy beaches, ancient Aboriginal settlements and red gum forests teeming with birdlife. 
Like driving Great Ocean Road or Explorer's Way, cruising along the Murray River is one of Australia's great journeys, and the most authentic way to traverse it is on a classic paddle wheeler. Take a three-day cruise from Adelaide through Mundarra, Craignook and River View, passing landmarks like Murray Bridge and sailing the backwaters to spot wildlife like longneck tortoises, spoon-beaked egrets and grey kangaroos. Or opt for the ultimate outback Australia experience on a four-night cruise from Caurnamont to Younghusband, where you'll discover the remains of ancient Aboriginal villages, watch a sheep-shearing demonstration, enjoy wine tasting and tuck into a traditional Aussie barbecue on the riverbank. 
Don't worry if you're short on time—you can still soak up the scenery around Adelaide on a day cruise too, sailing beneath the stark cliffs and Red River Gums of the Adelaide Hills, enjoying morning tea before lunch on-board and visiting the Gumeracha Toy Factory, the Chain of Ponds and Tea Tree Gully along the way.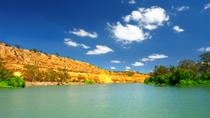 77 Reviews
Trade in the hustle and bustle of Adelaide for a day in the peaceful, picturesque Murray River region with this day trip to Mannum. Take a 2-hour cruise on the ... Read more
Location: Adelaide, Australia
Duration: 8 hours (approx.)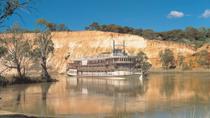 1 Review
Board an authentic paddle wheeler for a 3-night cruise on the beautiful and historic Murray River, traveling between Walkers Flat and Murray Bridge. Float ... Read more
Location: Adelaide, Australia
Duration: 4 days (approx.)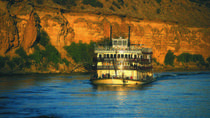 3 Reviews
All aboard a classic paddle wheeler for an unforgettable 4-night cruise along the Murray River that takes you into the Australian outback. Discover the rich ... Read more
Location: Adelaide, Australia
Duration: 5 days (approx.)
Depart Mandurah and enjoy a relaxing cruise on the calm inland waterways of the Peel region including Port Mandurah Canals, Peel Inlet which is twice the size ... Read more
Location: Mandurah, Australia
Duration: 5 hours (approx.)