11 Reviews
Address:

Denali Park 99755, USA

Admission:

US$10 per person or US$20 per vehicle - pass good for 7 days
Denali National Park
At more than 6 million acres (2.5 million hectares), Denali National Park is a breathtaking wilderness area, which includes North America's highest mountain. A single road curves 92 miles (148 kilometers) through the heart of the park, leading to off-trail hiking opportunities, abundant wildlife, and stunning tundra panoramas.
Wildlife in Denali National Park, including mammals such as marmot and moose, is easy to spot. Caribou, wolves, and brown bears are crowd favorites. The park is also well known for its bird population, especially during late spring and summer. Birdwatchers may find waxwings, Arctic Warblers, and the majestic tundra swan. Predatory birds include a variety of hawks, owls, and the striking golden eagle. Ten species of fish, including trout, salmon, and arctic grayling share the waters of the park.
However, the main attraction is magnificent Mount McKinley, 20,320 feet (6,190 meters) tall - a high pyramid of rock, snow, and glaciers rising from the valley floor. Clouds will obscure McKinley more often than not, so be prepared to wait for the big picture. On a clear day, head to Wonder Lake, where you can see the mountain's reflection on the lake's surface. Sunset is even better, when the summit's reddish glow provides a stunning reflection.
Practical Info
Denali National Park is about a 6 hour drive north from Anchorage. You can get to the park via shuttle bus or the Alaska Railroad. Denali provides many camping, biking, hiking, and other wilderness opportunities. Plan to spend at least a day in the park; more if you want to camp and hike. The best time to visit is during the late spring and summer.
Inside the park, the Denali Park Road is served only by official shuttle buses, which have limited seating; you cannot drive in the park. If you're planning to spend the day riding the buses, pack plenty of food and drink. It can be a long ride, and there are no services save for toilets and, at the Toklat Ranger Station, bottled water. If you plan to get off the bus and do some hiking, carry a park map so you know where you are.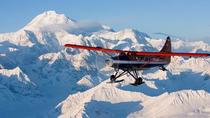 8 Reviews
Journey into the remote Alaskan wilderness on this incredible flightseeing tour of Denali from Talkeetna. Soar high above the granite peaks, glaciers and ... Read more
Location: Talkeetna, Alaska
Duration: 1 - 1.5 hours
Soar through the boreal forest and over Alaskan tundra on an exhilarating 3-hour zipline tour — the only one of its kind in the Denali National Park area. ... Read more
Location: Denali National Park and Preserve, Alaska
Duration: 3 hours (approx.)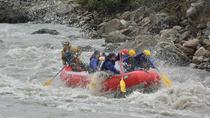 1 Review
Join a knowledgable and professional river guide on a "mild to wild" rafting adventure along Alaska's Nenana River. Perfect for all ages (5 and older) and ... Read more
Location: Denali National Park and Preserve, Alaska
Duration: 4 hours (approx.)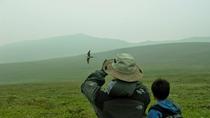 Hike into the tundra-covered mountains of the Alaska Range from camp to camp with an experienced guide for three nights, or travel to the Maclaren River valley ... Read more
Location: Denali National Park and Preserve, Alaska
Duration: Flexible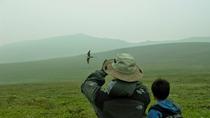 Fly by helicopter and walk the tundra of Denali with an experienced naturalist guide. See the home of caribou, Dall sheep, Arctic ground squirrel on this ... Read more
Location: Denali National Park and Preserve, Alaska
Duration: 5 hours (approx.)
Join us today on an epic Alaskan adventure! With 6 million acres of Alaska's magnificent interior beauty, there's plenty of scenery and potentially an ... Read more
Location: Fairbanks, Alaska
Duration: Flexible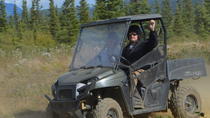 8 Reviews
See the wilds of Alaska on a Side by Side ATV with a full windshield, roof, seat belts, gas pedal, and break.  This fun and fantastic machine handles the rough ... Read more
Location: Healy, Alaska
Duration: 3 hours (approx.)
This tour takes you within 6 miles of Denali's north summit (19,470 ft.) and south summit (20,320 ft.). You will enter an ancient world of rugged high mountain ... Read more
Location: Talkeetna, Alaska
Duration: Flexible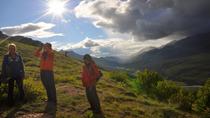 3 Reviews
Hike the wilderness trails at the entrance to Denali National Park with an experienced naturalist guide on this tour. This narrated tour spends five hours ... Read more
Location: Denali National Park and Preserve, Alaska
Duration: 5 hours (approx.)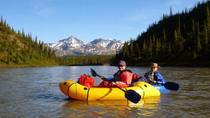 1 Review
Go on a guided packrafting trip with an experienced naturalist adventurer. Hike through the wilderness to a stunning mountain stream and float by the majestic ... Read more
Location: Denali National Park and Preserve, Alaska
Duration: 1 day (approx.)