Near the southern tip of the Alaskan panhandle is the city of Ketchikan, hugging the coastline of Revillagigedo Island. It's a popular cruise ship destination, with a charming historic quarter and salmon-rich waters.

Ketchikan is also at the center of some of Alaska's most spectacular scenery, a region of fjords, valleys, mountains and glaciers. However roads can be a bit of a problem around here (remember that whole 'Bridge to Nowhere' fuss?) and even boat cruises only show part of the story. The solution? Take to the sky!    

If you're visiting Ketchikan in the warmer months, hop on a seaplane and get ready for amazing views of this wild, untouched landscape. Everyone gets a window seat and your knowledgeable pilot will point out natural features over the headset.

Pristine forests, lakes, waterfalls, craggy peaks, sheer drops – this is nature at its finest. Soar over Totem Bight Historical Park, Saxman Totem Park and the islands of Alexander Archipelago on an unforgettable journey.

A longer flight will take you over Misty Fjords National Monument, a spectacular wilderness area abutting Canada – precipitous drops and soaring peaks define the coastline of this natural wonder, often wreathed in mist (as the name would suggest).

The plane makes a water landing where the awesome stillness, crisp alpine air and dramatic coastline will take your breath away. Because the terrain is largely unspoilt, there's also a good chance you'll spot wildlife. Get close (but not too close) to bears, moose, mountain goats, deer and wolves, and if you keep your eyes trained on the waters below you might spot whales, sea lions and porpoises.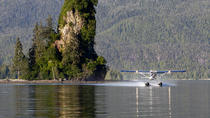 22 Reviews
Discover the spectacular scenery of Misty Fjords National Monument from the air on an aerial tour from Ketchikan aboard a floatplane. Home to more than 2 ... Read more
Location: Ketchikan, Alaska
Duration: 2 hours (approx.)