4 Reviews
Address:

Anzac Hill Road, Alice Springs, NT 0870, Australia
Anzac Hill is a lookout and war memorial with views over the entire township.
The Anzac Hill Monument has graced the top of Anzac Hill since 1934, when it was unveiled during Anzac Day events on the 25th April. The monument was designed by Reverend Harry Griffiths, who was president of the Returned Soldiers League at the time, as a commemoration of the lives of soldiers who gave their lives for Australia.
Anzac Hill offers some of the best views of Alice Springs. The hill is just off the Stuart Highway, to the north of the main township. It's a popular spot for visitors wishing to watch the sun rise or set. 
Access to the Anzac Hill Monument and Lookout is via Schwarz Crescent, then turning onto Anzac Hill Road. It is possible to drive almost all the way to the top of the hill, however visitors must walk to summit the hill proper. For visitors without a car, the hill is a 20 minute walk from the town centre.
Whilst Anzac Hill gives fantastic views of Alice Springs and surrounds, it's important to note that there is very little protection from the sun on the hill itself. The heat in the Australian desert can be harsh, so ensure that you take adequate water when visiting the monument.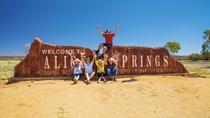 42 Reviews
At the very heart of Australia lies the historic town of Alice Springs - the pioneering gateway to a mysterious land of natural monuments, colorful outback ... Read more
Location: Alice Springs, Australia
Duration: 4 hours (approx.)