There's nothing that lets you experience vast splendor the Australian outback quite like camping in it.

Camping in the outback is a surreal experience. As the sun goes down and the stars come out you'll gaze at the sky in wonder. Away from the lights of cities and towns the night sky is breathtakingly bright, a million tiny lights spread across the entire sky. You'll see the dramatic lights of the setting sun play across the desert, and the more subtle hues that return to the earth as the sun rises above the horizon.

As an added bonus, because you're in the stunning landscapes of the Red Centre, your days will be filled with experiences equally as amazing.

What you get to see in the outback depends largely on how long you decide to camp out for. One night camping tours will typically see you exploring both Uluru and Kata Tjuta National Parks. Guided walks, learning of Aboriginal folklore and learning about the ecology of the region ensure that you get the most out of your stay. You'll eat dinner around a roaring campfire before bedding down for the night in a swag – Aussie slang for bedroll.  Wake early on your second day to witness sunrise at Uluru before continued exploration of the area and the trip back to Alice Springs.

To truly immerse yourself in the outback experience, take a tour that lasts a few days. You'll see more of the desert during the day and get to see the light change over different landscapes. The sky, we promise, won't change – but you'll get to appreciate it night after night.

A three day camping tour sees you visiting Uluru on your first day. Like the overnight tour, a guided walk around the base is an important part of the agenda. See caves and ancient rock paintings in a relaxed manner before heading back to camp and settling in for the night. Rise early on your second morning to head to Kata Tjuta (The Olgas). A hike through the Valley of the Winds and exploration of Kings Canyon are next on the agenda, followed by dinner cooked over campfire coals. Further exploration of Kings Canyon is the morning's activity on your third day, with a swim in a waterhole your last lingering outback experience before heading back to civilization.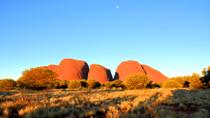 18 Reviews
See the best of the Red Centre on a three-day camping safari from Alice Springs. Discover the heart and soul of this rugged country, with Dreamtime legends, ... Read more
Location: Alice Springs or Ayers Rock, Northern Territory
Duration: 3 days (approx.)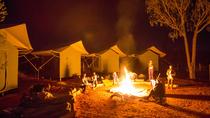 8 Reviews
Experience the real Australian outback on this 5-day, small-group camping from Alice Springs. Travel by 4WD vehicle on- and off-road along bush tracks to Uluru ... Read more
Location: Alice Springs, Australia
Duration: 5 days (approx.)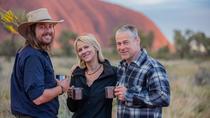 6 Reviews
Experience Uluru (the Aboriginal name for Ayers Rock) and the Australian outback like a seasoned swagman on a three-day 4WD tour from Alice Springs. Choose to ... Read more
Location: Alice Springs, Australia
Duration: 3 days (approx.)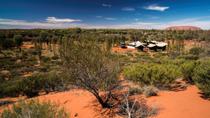 15 Reviews
Explore Uluru-Kata Tjuta National Park from Alice Springs or Ayers Rock, and sleep under the stars on this two-day outback bush camping tour, ideal if your ... Read more
Location: Alice Springs, Australia
Duration: 2 days (approx.)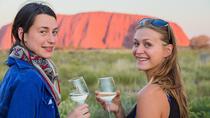 24 Reviews
Spend your days hiking, swimming and exploring, and sleep under the southern stars on a four-day Australian outback camping tour. Traveling by off-road 4WD ... Read more
Location: Alice Springs, Australia
Duration: 4 days (approx.)