Uluru, or Ayers Rock, is one of Australia's most well-known features. A site of cultural heritage with deep significance to the local Aboriginal population, Uluru is a unique attraction and it's easy to see why so many people visit it year after year. Accessed from the gateway of Alice Springs, there are many options for visiting Uluru from Alice Springs.
How to Get to Uluru from Alice Springs
By far the easiest way of getting to Uluru from Alice Springs is to organise some kind of tour. Hiring a car and driving yourself is of course an option, however it is necessary to book in advance and there are certain requirements for driving in such a remote location.
A shuttle bus from Alice Springs to Uluru
is a comfortable way to travel, and an informative guide teaches visitors about the flora, fauna and cultural heritage of the area along the way.
Staying at Uluru
Alice Springs, whilst the gateway to Uluru, is simply too far away to provide a feasible base whilst visiting this amazing site. Deciding where to stay when visiting Uluru isn't difficult as there are only a few options available. Make sure to book early to ensure both availability and the best price.
Multi-day tours around Uluru
can offer varied accommodation options as visitors explore the surrounding landscape.
Things to do at Uluru
So you've made it to Uluru, but what now? Far and away the most common – and most impressive – of the things to do at Uluru is to witness the sunrise or sunset over this monolith that rises from the desert. Watch as the giant red rock changes colour as the sun grows stronger or weaker. Witness this event on foot, camel back or even helicopter. The nearby rock domes of Kata Tjuta are a popular bushwalking site, or if you prefer to stay closer to home, why not take a base walk around Uluru with an indigenous guide.
Returning to Alice Springs
Many visitors treat Alice Springs as a gateway when they visit Uluru. Don't make that same mistake! There are plenty of things to do in Alice Springs, and it is a tourist destination in its own right. A historical Telegraph Station, and the Royal Flying Doctor Service are prime attractions within the town, and the Alice Springs Desert Park, Olive Pink Botanic Gardens and famous MacDonnell Ranges showcase the natural beauty of Australia's desert.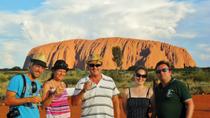 30 Reviews
Journey into the heart of Central Australia with two expert guides to experience the wonders of Uluru (Ayers Rock) and Kata Tjuta National Park, sacred sites ... Read more
Location: Alice Springs, Australia
Duration: 18 hours (approx.)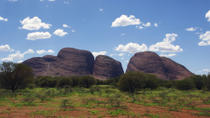 115 Reviews
Get the full Ayers Rock experience on this day trip from Alice Springs to Uluru-Kata Tjuta National Park. World Heritage-listed Uluru, the large sandstone ... Read more
Location: Alice Springs, Australia
Duration: 18 hours (approx.)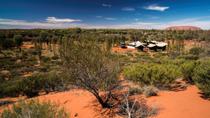 13 Reviews
Explore Uluru-Kata Tjuta National Park from Alice Springs or Ayers Rock, and sleep under the stars on this two-day outback bush camping tour, ideal if your ... Read more
Location: Alice Springs, Australia
Duration: 2 days (approx.)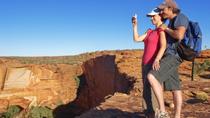 4 Reviews
Discover the beauty of Uluru (Ayers Rock), Kata Tjuta (the Olgas) and Kings Canyon on a 2-day tour from Alice Springs. Traveling with an expert guide, get a ... Read more
Location: Alice Springs, Australia
Duration: 2 days (approx.)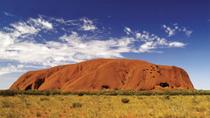 101 Reviews
Travel from Uluru (Ayers Rock) to Alice Springs in a deluxe coach with a professional driver who shares informative commentary about the sights you pass during ... Read more
Location: Ayers Rock Resort Hotels, concludes Alice Springs, Australia
Duration: 6 hours (approx.)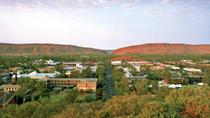 95 Reviews
Travel by luxury bus on this one way transfer from Alice Springs to Uluru (Ayers Rock). Learn more about the flora and fauna as well as the natural and ... Read more
Location: Alice Springs, concludes Uluru (Ayers Rock), Australia
Duration: 6 hours (approx.)