Petra Tours
The stone city of Petra was carved into Jordan's red rock cliffs more than 2,000 years ago. Once a Roman trading stop and stronghold of the Nabataean Arab kingdom, Petra is now a UNESCO World Heritage Site and one of the world's most iconic archaeological destinations.
The Basics
Petra is a highlight of the Middle East, renowned for its astonishing cliff-bound monuments and Greek-influenced architectural style. Thanks to the city's Hollywood portrayal in Indiana Jones and the Last Crusade, Petra rose to international fame and is now one of Jordan's most-visited attractions. Travelers usually approach the site through the long and narrow Siq, a chasm that opens up on the magnificent Treasury—Petra's most-photographed building. Within the winding mountain ravines you'll also find tombs, an 8,000-seat amphitheater, and the triumphal arch of the Temenos Gateway.
While it's possible to catch Petra's highlights on a day trip from Eilat, Jerusalem, or Amman, there's enough to see to warrant a multi-day stay. Petra is often included on longer tours of Israel and Jordan that typically include visits to Wadi Rum, the Dead Sea, Jerusalem, and Bethlehem, depending on the length and option chosen. For a personalized experience, opt for a private tour.
Things to Know Before You Go
Petra is a must-see for adventure travelers and archaeology buffs.

Visitors can opt for a 1-day or 2-day pass for entrance into Petra.

It gets hot in the Jordan desert; don't forget to bring sun protection and plenty of water.

Remember to dress respectfully in loose-fitting clothing that covers your legs and shoulders.

Petra tours from Eilat, Jerusalem, and Amman can last up to 12 hours.

How to Get There
Petra is 150 miles (240 kilometers) south of Jordan, near the town of Wadi Mousa. It takes roughly 20 minutes to walk from town to the archaeological site. A guided day tour is the most convenient way to get there, but Wadi Mousa can also be reached by JETT bus from Amman or Aqaba. Transportation by taxi is also an option.
When to Get There
Plan to arrive at the main entrance first thing in the morning to explore the site before crowds begin to arrive. Spring and autumn offer the best weather, with warm days and cool nights. Expect temperatures over 100°F (38°C) in summer.
Petra Monastery Hike
While the Treasury ranks as Petra's most famous structure, the Monastery is just as impressive and often much less crowded, due in part to the strenuous hour-long hike necessary to get there. Those who brave the journey up some 800 rock-cut steps are rewarded with a chance to explore Petra's largest carved monument. The path up to the Monastery sits mostly in the shade during the afternoon.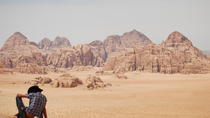 3 Reviews
This 3-day group tour of Jordan leaving from Jerusalem will take you to all of the highlights of Jordan including Petra, Wadi Rum, Amman Citadel and Jerash. ... Read more
Location: Jerusalem, Israel
Duration: 3 days (approx.)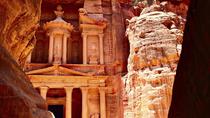 13 Reviews
This tour will take you on an adventure that you will never forget, through the mountains to see Petra in all of her glory. Petra, one of the seven wonders of ... Read more
Location: Eilat, Israel
Duration: 1 day (approx.)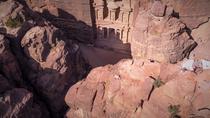 5 Reviews
Explore Jordan's most mesmerizing sight, the UNESCO World Heritage Site of Petra, on this 10-hour private day trip from Amman or the Dead Sea. See the Siq, ... Read more
Location: Amman, Jordan
Duration: 10 hours (approx.)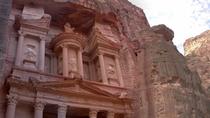 Tour Petra from Jerusalem including internal flights, and transfer from your hotel. See the famous Treasury, that made Petra famous. Walk through this amazing ... Read more
Location: Jerusalem, Israel
Duration: 16 hours (approx.)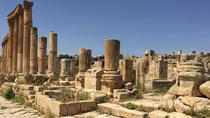 1 Review
This five day tour gives you a great opportunity to see the highlights of Jordan. Start with a panoramic tour of Amman center, downtown with its Roman Theater, ... Read more
Location: Amman, Jordan
Duration: 5 days (approx.)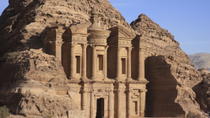 2 Reviews
Rewind more than 2,000 years in time on this private full-day trip to Petra from Aqaba! Pass by Little Petra the Nabatean's carvan stop before heading to the ... Read more
Location: Aqaba, Jordan
Duration: 8 hours (approx.)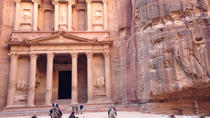 5 Reviews
A magical day tour in Petra. Choose any date and enjoy a beautiful tour to Petra with pro guides. Pickup/drop off from any hotel in Eilat. Departures every day.
Location: Eilat, Israel
Duration: 12 hours (approx.)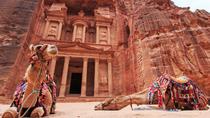 6 Reviews
If you have a short time in Jordan, the Southern Jordan Tour is you answer. Experience a day tour of the Wonder of the World- Petra and Hollywood's preferred ... Read more
Location: Amman, Jordan
Duration: Flexible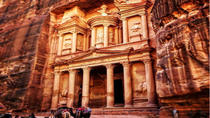 1 Review
Join this private shore excursion Aqaba to explore Petra, one of the Seven Wonders of the World, and one of Jordan's most enchanting Archaeological sites. ... Read more
Location: Aqaba, Jordan
Duration: 8 hours (approx.)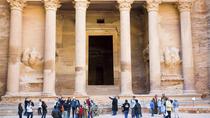 5 Reviews
Take a one day tour to Petra from Aqaba. Tour one of the famous Wonders of the World with a licensed guide. Walk through the Siq to arrive at the famous ... Read more
Location: Aqaba, Jordan
Duration: 10 hours (approx.)