The traditional cuisine of Amsterdam is straightforward and hearty. Simple meaty dishes feature such as snert (a calorie-ridden pea soup thickened with leeks, celery and smoked sausage and served with bacon and rye bread) or stamppot boerenkool (mashed potatoes mixed with kale and eaten with plump rookworst (smoked sausage).

Herring is the most popular fish to eat, pickled or raw, from street vendors. Tip your head backwards and munch them whole in local style or eat them in a bread roll, served with chopped onion and pickle.

Popular snacks include bitterballen (fried meatballs) served up tapas-like in most bars; a strong salami flavored with cloves called metworst is also often served as a bar snack. Belgian-style patat (fries) are bought from street vendors and consumed straight from the wrapper with plenty of mayonnaise.

As a result of the immigration into Amsterdam that started in the 17th century – and continues today – bringing spices and new styles of cooking, anything goes today in the city's cuisine; Chinese, Surinamese, Turkish, Indian and Mediterranean dishes all play their part in the Dutch gourmet lexicon. Indonesian rijstaffel is practically a Dutch staple, with restaurants offering a feast of small dishes of savory rice, meats and curries to be tasted all together.

Amsterdammers have a sweet tooth, pouring chocolate sprinkles on all flavors of broodje (sandwich) and devouring pancakes sprinkled with sugar, waffles oozing with syrup and little round oliebollen (donuts).

Cheese is part of the Dutch psyche – The Netherlands is the biggest exporter of cheese in the world – and it's eaten at breakfast, lunch and dinner. Cheese flavors bread, fills sandwiches and covers burgers. The most famous Dutch cheeses are Edam, which comes in great yellow rounds, and Gouda, wrapped in red wax, but there are countless options; visit a high-end deli such as De Kaaskamer to choose from 300 different cheeses.

Amsterdam's beers are justly famous, with world-beating names such as Heineken and Amstel; nowadays scores of micro-breweries contribute to the scene. Jenever (Dutch gin) is still distilled in proeflokalen (gin-tasting houses) and comes in two styles: oude (old) gin is smooth and malty; jonge (young) gin is smoother but higher in alcohol content.

Getting to grips with Amsterdam's cuisine can be made much easier by taking a guided walking tour; you'll get expert advice and visit the best stores and bars for the chance to sample the wares and learn about the city's gastronomy from the experts.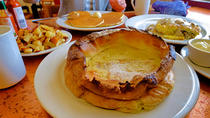 1 Review
Dutch "pannekoeken" (pancakes) are like nothing you can imagine — until you see them. Enjoy this extremely Dutch dish during a 3-hour evening of local ... Read more
Location: Amsterdam, Netherlands
Duration: 3 hours (approx.)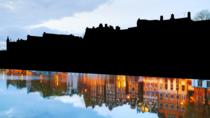 Join a 1-hour sightseeing tour in the dark and explore Amsterdam through an unique perspective with a professional blind guide. See the city through your ... Read more
Location: Amsterdam, Netherlands
Duration: 60 minutes (approx.)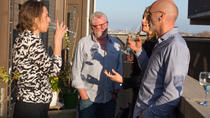 You are invited to a private dinner party in Amsterdam's trendy Oostelijke Eilanden neighborhood. Your host for the evening, Manon, will prepare a range of ... Read more
Location: Amsterdam, Netherlands
Duration: Flexible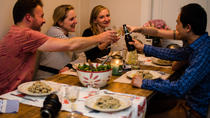 1 Review
Get a taste of how the locals live during this 3-course vegan dinner in the home of your private host, Jenn. Relax with her two friendly cats as you enjoy a ... Read more
Location: Amsterdam, Netherlands
Duration: 3 hours (approx.)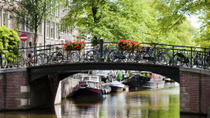 100 Reviews
This private walking tour shows you some of Amsterdam's highlights from a local's perspective. With a knowledgeable private guide by your side, learn about the ... Read more
Location: Amsterdam, Netherlands
Duration: 4 hours (approx.)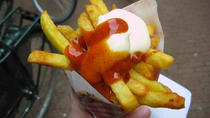 83 Reviews
Discover Amsterdam's culinary history on a 2-hour food walking tour, led by an expert guide! While learning about the city's gastronomic roots, sample ... Read more
Location: Amsterdam, Netherlands
Duration: 2.5 hours (approx.)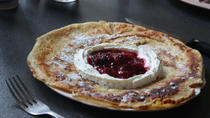 6 Reviews
Gain insight into local culture during an authentic home-cooked meal with a Dutch host. Go shopping with your host, then enter their home, located in a ... Read more
Location: Amsterdam, Netherlands
Duration: 3 hours (approx.)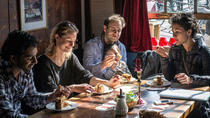 30 Reviews
Taste Amsterdam's culinary specialties on this 4-hour walking tour of the historical Jordaan district. Following a passionate foodie guide, visit some ... Read more
Location: Amsterdam, Netherlands
Duration: 4 hours (approx.)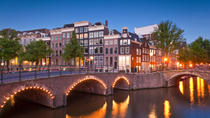 638 Reviews
Cruise around Amsterdam's canals in the evening, and pair a decadent 4-course dinner – cooked on board – with sights of the city. As one of the few Amsterdam ... Read more
Location: Amsterdam, Netherlands
Duration: 2 hours 30 minutes (approx.)