263 Reviews
Address:

Cambodia

Hours:

Open daily, sunrise to sunset

Admission:

80,000 riel
The last capital of the Khmers is a stupendous complex on a stupefying scale; established in the 12th century on the site of an earlier capital, Angkor Thom dwarfs even nearby Angkor Wat. The city's 7.5 miles (12 kilometers) of wall is ringed by a moat (which no longer holds water or – thankfully – crocodiles). Each of the five enormous gates is a monument in itself, approached by avenues lined with 108 divinities (good on the left, evil on the right).
Some elevation will help you make sense of the layout; head for the Terrace of the Elephants or nearby Terrace of the Leper King with their intricate carvings, or the hilltop Phnom Bakheng, particularly popular at sunset. Among the myriad other points of interest are the temples of East Mebon and Pre Rup, built in the same "temple-mountain" style as Angkor Wat.
Practical Info
The southern gate to Angkor Thom lies 4.5 miles (7 kilometers) north of Siem Reap, past Angkor Wat. Baphuon and Bayon are also within the complex while much-photographed Ta Prohm lies to the east, an evocative ruin where trees force their way through intricately carved stone.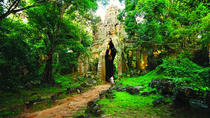 1 Review
Immerse in the lost kingdom of the Khmers on this 8-hour private tour from Siem Reap. Experience nature running wild at the mysterious ruins of Ta Prohm, the ... Read more
Location: Krong Siem Reap, Cambodia
Duration: 8 hours (approx.)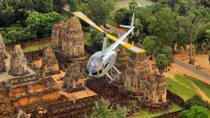 4 Reviews
See Cambodia's magnificent Angkor Wat and other temple ruins by land and air on this private full-day tour! Explore the temples of Angkor Archaeological Park ... Read more
Location: Siem Reap, Cambodia
Duration: 11 hours (approx.)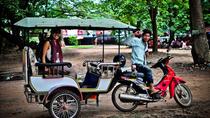 3 Reviews
A tuk-tuk ride through the Angkor temples complex provides an entertaining way to travel between temples and is ideal for taking photos.
Location: Krong Siem Reap, Cambodia
Duration: 8 hours (approx.)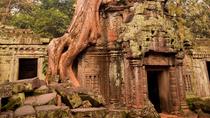 This private tour will take you to Ta Prohm Temple, Angkor Thom, and Bayon Temple, among other things. Hotel pickup and drop-off is included for this tour.
Location: Angkor Thum, Cambodia
Duration: 4 hours (approx.)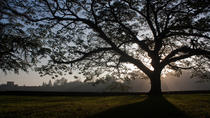 1 Review
The Khmer Empire created the largest religious monument ever built when they constructed the amazing Angkor Wat along with it hundreds of other small monuments ... Read more
Location: Krong Siem Reap, Cambodia
Duration: 7 hours 30 minutes (approx.)
Visit Angkor Wat, Angkor Thom, Bayon (smiling faces temple), Ta Prohm (jungle temple, and Phnom Bakheng on this shared day trip.
Location: Krong Siem Reap, Cambodia
Duration: 8 hours (approx.)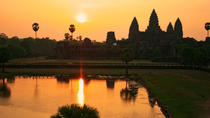 2 Reviews
End your day at Angkor Wat with a sunset cruise by private gondola along the water by Angkor Thom. As your boat glides serenely along, watch as the sun sets ... Read more
Location: Siem Reap, Cambodia
Duration: 2 hours 30 minutes (approx.)
Explore the best of Siem Reap Cambodia with the ancient city temples of Angkor and Tonle Sap lake , known as the 'great lake'. Enjoy the private 1.5 ... Read more
Location: Krong Siem Reap, Cambodia
Duration: 1 day 12 hours (approx.)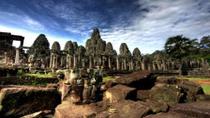 173 Reviews
Discover the mysteries of Angkor on this full-day, small-group temples tour from Siem Reap. See the iconic Angkor Wat and the enigmatic faces of Bayon temple. ... Read more
Location: Siem Reap, Cambodia
Duration: 8 hours (approx.)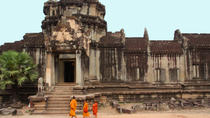 65 Reviews
Be mesmerized by Angkor Wat and other magnificent remains of the Khmer Empire on this private tour from Siem Reap! Beginning at the south gate of Angkor Thom ... Read more
Location: Siem Reap, Cambodia
Duration: 10 hours (approx.)