278 Reviews
Address:

Siem Reap, Cambodia

Hours:

Daily 5am-6pm

Admission:

USD $37
Rising from the jungle as the star of the UNESCO-listed Angkor Archaeological Park, the Angkor Wat temple complex is a 12th-century engineering marvel that tops many adventure travelers' bucket lists and justifies a trip to Southeast Asia all on its own. Every surface is covered in intricate carvings and details that don't disappoint—nymphs dance on columns in shadowy hallways, serpent-topped balustrades line the moat, and huge, chiseled bas-reliefs wrap the outer walls, depicting Khmer Empire battles. The site's colossal size reflects its ambition, intended as a microcosm of the universe. Nonetheless, it's difficult to get lost here, with the complex arranged on three tiers.
The Basics
Angkor Wat tours typically run from Siem Reap, with a number of options available. Both small-group and private tours take visitors around the complex—choose a full-day tour to travel with a knowledgeable Angkor Wat tour guide; an epic helicopter tour to see the ruins from above; or a bike tour to make your way to the site from Siem Reap on two wheels. Tours that visit at sunrise or sunset are especially popular for the photo opportunities, while a stop at the nearby Angkor National Museum allows visitors to better appreciate the significance of the structure and its symbolic decorations.
All visitors to Angkor Wat enter through the west-facing main entrance and onto a raised cruciform sandstone terrace. Once inside, the instantly recognizable five inner and four outer towers of the raised central temple serve as orientation points for exploration of the various hallways, chambers, and crumbling inner layers. If not visiting as part of a tour, 1-, 3-, and 7-day passes for the archaeological park are sold at the entrance.
Things to Know Before You Go
Angkor Wat is Cambodia's most popular attraction, which makes for large crowds. Book your tour in advance to save time.

Angkor Wat is a sacred site for Khmer people, and visitors should dress modestly. To visit the top tier, you must have your upper arms and thighs covered.

At any given time, a limited number of visitors are allowed to ascend to the top tier for views of the surrounding landscape.

A lawn in the outer ring has two free-standing roofless libraries that serve as peaceful places to escape the inevitable crowds.

How to Get There
Angkor Wat is located four miles (six kilometers) north of Siem Reap in the Siem Reap Province. Travelers can arrive by tuk-tuk or choose a guided Angkor tour with roundtrip transportation from the city.
When to Get There
Peak season at Angkor Wat is between November and February, when cool, dry weather makes for a pleasant visit. Huge crowds gather in the early morning to capture photos of the sun rising over the temple and its reflection in the site's long pools. To beat the crowds, visit other temples first and save Angkor Wat for midday or try sunset instead. The site is typically open from 5:30am to 6pm.
Exploring the Angkor Temples
The ancient temples of the Angkor Archaeological Park can take days to explore, but day tour highlights include the masterpiece Angkor Wat; Ta Prohm, where banyan tree roots encroach on crumbling structures; the South Gate of Angkor Thom; the Bayon Temple, where ancient smiling stone faces sit atop high towers; and the high wall at the Terrace of the Leper King. Visitors with more time can also see further-away sites like the pink stone temple of Banteay Srei, dating to the 10th century, or take a boat ride on Tonle Sap lake.
Get the most out of your holiday in Siem Reap by booking this Angkor Temple Ticket! Gain access to not only Angkor Wat, but other surrounding temples in the ... Read more
Location: Krong Siem Reap, Cambodia
Duration: 1 to 7 days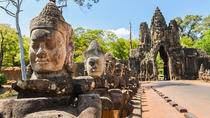 246 Reviews
Discover the mysteries of Angkor on this full-day, small-group temples tour from Siem Reap. See the iconic Angkor Wat and the enigmatic faces of Bayon temple. ... Read more
Location: Siem Reap, Cambodia
Duration: 8 hours (approx.)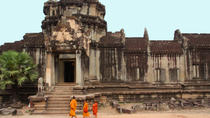 89 Reviews
Be mesmerized by Angkor Wat and other magnificent remains of the Khmer Empire on this private tour from Siem Reap! Beginning at the south gate of Angkor Thom ... Read more
Location: Siem Reap, Cambodia
Duration: 10 hours (approx.)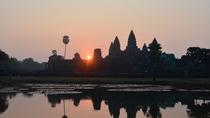 33 Reviews
To add a special touch to master the magnificence of Angkor in one full day, your means of transportation will be a local Tuk Tuk that will be waiting for you ... Read more
Location: Krong Siem Reap, Cambodia
Duration: Flexible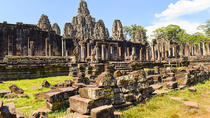 59 Reviews
This full-day tour allows plenty of time to enjoy the majesty and awe of the temples of Angkor. Explore, climb and have the exclusive benefit of scholarly ... Read more
Location: Krong Siem Reap, Cambodia
Duration: 8 hours (approx.)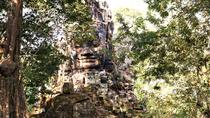 66 Reviews
The temples of Angkor are truly one of the world's greatest archeological wonders, and this full-day, guided, small group tour is the perfect way to experience ... Read more
Location: Krong Siem Reap, Cambodia
Duration: 8 hours (approx.)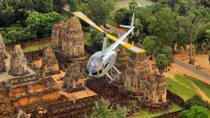 5 Reviews
See Cambodia's magnificent Angkor Wat and other temple ruins by land and air on this private full-day tour! Explore the temples of Angkor Archaeological Park ... Read more
Location: Siem Reap, Cambodia
Duration: 11 hours (approx.)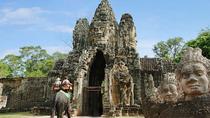 17 Reviews
This private day trip from Siem Reap highlights the main temples of the Angkor archaeological complex, designated a UNESCO World Heritage site. Built between ... Read more
Location: Krong Siem Reap, Cambodia
Duration: 9 hours (approx.)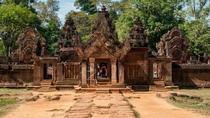 3 Reviews
Enjoy a full-day tour in Siem Reap to visit some of the most amazing destinations including Angkor Wat, Banteay Srei, Bayon Temple and Ta Prohm.
Location: Krong Siem Reap, Cambodia
Duration: 8 hours (approx.)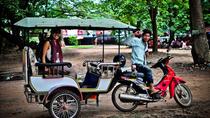 7 Reviews
A tuk-tuk ride through the Angkor temples complex provides an entertaining way to travel between temples and is ideal for taking photos.
Location: Krong Siem Reap, Cambodia
Duration: 8 hours (approx.)