389 Reviews
Address:

Cambodia

Hours:

Open daily, sunrise to sunset

Admission:

80,000 riel
The Bayon temple forms a square at the center of the much larger square of the vast Angkor Thom, and is the architectural highlight of the complex. This was considered by the Khmers to be the conjunction of heaven and earth, though the auspicious site was covered in jungle for centuries.
Like much in the area it dates to the 12th-century reign of King Jayavarman VII, and is particularly noted for its magnificent carved stone faces with their beatific smiles. They depict either the king himself or a bodhisattva; the confusion was probably deliberate.
The bas relief carvings on the temple's outer walls are a riot of scenes depicting everything from celestial beings and mighty battles to humble village life.
Practical Info
Bayon is within Angkor Thom, which lies 4.5 miles (7 kilometers) north of Siem Reap, past Angkor Wat.
Get the most out of your holiday in Siem Reap by booking this Angkor Temple Ticket! Gain access to not only Angkor Wat, but other surrounding temples in the ... Read more
Location: Krong Siem Reap, Cambodia
Duration: 1 to 7 days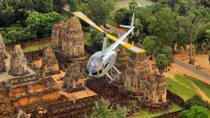 5 Reviews
See Cambodia's magnificent Angkor Wat and other temple ruins by land and air on this private full-day tour! Explore the temples of Angkor Archaeological Park ... Read more
Location: Siem Reap, Cambodia
Duration: 11 hours (approx.)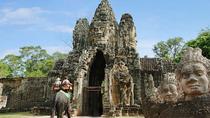 17 Reviews
This private day trip from Siem Reap highlights the main temples of the Angkor archaeological complex, designated a UNESCO World Heritage site. Built between ... Read more
Location: Krong Siem Reap, Cambodia
Duration: 9 hours (approx.)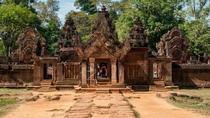 3 Reviews
Enjoy a full-day tour in Siem Reap to visit some of the most amazing destinations including Angkor Wat, Banteay Srei, Bayon Temple and Ta Prohm.
Location: Krong Siem Reap, Cambodia
Duration: 8 hours (approx.)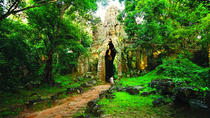 Drive to Angkor Thom that was the masterpiece of King Jayavarman VII. The scale is simply staggering and we are immediately overwhelmed by the audacity of ... Read more
Location: Krong Siem Reap, Cambodia
Duration: 8 hours (approx.)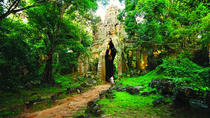 3 Reviews
Immerse in the lost kingdom of the Khmers on this 8-hour private tour from Siem Reap. Experience nature running wild at the mysterious ruins of Ta Prohm, the ... Read more
Location: Krong Siem Reap, Cambodia
Duration: Flexible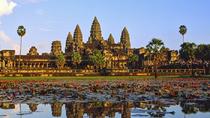 4 Reviews
Tourists simply cannot say they've been to Siem Reap if they haven't visited its biggest claim to fame: the Angkor Temples. Built in the early 12th century, ... Read more
Location: Krong Siem Reap, Cambodia
Duration: 9 hours 30 minutes (approx.)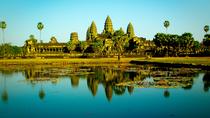 34 Reviews
On this small-group tour, visit most highlighted temples on a circuit through the UNESCO-listed Angkor Archaeological Park. Stop at Angkor Wat known as the ... Read more
Location: Krong Siem Reap, Cambodia
Duration: 8 hours (approx.)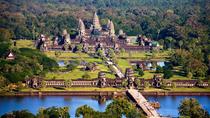 8 Reviews
Small private tour to visit Angkor complex with private and personal tour guide and driver for day trip. To visit main temple within the small circuit of ... Read more
Location: Krong Siem Reap, Cambodia
Duration: 8 hours (approx.)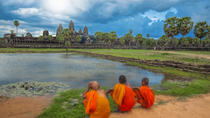 This overnight stay at a Buddhist monastery near Siem Reap includes a half-day tour of the UNESCO-listed Angkor Archaeological Park. Visit the famous Angkor ... Read more
Location: Siem Reap, Cambodia
Duration: 2 days (approx.)