Situated in the Nevşehir Province of central Turkey, the moonlike landscape of Cappadocia is home to architecture and artifacts dating back to the Bronze Age and beyond. Prepare yourself for some considerable trekking if you're of a mind to see the region properly. The many unique geological, historic and cultural destinations in the region have long been popular with modern tourists, and the established routes and methods of exploration are constantly improving. The fact that several spots in Cappadocia have been designated UNESCO World Heritage Sites will surprise no one familiar with this astonishing area.

Day 1: Kayseri

Get an early start directly from the Kayseri Airport and take advantage of cool morning temperatures. Explore the ancient churches of the Rose Valley while en route to the village of Cavusin, where nearby caves house a mosque carved directly out of the rock. Continue on to the underground city of Kaymakli, which housed early Christians fearful of vicious persecution. Round off the day winding your way through the narrow streets, picturesque stone houses, and famously friendly population of Ortahisar.

Day 2: Pasabagi, Avanos, and Imagination Valley

Take advantage of any number of means of transportation—a hot air balloon tour comes highly recommended—and drink in the animal-like and seemingly manmade natural formations found in Imagination Valley. Stop off in Pasabagi, where devout monks once sought the seclusion of rock-cut rooms for quiet contemplation. Finish up at Avanos, where the meandering path and red clay of the Kizilirmak River have provided the raw material for pottery production for centuries.

Day 3: The Open Air Museum in Goreme

The Open Air Museum in Goreme houses noteworthy early Christian churches decorated with ornate frescoes depicting iconic scenes found in The Bible. Spirituality meets commerce at this UNESCO World Heritage Site with the ready availability of widely regarded, locally crafted goods on sale amid the throng of tourists and pilgrims.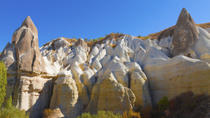 19 Reviews
Take time out to tour Turkey's famous moon-like landscape of Cappadocia — on a two-day excursion from Kayseri. You'll visit UNESCO World Heritage Sites like ... Read more
Location: Cappadocia, Turkey
Duration: 2 days (approx.)