Hierapolis & Pammukkale
Hierapolis is an ancient city of the Lycus River valley famed for its sacred hot springs. Its ruins are a popular day trip from Antalya as are the spectacular white cliffs of Pamukkale.
As you near the ancient city ruins of Hierapolis, you won't be able to miss seeing Pamukkale's iced-white terraces. Easily viewed from the ruins, these terraces are created by a natural build up of calcium carbonate, a by-product of the hot spring water that flows down the slopes.
A UNESCO World Heritage Site, Pamukkale shares its World Heritage status with Hierapolis, whose original inhabitants built the city to take advantage of its proximity to the hot springs.
Hierapolis' most popular attraction includes the thermally heated Sacred Pool where you can swim among the remains of ancient Roman columns, toppled into the water by various earthquakes.
Among the ruins at Hierapolis are the remains of the Temple of Apollo (Apollo was believed by ancients to have been the divine founder of the city), the Gate of Domitian, the tomb of Flavius Zeuxis, necropolis (graveyard), the Plutonium (a cave believed to have been the entrance to the underworld), and the theater.
Among these, the theater is perhaps the most well-preserved. Constructed around 200BC, it could hold 20,000 spectators in its day. These days, just 30 rows remain. 
Practical Info
Hierapolis & Pamukkale are 178km (110mi) northwest of Antalya.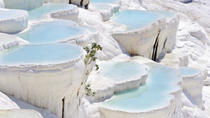 1 Review
There's nothing quite like the unique experience of Pamukkale. It is known as the "Cotton Castle" as it boasts dazzling white, petrified castles and ... Read more
Location: Izmir, Turkey
Duration: 8 hours (approx.)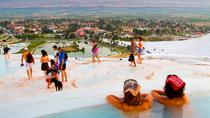 Pamukkale Day Tour from Istanbul (Including Domestic Flights). Pamukkale, Hierapolis Ancient City
Location: Istanbul, Turkey
Duration: 1 day (approx.)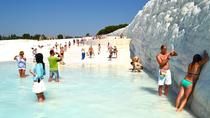 1 Review
Experience the wonders of Pamukkale and Hierapolis on this full-day guided tour from Alanya. Visit the UNESCO-listed Pamukkale hot springs that contain ... Read more
Location: Alanya, Turkey
Duration: 20 hours (approx.)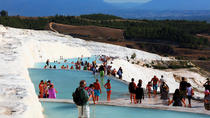 3 Reviews
Enjoy this full day tour from Side to visit Pamukkale hot springs and travertines, which contains terraces of carbonate minerals left by the flowing water. ... Read more
Location: Side, Turkey
Duration: 18 hours (approx.)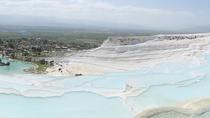 Take a full-day tour to Pamukkale, known for its unreal landscape featuring a series of terraced hot spring basins which look like snow and ice-covered cliffs ... Read more
Location: Kusadasi, Turkey
Duration: 11 hours (approx.)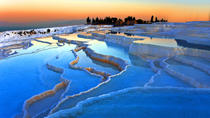 Visit Pamukkale hot springs that contain travertines, terraces of carbonate minerals left by the flowing water. Then visit the ancient city of Hierapolis.
Location: Marmaris, Turkey
Duration: 12 hours (approx.)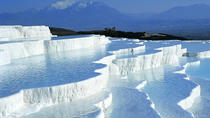 Visit miracle of the world – cotton castle of Pamukkale - white terraces, down of which the thermal water is flooding. Bathe in a thermal antique Cleopatra's ... Read more
Location: Side, Turkey
Duration: 1 day (approx.)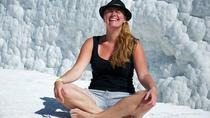 1 Review
Visit miracle of the world – cotton castle of Pamukkale - white terraces, down of which the thermal water is flooding. Bathe in a thermal antique Cleopatra's ... Read more
Location: Alanya, Turkey
Duration: 1 day (approx.)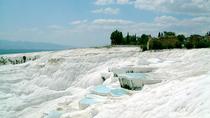 Visit miracle of the world – cotton castle of Pamukkale - white terraces, down of which the thermal water is flooding. Bathe in a thermal antique Cleopatra's ... Read more
Location: Belek Belediyesi, Turkey
Duration: 1 day (approx.)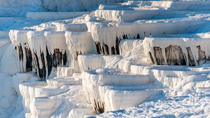 Visit miracle of the world – cotton castle of Pamukkale - white terraces, down of which the thermal water is flooding. Bathe in a thermal ... Read more
Location: Bodrum, Turkey
Duration: 1 day (approx.)