Antarctica RECOMMENDATIONS See all
Multiday Cruises to Antarctica
By Viator, June 2014
No reviews, be the first!
A traditional multiday cruise is how most people experience the icy 7th continent. The adventure starts as the passenger flies to the port town of Ushuaia, Argentina via any number of gateway cities. It is recommended that Antarctic travelers arrive into the Argentine town at least a day or two in advance of their scheduled cruise departure date in case of delays of cancellations. This is also a good time to make sure you have everything you need in order to make the trip down to Antarctica, including boots and waterproof parkas.

Once the ship leaves Ushuaia, guests then must endure at least two days crossing the Drake Passage. Actual at-sea time varies depending on weather conditions, but two days is the average length. After finally reaching Antarctica, what follows is an expedition-style cruise around the frozen continent and peninsula. Schedules vary based on time of year and weather conditions, but almost every trip guarantees wildlife sightings, adrenaline pumping hikes and views that will take your breath away. Length of time cruising around the continent depends on your specific itinerary, following which guests must once again cross the tempest prone Drake before returning to the home port of Ushuaia.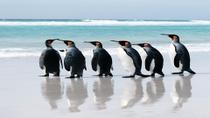 Experience the adventure of a lifetime as you journey by cruise ship to the unrivaled continent of Antarctica! On this 20-day tour, round-trip from Ushuaia, ... Read more
Location: Ushuaia, Argentina
Duration: 20 days (approx.)