Antigua and Barbuda RECOMMENDATIONS See all
Top Beaches in Antigua and Barbuda
By Viator, March 2018
No reviews, be the first!
Not much can beat a tropical island escape. There's good reason why we all pay thousands of dollars to jump on a jet-plane and spend some quality time in these seemingly long-forgotten isles. And if you've spent the coin, made the effort, and decided to come to Antigua and Barbuda, chances are you're gong to want some quality beach time. Here are the bar-none best beaches.

Pigeon Point, Antigua – Located just 5 minutes from Antigua's main township English Harbour , Pigeon Point is a favorite spot for both locals and tourists. As the locals claim – it's the only place where you'll see "yachties" and locals alike. Must be the clean sand, the calm waves and the fun snorkeling.

Half Moon Bay, Antigua – Catch the catamarans sailing in Half Moon Bay. This is a local's favorite beach for water sports. Waves at this beach can be five to six feet on a good day, so chances are you'll spot some body boarders, surfers, and windsurfers taking advantage of a good swell.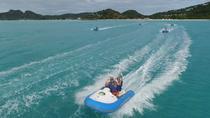 Captain your own 10 foot 2 seater inflatable motorboat Reef Rider as you and your friend explore the beautiful west coast of Antigua out to the stunning Cades ... Read more
Location: Jolly Harbour, Antigua and Barbuda
Duration: 3 hours 30 minutes (approx.)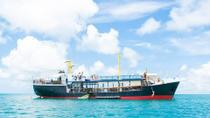 1 Review
Splash about in D-Boat, a retired oil tanker turned party boat and water park, moored just offshore from Antigua. Careen down a waterslide, jump on a ... Read more
Location: St Johns, Antigua
Duration: 6 hours (approx.)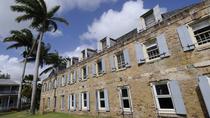 15 Reviews
Travel across the island of Antigua to Nelson's Dockyard National Park, on this Round Island Tour. Named after Admiral Horatio Nelson, Nelson's Dockyard is ... Read more
Location: St Johns, Antigua
Duration: 3 hours 30 minutes (approx.)
Our award-winning com­bi­na­tion of small intimate groups, relaxed laid-back vibe and the personal service of our local family-run business has ... Read more
Location: Jolly Harbour, Antigua and Barbuda
Duration: 6 hours (approx.)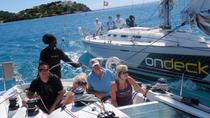 11 Reviews
If you're looking for something a little more adrenaline-pumping than snorkeling tours and fishing trips during your Caribbean cruise, don't miss this ... Read more
Location: St Johns, Antigua
Duration: 4 hours (approx.)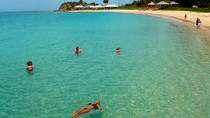 Enjoy the majestic views as you travel down the southern coast of the island. A stop will be made at Cades Reef for the opportunity to snorkel in Antigua's ... Read more
Location: St Johns, Antigua
Duration: 6 hours (approx.)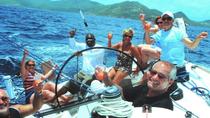 Relax on your own private yacht for the day! Cruise the warm blue waters of Antigua on your own private 40-foot sailing yacht. Your friendly crew will ensure ... Read more
Location: St Johns, Antigua
Duration: 7 hours (approx.)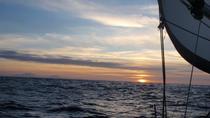 Enjoy your own private yacht and embark on a beautiful sunset sail around the scenic English Harbour. See Nelson's dockyard from the water whilst enjoying the ... Read more
Location: St Johns, Antigua
Duration: 2 hours 30 minutes (approx.)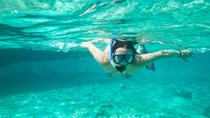 3 Reviews
Enjoy a day out on the crystal clear waters on Antigua on this Cades Reef Snorkel Cruise. You'll head out to the island's finest snorkeling site, Cades Reef. ... Read more
Location: St Johns, Antigua
Duration: 6 hours (approx.)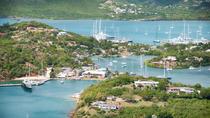 2 Reviews
Spend your Sunday night at Shirley Heights Lookout! Celebrate the most dramatic sunset in Antigua with a night of music and relaxation. Enjoy a night under ... Read more
Location: St Johns, Antigua
Duration: 3 hours 30 minutes (approx.)