8 Reviews
Address:

Grote Markt, between the Cathedral and the river Schelde, Antwerp, Belgium
Grand Market Place (Grote Markt van Antwerpen) Tours
Antwerp's Grote Markt (Grand Market Place) is one of the city's main attractions. Around the edges of the triangular-shaped marketplace you'll find lovely buildings, most notably Our Lady's Cathedral and several 16th-century guild houses. Although many of these buildings burned down at the end of the 16th century, they were rebuilt in the same style to showcase the excellence of Flemish architecture when Antwerp was a major European port city. The biggest building on the marketplace is the city hall. In the center of the marketplace, right in front of city hall, you'll see the Brabo Fountain. The statue was built to honor this folklore tale: the Roman soldier Brabo defeated Antigoon, a giant who charged a fee to cross the river Schelde. Those who couldn't pay had their hand cut off by the giant and thrown into the river. Brabo stopped this nonsense by cutting off the giant's hand, and now has a bronze fountain to celebrate his heroics. Those interested in the storied history of the Grote Markt can take a guided tour of the square.
Insider's Tip: The Grote Markt is busier in the afternoons than in the mornings, and the restaurants and cafes that are on the ground floors of most of the guild houses are excellent places for a beverage, a snack, and some people-watching. You'll get the best photos of the cathedral and Grote Markt from the top of the marketplace near the Scheldt river.
Practical Info
The Grote Markt of Antwerp is easy to get to by metro or bus, is a short walk from Groen Platz (Green Square), and about a 20-minute walk from the central station. Grote Markt is located in the heart of the old city quarter, walking distance from the Scheldt river that flows alongside the city. There are numerous restaurants and cafes to sit outside at and enjoy the views of this historic square.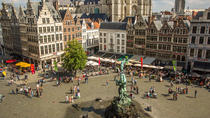 16 Reviews
Get the feel of Antwerp like a local during your private tour with your guide Etienne. You will get to see famous buildings in Antwerp and appreciate the ... Read more
Location: Antwerp, Belgium
Duration: 3 hours (approx.)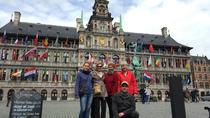 Immerse yourself in the Middle Ages during this 3-hour walking tour of Antwerp, accompanied by a personal guide. Wind your way through the city's cobbled ... Read more
Location: Antwerp, Belgium
Duration: 3 hours (approx.)