El Misti Tours
Also known as Guagua-Putina, this stratovolcano is located in southern Peru, 11 miles from Arequipa, and stands at 19,101 feet above sea level. The volcano features a symmetric conical shape, characteristic of rotating layers of lava and debris from eruptions. El Misti's last eruption was in 1985, and is now a popular climbing attraction.

There are two main routes, including the Pastores route and the Aguada Blanca route. Pastores is the more popular choice, as it's closer to Arequipa. It starts at 10,800 feet, with an overnight stop usually being made at Nido de Aguilas around 14,800 feet. The Aguada Blanca route begins at Monte Blanco camp at 15,700 feet. At the top, you'll find a large iron cross standing 33 feet tall, which was erected in 1901. While neither climb is particularly technical, both require peak fitness due to the steep sand slopes. These excursions are best done between July and November when the climate is most favorable for climbing.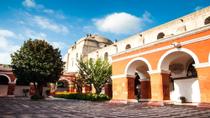 13 Reviews
Get to know Arequipa on this history-filled city sightseeing tour. With a professional guide, you'll see the city's top historical attractions, including the ... Read more
Location: Arequipa, Peru
Duration: 3 hours 30 minutes (approx.)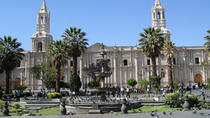 1 Review
Join this 2.5-hour walking tour of the beautiful city of Arequipa with the company of your professional guide.
Location: Arequipa, Peru
Duration: 3 hours (approx.)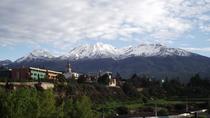 6 Reviews
Explore the Arequipa countryside while on this 4-hour tour. Discover Chilina and La Mansion del Fundador (Founder's Mansion) with you group of no more than 15 ... Read more
Location: Arequipa, Peru
Duration: 4 hours (approx.)