7 Reviews
Address:

Santa Catalina, Arequipa, Peru

Hours:

Friday-Monday: 9am-5pm Tuesday-Thursday: 8am-8pn

Admission:

S35 (about $13)
Santa Catalina Monastery (Monasterio de Santa Catalina)
Inaugurated on Oct. 2, 1580, 40 years after Arequipa was founded, the Santa Catalina Monastery (Monastery of St Catherine) has grown to become a city in itself. In fact, its design resembles the original city streets of Arequipa. especially given the white sillar structures the city is known for. The monastery is also made of ashlar, or petrified volcanic ash, coming from Volcan Chachani which overlooks Arequipa.

Visitors can explore the monastery independently or with a guide, wandering through narrow streets, ambient courtyards, peaceful plazas and ancient churches. Along with the historical churches and chapels, the cloisters are also especially noteworthy; the Main Cloister is the largest in the monastery and features both paintings and confessionals, while the Cloister of the Oranges includes three beautiful crosses residing among vibrant orange trees. You should also explore some of the streets, such as Cordova Street, which has a mix of old and new architecture; Sevilla Street, originally the gateway to the first church of St Catherine; and Plaza Zocodover, where nuns once congregated on Sundays to trade religious handicrafts.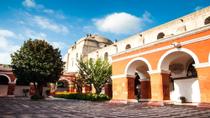 7 Reviews
Get to know Arequipa on this history-filled city sightseeing tour. With a professional guide, you'll see the city's top historical attractions, ... Read more
Location: Arequipa, Peru
Duration: 3 hours 30 minutes (approx.)
Explore Arequipa, Peru's second largest city during a 4-day dreamed-about tour.
Location: Arequipa, Peru
Duration: 4 days (approx.)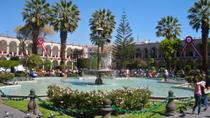 Take a private city tour and discover Arequipa by private van. Explore "The White City" with its monastery and museum, including the famous Juanita ... Read more
Location: Arequipa, Peru
Duration: 5 hours (approx.)