Arequipa RECOMMENDATIONS See all
Outdoor Adventures in Arequipa
By Viator, March 2016
No reviews, be the first!
For those looking for an adventurous vacation, Arequipa offers many opportunities. The most popular adventure activity is visiting Colca Canyon, the third most popular tourist attraction in Peru, drawing in 160,000 visitors each year. At 13,650 feet it's often described as the "world's deepest canyon," and adventure-enthusiasts can choose to explore the site via hiking, biking, kayaking, rafting or horseback riding.

Many travelers go to Peru because of the country's proximity to volcanoes and the Andes Mountains. From Arequipa, you'll have easy access to El Misti, a stratovolcano standing at 19,101 feet above sea level. Two main routes are used to climb, including the Pastores route, which begins at 10,800 feet and the Aguada Blanca route, which starts at 15,700 feet. While neither is very technical, steep sandy slopes make both treks physically challenging. Another worthwhile volcano climb is Chachani, the highest of the volcanoes near Arequipa, at 19, 872 feet. Usually tackled from the north side, you'll need a 4x4 to reach the base camp. Climbers will need crampons and an ice axe, although because there are no large crevasses, roping up is unnecessary. Note that as each year becomes increasingly warmer, you may want to double-check the snow conditions and if these usual supplies are needed.

For adrenaline junkies who want to get their feet wet, Arequipa is home to some of the world's best white water rafting. Many enjoy rafting the Colca River, which features rapids from class II to IV. If you're looking for something more challenging, Cotahuasi River is said to be the deepest river canyon on Earth, boasting rapids of class IV to V.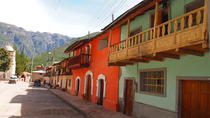 This 3-day tour departs from your hotel in Arequipa and will take you to see Cotahuasi Canyon.
Location: Arequipa, Peru
Duration: 3 days (approx.)