Aruba Suggested Itineraries
By Viator, February 2016
With consistently pleasant weather, the 21-mile long island of Aruba is a popular tourist hotspot in the Caribbean Sea.  With good reason too, for it offers a plethora of activities for first time visitors to experience.
Day 1: Discover a Bygone Era  
Embark on the Island Tour to learn more about Aruba. The tour takes you through many of Aruba's natural wonders and cultural highlights such as Natural Bridge, formed by the pounding of surf on coral limestone. Next, visit Ayo Rock featuring some of the oldest drawings by the Arawak Indians. Lose yourself in another time as you're guided through the Old City of Savaneta, home to the oldest dwelling on the island. Next stop is Aruba's second capital, oldest fishing village and now main red light area -San Nicholas. Finally, end your nostalgic day with a relaxing swim in the calm blue waters of Baby Beach.
Day 2: Hit the Water 
Hop aboard the luxurious Aruba Lunch & Snorkel Cruise  which takes you to Catalina Bay where you can sign up for snorkeling lessons.  Explore the hidden treasures of the 397 feet German shipwreck, Antilla, which was sunk by its own captain to avoid Dutch possession. Refresh yourself onboard with a deli-style lunch and an open bar as the crew entertains you with Aruban music, dance, & folklore. If you prefer a drier alternative to your deep sea adventures, try Aruba's Atlantis Submarine Expedition that promises excitement for the entire family.
Day 3: Do Something Different
The Essence of Aruba  tour is a great way to discover some less conspicuous places that are fascinating nonetheless. It takes you through the factories of famous indigenous produce such as the Aruba Aloe Factory, the Aruhiba Cigar factory and Pinturitic Kunukoe House & Bar where you can sample some local Aruban Rum. Complete your stay in Aruba with the romantic Aruba Fantasy Cruise and dinner on the beach . Snuggle up to your favorite someone as you cruise into the sunset. On arriving at the private "De Palm Island" you'll be treated to a three course meal that will surely leave you wanting more.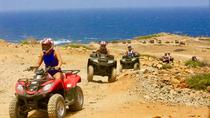 235 Reviews
Roar along the north coast of Aruba aboard a single or double ATV on this half-day tour. Kick up dirt as your all-terrain vehicle takes you through rugged back ... Read more
Location: Aruba
Duration: 4 hours (approx.)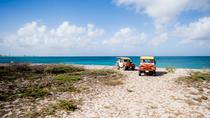 153 Reviews
Visit two of Aruba's top natural attractions — the Natural Pool and Baby Beach — on this off-road adventure tour, a unique tour on Aruba that includes both ... Read more
Location: Aruba
Duration: 9 hours 30 minutes (approx.)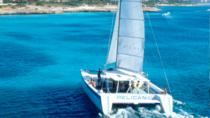 76 Reviews
Start your day on a high note with a Champagne cruise by catamaran across the turquoise waters of Aruba. Eat both breakfast and lunch on board while you cruise ... Read more
Location: Aruba
Duration: 4 hours 30 minutes (approx.)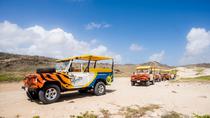 61 Reviews
Take a break from Aruba's picture-perfect beaches with a half-day tour to another of the island's natural highlights, the Natural Pool in Arikok National Park. ... Read more
Location: Aruba
Duration: 4 hours 30 minutes (approx.)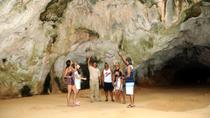 45 Reviews
Explore the natural and historical attractions of Aruba in a tropical-themed open-air bus. With a knowledgeable guide, travel around the island in an old ... Read more
Location: Aruba
Duration: 6 hours 30 minutes (approx.)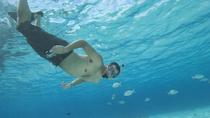 44 Reviews
Discover treasures of the Caribbean Sea on this 4.5-hour snorkeling adventure off the coast of Aruba. Cruise to three great local dive sites where you'll strap ... Read more
Location: Aruba
Duration: 4 hours 30 minutes (approx.)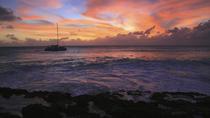 40 Reviews
Enjoy beautiful Caribbean views and an open bar on this 2-hour happy hour sunset cruise from Aruba's Hadicurari Pier. As you cruise along Aruba's picturesque ... Read more
Location: Aruba
Duration: 2 hours (approx.)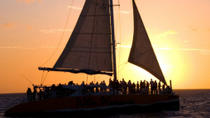 27 Reviews
As you sail along Aruba's scenic coastline, enjoy a storybook sunset that sets the scene for romance and fun.
Location: Aruba
Duration: 2 hours (approx.)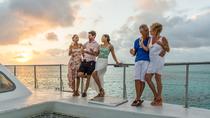 25 Reviews
Red Sail teamed up with the Hyatt Regency transforming our catamaran to a restaurant on the water for the Sunset Dinner Sail.  Included in this three (3) hour ... Read more
Location: Aruba
Duration: 3 hours (approx.)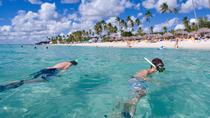 11 Reviews
Enjoy your Caribbean adventure to the fullest on this 3-hour snorkel cruise from Aruba's Hadicurari Pier. Snorkel in the clear, calm waters of Boca Catalina to ... Read more
Location: Aruba
Duration: 3 hours (approx.)