Nubian Museum
The Nubian Museum is a showcase of the history, art and culture of Nubia and is a real treat. Established in 1997, in cooperation with Unesco, the museum is a reminder of the history and culture of the Nubians , much of which was lost when Lake ...
Tours & Tickets
Explore two of the most famous sights in Aswan, Kalabsha temple which was built around 30 BC during the early Roman era, on the site of a much older temple and ... Read more
Location: Aswan, Egypt
Duration: 6 hours (approx.)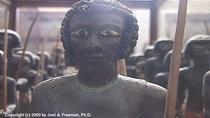 Day tour to Kalabsha temple and Nubian Museum. Learn how the Temple was dismantled and re-erected on a hill near the High-Dam site (Western Bank).
Location: Aswan, Egypt
Duration: Flexible
3 Reviews
The Nubia Museum is considered to be one of the most important Egyptian museums. Featuring exhibits and artifacts from the surrounding sites such as the High ... Read more
Location: Aswan, Egypt
Duration: 90 minutes (approx.)