Temple of Kom Ombo Tours
Dating from 180BC, this is an unusual temple because it is duplicated, mirroring itself on either side of a central axis. This is because it was dedicated to two gods: Sobek, god of fertility and creator of the world along with Hathor and Khonsu, and also Horus, and each needed their own set of rooms. Sobek was the crocodile god so, of course, crocodiles were mummified for him. Some of the hundreds that have been discovered nearby are now on display in the temple.
Time, the Nile River, earthquakes and later builders taking the stone for other buildings, have all taken a toll on this building. The surrounding town of Kom Ombo is now home to many of the Nubians displaced by the flooding to make Lake Nasser.
Practical Info
The temple is 2.5 miles (4km) from the town of Kom Ombo on the River Nile, 28 miles (45km) north of Aswan. Organized tour or taxi from Aswan or Luxor are the best ways to get there. Many tours between Aswan and Luxor stop there, be they on bus, tourist train or felucca boat.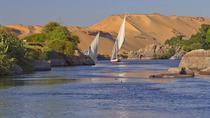 Full-day tour from Luxor to Aswan visiting Edfu, Kom Ombo, Phila Temples, and Aswan Dam. Includes all transfers, entry fees, tour guide, lunch, and snacks.
Location: Luxor, Egypt
Duration: 15 hours (approx.)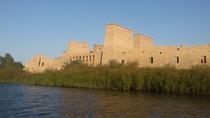 Enjoy full Day Tour to Aswan from Luxor by Road in accompany of an Egyptologist tour guide, follow the Nile River and passing through farmland and traditional ... Read more
Location: Luxor, Egypt
Duration: 17 to 18 hrs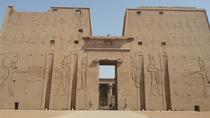 1 Review
Enjoy private tour to visit Kom Ombo and Edfu temples. Start to visit Kom ombo temple, the unusual double temple dedicated to both the crocodile god Sobek and ... Read more
Location: Aswan, Egypt
Duration: 7 to 8 hrs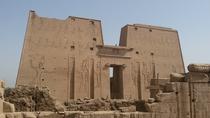 Experience a full day trip to Edfu and Kom Ombo temples from Luxor in accompany of an expert local tour guide, drive for about 2 hours along the Nile to visit ... Read more
Location: Luxor, Egypt
Duration: 7 to 8 hrs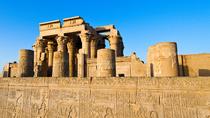 Private Day tour to Edfu and Kom Ombo from Luxor.
Location: Luxor, Egypt
Duration: 12 hours (approx.)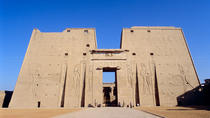 Discover the beauty of the river Nile and the unusual riverside temples of Kom Ombo and Edfu on this private day tour from Aswan, accompanied by your own ... Read more
Location: Aswan, Egypt
Duration: 8 hours (approx.)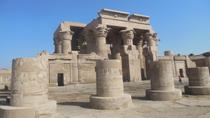 Full private day tour from Luxor to see the Temple of Edfu and the Temple of Kom Ombo. You will be guided by a licensed Egyptologist tour guide and transported ... Read more
Location: Luxor, Egypt
Duration: 8 hours (approx.)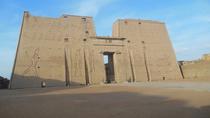 Full private day tour from Aswan to Luxor including visits of Kom Ombo and Edfu Temples. You will be guided by a licensed Egyptologist tour guide and ... Read more
Location: Aswan, Egypt
Duration: 8 hours (approx.)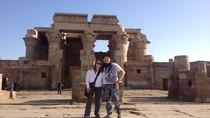 Full private day tour from Luxor to see the Temple of Edfu and the Temple of Kom Ombo. You will be guided by a licensed Egyptologist tour guide and transported ... Read more
Location: Luxor, Egypt
Duration: 8 hours (approx.)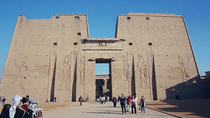 This is a great opportunity whilst in Luxor to take a day tour to Edfu and Kom Ombo Temples. This sightseeing tour is by private transport. Visit Horus and ... Read more
Location: Luxor, Egypt
Duration: 1 day (approx.)