155 Reviews
Address:

Athens Acropolis, Athens, Greece

Hours:

April–Oct: Mon 11am–7:30pm; Tues–Sun 8am–7:30pm; Nov–March daily 8:30am–3pm

Admission:

Adult €20, Child €10
Acropolis
An archaeological wonder, a UNESCO World Heritage site, and one of the world's most instantly recognizable landmarks, the Acropolis is the star attraction of ancient Athens. Dramatically perched on a jagged clifftop—the so-called sacred rock of Athens—overlooking the modern city, the ancient citadel dates back to as early as 510 BC.
Acropolis was an architectural masterpiece of its time, built in honor of Greek goddess Athena and employing the talents of architects such as Callicrates and Iktinos, plus legendary sculptor Phidias. Today, visitors can stroll around the painstakingly restored ruins of the Parthenon, the Propylaea, the Temple of Athena Nike, and the Erechtheion, all while taking in magnificent views over the city.
While the Acropolis is visible from just about anywhere in Athens, the most convenient way to visit the site is on a walking tour accompanied by a guide that can help to bring the ruins to the life. For the full experience, complement your tour with a visit to the New Acropolis Museum or the Temple of Poseidon; combine it with a city sightseeing tour and Greek-style dinner; or escape the tourist trail on a walking tour of the mythical Heridanos river in Athens.
Insider Tip: It can be very warm in Athens during the summer, so dress accordingly when visited the Acropolis. It's also best to wear sensible shoes due to the uneven ground.
Practical Info
The Acropolis is located on a hilltop in central Athens and is open from April to October, Monday 11am to 7:30pm, and Tuesday to Sunday 8am to 7:30pm, and November to March, daily from 8:30am to 3pm. Entry to the Acropolis is via Dionysiou Areopagitou or Theorias, and the nearest underground train station is Akropoli. Admission costs €20 and includes access to the Parthenon and the Erechtheion.
Did you know? The word 'Acropolis' comes from the Greek words meaning 'edge' (acro-) and 'city' (-opolis), translating to 'city on the edge.'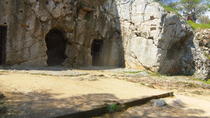 2 Reviews
Through our tour you will meet ancient sanctuaries dedicated to mystery gods, christian churches that replaced the old temples, caves and roman baths. You will ... Read more
Location: Athens, Greece
Duration: 3 hours (approx.)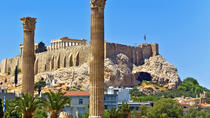 621 Reviews
Combine the sights of modern Athens with sites of historical importance on a 3.5-hour morning or afternoon tour by luxury coach. With an expert guide on hand ... Read more
Location: Athens, Greece
Duration: Varies
3.5 - 5 hours
39 Reviews
Behold the beginnings of Western civilization with an experienced archaeologist on a 4-hour walking tour of this UNESCO World Heritage site. Unparalleled ... Read more
Location: Athens, Greece
Duration: 5 hours (approx.)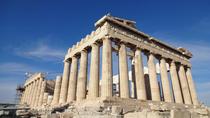 19 Reviews
From the Acropolis to Omonia Square, you'll see with this full day trip all the famous sites of ancient and modern Athens. Offering a perfect overview of the ... Read more
Location: Athens, Greece
Duration: 10 hours (approx.)
4 Reviews
Accompanied by a local guide, enjoy the striking contrasts in Athens between the ancient and the modern. Visit the Acropolis, the glory of ancient Athens, as ... Read more
Location: Athens, Greece
Duration: 10 hours (approx.)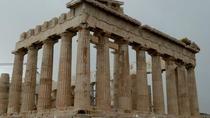 2 Reviews
Take a private tour of the ancient city of Athens with a personal guide. You will visit the Acropolis, icon of Athens perched on its plateau, and walk to ... Read more
Location: Athens, Greece
Duration: 5 hours (approx.)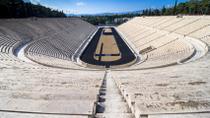 35 Reviews
Explore Athens with a private guide on a 4-hour tour, and discover the UNESCO-listed Acropolis of Athens, Temple of Zeus, Panathenian Stadium and more! After ... Read more
Location: Athens, Greece
Duration: 4 hours (approx.)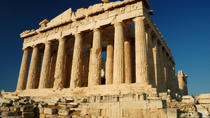 194 Reviews
One for all you history buffs! Discover Athens' ancient history on this fascinating city walking tour with an expert local guide! Venture inside the ancient ... Read more
Location: Athens, Greece
Duration: 3 hours 30 minutes (approx.)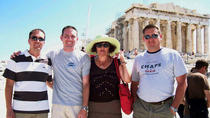 21 Reviews
Behold the wonders of Ancient Greece on a 1.5-hour walking tour of the UNESCO-listed Acropolis of Athens. With an expert guide, discover one of the world's ... Read more
Location: Athens, Greece
Duration: 90 minutes (approx.)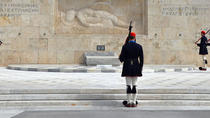 Explore Athens with a private guide on a 6 hour tour and discover the UNESCO listed Acropolis of Athens, Temple of Zeus, Panathenian Stadium and more! After ... Read more
Location: Athens, Greece
Duration: 6 hours (approx.)