Mykonos
Mykonos is the most popular and most expensive of the Cyclades Islands, located in the Aegean Sea southeast of Athens and mainland Greece. Mykonos has been settled since the 5th century BC and has the whitewashed buildings you'd expect of a Greek island - plus centuries old windmills dotting the hills.

Mykonos is famous for its sandy beaches and intense nightlife. World-renowned DJs play is bars and clubs by night and party-goers recover in the crystal clear sea during the day.

The main town is officially called Mykonos but it is known as Chora, meaning 'town', to distinguish it from the whole island. It has a maze of narrow, windy streets designed to confuse pirates. The other important area is nearby historic Delos Island with its ruined ancient settlement, now part of UNESCO's World's Cultural Heritage.

The permanent population of Mykonos is about 9,000 people but this increases massively during tourist season - the total tourist number in a year reaches a million, most of them in August.
Practical Info
Mykonos can be reached by air from Athens daily or by ferry from many ports on the mainland or other islands, including Piraeus near Athens. Delos Island is a short ferry ride from Mykonos, but is closed on Mondays.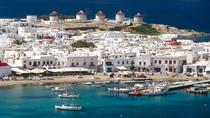 18 Reviews
Go island hopping in Greece on an unforgettable 5-day independent tour from Athens, taking in the islands of Syros, Mykonos and Santorini. In between ferry ... Read more
Location: Athens, Greece
Duration: 5 days (approx.)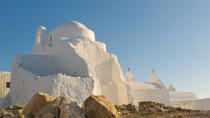 8 Reviews
Kick back and relax on an overnight trip to Mykonos, an idyllic Greek island with a reputation as the Aegean party capital! Relax by the beach, discover rustic ... Read more
Location: Athens, Greece
Duration: 2 Days / 1 Night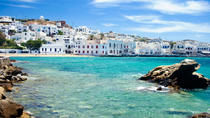 2 Reviews
Enjoy all Mykonos has to offer, from beautiful sandy beaches to archaeological wonders to the extravagant nightlife!
Location: Athens, Greece
Duration: 4 days (approx.)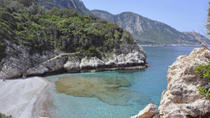 Soak up the splendor of the Aegean Greek Islands and Turkey's so-called Turquoise Coast on this unforgettable 7-night independent cruise from Athens! ... Read more
Location: Athens, Greece
Duration: 8 days (approx.)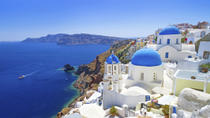 1 Review
Discover the Greek Aegean islands and wonders of Turkey on this 8-day cruise and land tour from Istanbul. See top Istanbul attractions such as the Hagia Sophia ... Read more
Location: Istanbul, Turkey
Duration: 8 days (approx.)