Mykonos Tours
With its whitewashed villages, sun-soaked beaches, and ancient ruins, Mykonos is the quintessential Greek Island. It's also the most visited of all the Cyclades Islands. Whether you come to party until dawn; sip cocktails on Kalafati beach; or enjoy in-town sightseeing, Mykonos serves up all that's needed for a week in the sun.
The Basics
Mykonos is a popular stop on island-hopping tours from Athens. Guided tour options include cruising around the Cyclades islands of Santorini and Syros, checking off the Peloponnese coast highlights, or even combining the Aegean islands with a tour of neighboring Turkey. If time is an issue, opt for a 2-day tour from Athens, including an overnight on Mykonos and a boat trip to the uninhabited island of Delos, a UNESCO World Heritage Site.
Things to Know Before You Go
The easiest way to get around on Mykonos is by bus or kaikia (small boat), which connect the main towns and beaches.

Most Mykonos hotels offer free Wi-Fi, and Wi-Fi hotspots are located around the island.

Temperatures can reach 86°F (30°C) in summer, so pack sunscreen, sunglasses, and a hat.

Some boat cruises, accommodation options, and ferries are wheelchair accessible, but it's best to confirm in advance.

How to Get There
The island of Mykonos is one of the Greek Cyclades Islands, located in the Aegean Sea southeast of Athens and mainland Greece. Mykonos can be reached by air from Athens or by ferry from Piraeus, near Athens, about a 2.5-hour journey. Ferries also run to and from the neighboring islands, including Tinos to the north, Paros and Naxos to the south, and Syros to the west.
When to Get There
The most popular time to visit Mykonos is summer, when sunny weather and warm waters are perfect for a beach vacation. The island's legendary nightlife will also be in full swing, and tours, ferries, and accommodation can be more expensive; advance bookings are advised. A winter visit can save money and mean you'll get many of the natural wonders to yourself, but check ahead that accommodation and attractions are open, and be prepared for cooler weather and some rain.
Things to See and Do on Mykonos
Circle the island on a thrilling Jeep safari, admire the pretty windmills along the Hóra seafront, and stroll around Little Venice; then visit historic sites such as Ano Mera or Panagia Tourliani, or take a sunset cruise from Mykonos Town. For sun-seekers, the top destinations include Paradise and Ornos beaches on the south coast, while the less-crowded Kalo Livadi is a local favorite and Kalafatis is a popular starting point for yacht cruises and scuba diving excursions.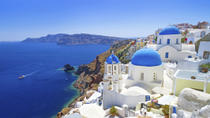 3 Reviews
Discover the Greek Aegean islands and wonders of Turkey on this 8-day cruise and land tour from Istanbul. See top Istanbul attractions such as the Hagia Sophia ... Read more
Location: Istanbul, Turkey
Duration: 8 days (approx.)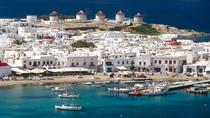 20 Reviews
Go island hopping in Greece on an unforgettable 5-day independent tour from Athens, taking in the islands of Syros, Mykonos and Santorini. In between ferry ... Read more
Location: Athens, Greece
Duration: 5 days (approx.)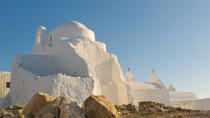 12 Reviews
Kick back and relax on an overnight trip to Mykonos, an idyllic Greek island with a reputation as the Aegean party capital! Relax by the beach, discover rustic ... Read more
Location: Athens, Greece
Duration: 2 days (approx.)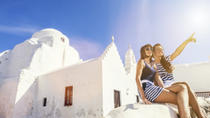 This 5-day island-traversing tour takes away the stress of booking high speed catamaran tickets and hotels and figuring out how to get to the ferry docks from ... Read more
Location: Heraklion, Greece
Duration: 5 days (approx.)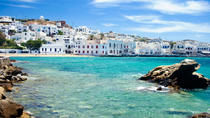 2 Reviews
Enjoy all Mykonos has to offer, from beautiful sandy beaches to archaeological wonders to the extravagant nightlife!
Location: Athens, Greece
Duration: 4 days (approx.)