Santorini
Santorini is among the best-known Greek islands, mainly for its natural beauty. Santorini is all clear ocean, white-walled buildings and blue-domed churches. In addition, it claims to have some of the best sunsets in the world.
Santorini is an extinct volcano, a caldera where the middle has fallen into the sea creating a ring of crater islands, collectively called Santorini. Hence it has a deep-port lagoon in the middle, arid steep cliffs and dark-sand beaches. The eruption of Santorini 3,600 years ago probably caused the end of the Minoan civilization by swamping nearby Crete with a tsunami. Perhaps it was also this eruption that lost us the legendary city of Atlantis.
Practical Info
Santorini is 120 miles (200 km) southeast of the Greek mainland and well-served by ferries. To get around the island you can catch a bus, or hire a motorcycle and explore all the islands' hidden secrets.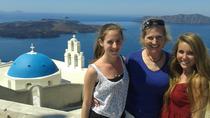 55 Reviews
See the Santorini of your dreams on this private, 4.5-hour or 8-hour tour with a local driver-guide. Customized entirely to your interests, your itinerary is ... Read more
Location: Santorini, Greece
Duration: Between 5 and 8 hours (depending on selected option)
42 Reviews
Take a break from Santorini's beaches and discover Minoan excavations, the island's ancient capital and the famous Oia sunset on a full-day tour! ... Read more
Location: Santorini, Greece
Duration: 9 hours 30 minutes (approx.)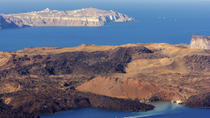 29 Reviews
Cruise around Santorini to Nea Kameni volcano and the nearby island of Thirasia on a 7-hour excursion! After ogling the Greek island vistas from the water, ... Read more
Location: Santorini, Greece
Duration: 7-9 hours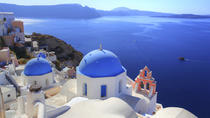 9 Reviews
Explore Santorini — the 'black pearl of the Aegean' — on this private half-day tour, and uncover the scenic wonders of the southern coast. ... Read more
Location: Santorini, Greece
Duration: 5 hours (approx.)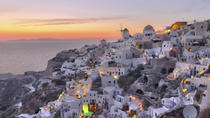 35 Reviews
Cruise around Santorini, enjoy free time at Nea Kameni volcano, relax in the hot springs and watch the sun fade over the island on a sunset dinner cruise. ... Read more
Location: Santorini, Greece
Duration: 4 hours (approx.)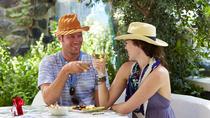 95 Reviews
Sip your way around Santorini on a 4.5-hour island wine tour, visiting three traditional wineries. Savor up to 12 different varietals made from grapes such as ... Read more
Location: Santorini, Greece
Duration: 4 hours 30 minutes (approx.)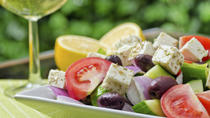 23 Reviews
Discover the crisp wine of Santorini and learn how to cook melt-in-the-mouth Greek dishes on a 6-hour food and wine tour of the island. With a local guide, ... Read more
Location: Santorini, Greece
Duration: 6 hours (approx.)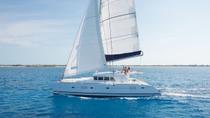 80 Reviews
Cruise around the postcard-perfect island of Santorini on this 5-hour, luxury catamaran tour. Choose from a daytime or sunset cruise, then take in stunning ... Read more
Location: Santorini, Greece
Duration: 5 hours (approx.)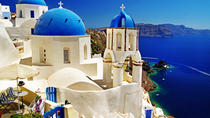 9 Reviews
Get to know Santorini on a full-day independent trip from Crete, and see as much of the island as you wish! Either soak up the sun with a book on the beach, or ... Read more
Location: Heraklion, Greece
Duration: 12 hours (approx.)