To really immerse yourself in the glories of classical Greece, multi-day trips of several days can take you to the essential sites of Epidaurus, Mycenae, Olympia, Delphi and Meteora. There are cliff-top monasteries to explore, open-air theaters, and archaeological sites and museums that tell the stories behind the legends and ruins.
Of course, classical Greece can also be a Greek island like Mykonos, Santorini or Rhodes. On Mykonos, soak up rays on the island's stunning beaches before heading to the Old Town to catch the sunset from a bar perched right on the water. Next day, see one of the most extensive ancient Greek ruins anywhere on nearby Delos.
For many people, Santorini is the ultimate Greek island, with its haunting volcanic landscape, cliff-hugging towns and gorgeous whitewashed, blue-domed churches.

The island of Rhodes has its own Acropolis and other ancient glories like a stadium and theater, but the island also boasts the largest inhabited medieval town in Europe.

380 Reviews
Step back in time on this 4-day Classical Greece tour from Athens, seeing all the top attractions that date back to this fascinating era. With overnight ... Read more
Location: Athens, Greece
Duration: 4 days (approx.)
255 Reviews
Visit the three most important archaeological sites from the Classical Greece period on this 3-day tour of Greece from Athens! Traveling with a professional ... Read more
Location: Athens, Greece
Duration: 3 days (approx.)
39 Reviews
Experience two of Greece's most awe-inspiring sights on this 3-day tour from Athens, with round-trip coach transport and hotel accommodation included. Explore ... Read more
Location: Athens, Greece
Duration: 3 days (approx.)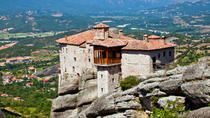 11 Reviews
Take a seven-day tour of the essential sites of classical Greece: Olympia, Delphi, Meteora, Thessaloniki and Lefkadia. You'll visit famous archaeological sites ... Read more
Location: Athens, Greece
Duration: 7 days (approx.)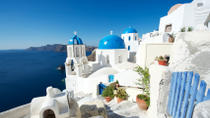 10 Reviews
Santorini, also known as the 'black pearl of the Aegean,' is easily one of the most spectacular Greek islands! Enjoy three nights on the poster-child island to ... Read more
Location: Athens, Greece
Duration: 4 days (approx.)
9 Reviews
Combine three best-selling tours for a two-day immersion in Athens, Cape Sounion, Mycenae and Epidaurus. Perfect for those who already have overnight ... Read more
Location: Athens, Greece
Duration: 2 days (approx.)
3 Reviews
Explore Athens and the ancient sites of Mycenae and Epidaurus on this Super Saver that combines two best-selling tours over two days! See the sights of Athens ... Read more
Location: Athens, Greece
Duration: 2 days (approx.)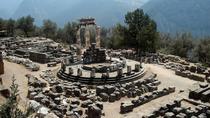 On this 2-day private tour from Athens, avoid the big group tours and savor three of Greece's top sights at a relaxed pace. Walk through the ruins of Delphi, ... Read more
Location: Athens, Greece
Duration: 2 days (approx.)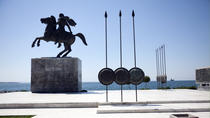 1 Review
Take a five-day tour to the northern region of Greece to explore stunning Delphi, the UNESCO World Heritage site of Meteora, Thessaloniki's Archaeological ... Read more
Location: Athens, Greece
Duration: 5 days (approx.)