With its whitewashed towns, stellar beaches, and lava-sculpted topography, Santorini is a quintessential Greek island and the perfect complement to Athens. From a weekend retreat to a longer adventure, here's how to visit Santorini from Athens.
Multi-Day Santorini Tours
Multi-day tours are the easiest way to visit Santorini, combining the flexibility of independent travel with the convenience of pre-organized transport and accommodation. Check off Santorini's highlights on a short but sweet two-day tour; see more of the island on a two- or three-night tour; or combine your Santorini adventure with sightseeing in Athens on a seven-day tour. Tours typically include round-trip transport to Santorini by either ferry or speedboat, and a choice of two-, three-, or four-star accommodation.
Island Hopping Multi-Day Tours
Thousands of islands dot Greece's Aegean Sea coast, and island-hopping tours prove a popular way to visit Santorini. Set sail on an epic seven-night cruise around the Cyclades Islands, stopping at Santorini, Mykonos, Paros, and Syros, or opt for a five-day independent tour to explore Syros, Mykonos, and Santorini at your own pace, with island accommodation included.
Things to Know
Ferries run from Piraeus Port in Athens to Santorini and take about eight hours, while express speedboat transfers take 5.5 hours.

It's possible to visit Santorini on an overnight tour, but a two- or three- night option will give you more time to experience the island, especially given the travel times.

Most multi-day tours include round-trip transport and accommodation.

Independent tours combine the convenience of an organized tour with the flexibility to create your own itinerary.

Tours to Santorini from Athens are often combined with visits to neighboring islands such as Syros and Mykonos.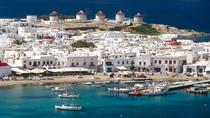 20 Reviews
Go island hopping in Greece on an unforgettable 5-day independent tour from Athens, taking in the islands of Syros, Mykonos and Santorini. In between ferry ... Read more
Location: Athens, Greece
Duration: 5 days (approx.)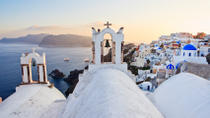 52 Reviews
Stay overnight on the gorgeous Greek island of Santorini where sweeping sand beaches, volcanic vistas and pretty whitewashed villages await! The trip is ... Read more
Location: Athens, Greece
Duration: 2 days (approx.)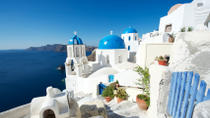 10 Reviews
Santorini, also known as the 'black pearl of the Aegean,' is easily one of the most spectacular Greek islands! Enjoy three nights on the poster-child island to ... Read more
Location: Athens, Greece
Duration: 4 days (approx.)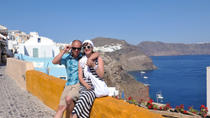 5 Reviews
Let the allure of Santorini draw you across the Aegean Sea on this independent, 2-night trip from Athens. Relax and breathe in the fresh, sea air as you make ... Read more
Location: Athens, Greece
Duration: 3 days (approx.)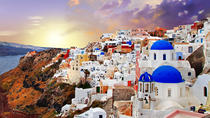 1 Review
This 6-night Greek tour includes a stay in Athens and on the island of Santorini. The ancient city of Athens is a vibrant megalopolis with non-stop nightlife, ... Read more
Location: Athens, Greece
Duration: 7 days (approx.)