There are few more striking contrasts than the cultural and aesthetic differences between the hot, dirty, bustling streets of Athens and the breathtaking beauty and windswept pleasantries found on the island of Santorini. It's difficult to imagine an adviser who would argue the antithesis of the following recommendation to a traveler looking for rest and recreation: Once you arrive in Athens, proceed directly to the Port of Piraeus and immediately book the next outward-bound ferry that you find. Better yet, organize a guided cruise in advance and waste no time trying to make sense of ferry schedules and locating accommodations.
 
Many aficionados of the Greek Isles state unequivocally that Santorini is the ideal island and the one example of island life and culture that simply must not be missed. Santorini, with its striking geography, beautiful beaches, vibrant nightlife and architecture is certainly among the best that the entire region has to offer.
 
Among the most laudable facets of life on the island are the summit caldera (the island itself being the top of an exploded volcano), the beaches at Perissa and Perivolos, and the nightlife at Thira.
 
One consideration to keep in mind when planning your visit to the island, or selecting a tour is to balance the excitement of the population centers with the solace of quiet and solitude, all of which can easily be found on Santorini.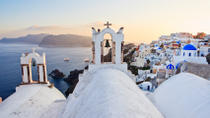 46 Reviews
Stay overnight on the gorgeous Greek island of Santorini where sweeping sand beaches, volcanic vistas and pretty whitewashed villages await! The trip is ... Read more
Location: Athens, Greece
Duration: 2 days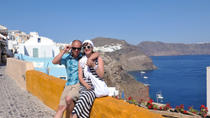 4 Reviews
Let the allure of Santorini draw you across the Aegean Sea on this independent, 2-night trip from Athens. Relax and breathe in the fresh, sea air as you make ... Read more
Location: Athens, Greece
Duration: 3 days (approx.)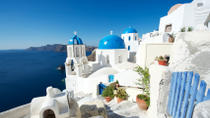 9 Reviews
Santorini, also known as the 'black pearl of the Aegean,' is easily one of the most spectacular Greek islands! Enjoy three nights on the poster-child island to ... Read more
Location: Athens, Greece
Duration: 4 days (approx.)