Athens may be Greece's most popular holiday destination but visitors come for the cultural explosion that is the Acropolis, Agora and world-class museums rather than lazing on the beaches. If people want sun and sand they head off to the 3,000+ islands scattered around the Aegean, but Athens is after all a coastal city and there are plenty of fine beaches to be discovered around the Attica coastline.
Athens Riviera
South from Athens, there are scores of public beaches along the western Attica coastline; most are accessible by bus or tram from the city center. The sandy swathe at elegant Vouliagmeni has all you could ask for; shallow, pristine seas, water-sports facilities, fish restaurants, flower-filled promenades and the photogenic backdrop of Mount Hymettus.
Sun, Sea and Sightseeing 
If you feel guilty lying in the sun when surrounded by all that Greek history, combine your beach trip with a slice of culture. Head for the private beach at Astir – you'll have to pay for the use of the cabanas, showers, sun loungers and parasols, and that doesn't come cheap – but you'll be in the company of smart Athenians at the weekend and there's a great choice of restaurants as well as a small Temple of Apollo to explore.
Other beaches for classical buffs include the pocket-sized sandy beach tucked away underneath the Temple of Poseidon at Sounion on the tip of the Attica peninsula. Schinias on Attica's eastern coast is arguably the prettiest beach near Athens, with pines backing the sandy crescent, gentle currents and the added bonus of being within striking distance of the burial mounds at Marathon.
Sporty Spots
Windsurfers, kiters and paragliders flock to the windswept, exposed beaches around Anavyssos, just north of Sounion, or Oropos on the east coast, but both can get very crowded in summer.
The series of rocky inlets between Vouliagmeni and Varkiza have microscopic pebbly beaches, with the coves providing calm, pristine waters ideal for snorkeling. Just don't bother coming over August weekends when the tiny beaches are rammed with Athenian teenagers cliff diving and generally showing off.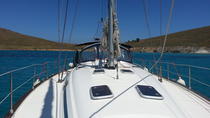 2 Reviews
Sunset sailing trip in the beautiful Athens Riviera. Watch a magnificent show while sipping on wine and enjoying the local mezes (tapas).  Enjoy a friendly ... Read more
Location: Athens, Greece
Duration: 3 hours (approx.)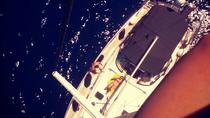 Sit back in our cozy lounge, sipping a glass of wine and enjoy the scenery while we sail in the crystal clear waters of Argosaronic. A wonderful combination of ... Read more
Location: Athens, Greece
Duration: 4 hours (approx.)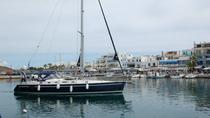 Get ready for a unique cruise one of the most beautiful coasts, the Athenian Riviera. A wonderful combination of golden beaches and clear crystal waters. The ... Read more
Location: Athens, Greece
Duration: 6 hours (approx.)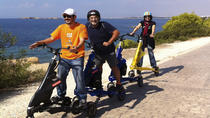 3 Reviews
Soak up the scenic sights of the Athens Riviera on a revolutionary TRIKKE® (electric tricycle) during this private 3.5-hour tour. With your very own guide, ... Read more
Location: Athens, Greece
Duration: 3 hours 30 minutes (approx.)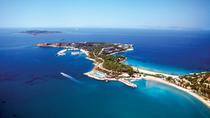 1 Review
Set off on the road from Athens to Vouliagmeni beach, and enjoy an independent, half-day excursion to one of the finest beaches on the Attica coastline. Sit ... Read more
Location: Athens, Greece
Duration: 4 hours (approx.)