Whether you want to discover the archaeological wonders of ancient Greece, marvel at UNESCO-listed, historic landmarks, or admire the ocean views along the coast, there are plenty of prime day trip destinations from Athens. Here are our top picks.
Delphi — 115 miles (185 km) northwest of Athens
Journey back to ancient Greece in Delphi, an important site in Greek mythology and home to some remarkably preserved ruins. Opt for a private, small-group, or self-guided tour to see highlights such as the Temple of Apollo, then learn more about the UNESCO World Heritage site at the Delphi Archaeological Museum. Most tours last about 8 to 10 hours, with some combining a visit with stops at nearby sights such as Arachova, Levadia, or the Hosios Loukas Monastery.
Meteora — 224 miles (360 km) northwest of Athens
With its six monasteries spectacularly perched atop a series of sandstone peaks, Meteora is both a natural wonder and a historic marvel. It's possible to visit the UNESCO-listed landmark on a day tour from Athens, but with a five-hour train journey each way, prepare for a long day (tours typically last 14 hours). Or, opt for a two-day tour with an overnight stay in Kalambaka at the foot of the mountains.
Corinth — 52 miles (83 km) west of Athens
Corinth is both an important place of pilgrimage and a significant site in Greek mythology, and its ancient ruins and 19th-century canal make it a fascinating day trip destination. Choose a private or group, half- or full-day tour of Corinth from Athens, and see highlights such as the Temple of Apollo, the Roman baths, and the step from which St. Paul preached to the Corinthians.
Mycenae — 75 miles (120 km) southwest of Athens
Discover another one of Greece's archaeological marvels with a visit to the ancient Greek capital of Mycenae, where highlights include the Palace, Tomb of Agamemnon, and Lion's Gate. Day tours are often combined with nearby attractions such as the ancient cities of Corinth and Epidaurus, the Corinth Canal, or the seaport of Nauplia.
Cape Sounion — 50 miles (80 km) southeast of Athens
Take a scenic drive along the Attica Riviera to Cape Sounion and enjoy the views from the dramatically situated Temple of Poseidon, which sits high on the coastal cliffs. A variety of options are available—save time on a half-day tour, enjoy a personalized experience with a private or small-group tour, or combine your visit with a picnic lunch or romantic dinner in Vouliagmeni Bay.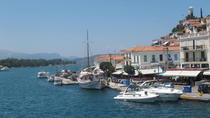 760 Reviews
Visit three gorgeous Greek Islands in one day on an island-hopping cruise from Athens! Visiting the Saronic Islands of Hydra, Poros and Egina, this independent ... Read more
Location: Athens, Greece
Duration: 11 hours (approx.)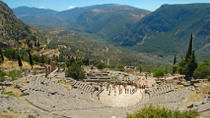 941 Reviews
Visit Delphi – one of the most important archeological sites in Greek history – on this full-day trip from Athens! Traveling with an expert guide, you'll ... Read more
Location: Athens, Greece
Duration: 10 hours (approx.)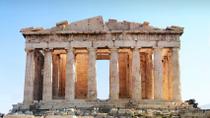 160 Reviews
See the best of Athens and its surrounding highlights on this sightseeing super saver that combines two best-selling tours at a saving of 10%! Begin with a ... Read more
Location: Athens, Greece
Duration: 9 hours (approx.)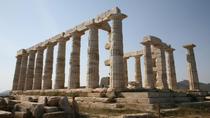 400 Reviews
Take your own postcard-perfect snaps of Cape Sounion's Temple of Poseidon on a scenic afternoon trip from Athens. Cape Sounion is only 45 miles (70 kilometers) ... Read more
Location: Athens, Greece
Duration: 4 hours (approx.)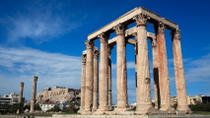 35 Reviews
With this Athens Super Saver, combine two best-selling tours for a two-day immersion in Athens and Delphi. See top sights on a half-day tour of Athens, from ... Read more
Location: Athens, Greece
Duration: 2 days (approx.)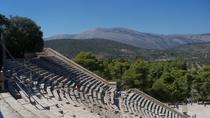 259 Reviews
Explore the remains of the ancient city of Mycenae a major centre of Greek civilization from 1600BC to 1100BC and visit the small village of Epidaurus famous ... Read more
Location: Athens, Greece
Duration: 10 hours (approx.)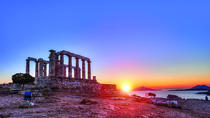 86 Reviews
Experience a half day small-group trip with minivan along the picturesque south Attica coastal road and visit to the 5th century BC temple of Poseidon. Cape ... Read more
Location: Athens, Greece
Duration: 5 hours (approx.)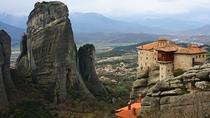 59 Reviews
Immerse yourself in some of Greece's most spectacular scenery on a day trip to Meteora by train, the most fascinating way you could never imagine.
Location: Athens, Greece
Duration: 14 hours (approx.)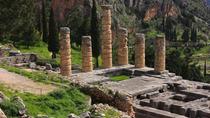 68 Reviews
Explore one of ancient Greece's most mesmerizing archaeological sites, the UNESCO World Heritage Site of Delphi, on this 10-hour guided day trip from Athens ... Read more
Location: Athens, Greece
Duration: 10 hours (approx.)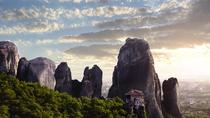 4 Reviews
Trains are the most spacious and comfortable mode of travel in Greece. Join our two days rail tour to Meteora and discover the history of the Byzantine ... Read more
Location: Athens, Greece
Duration: 2 days (approx.)