New Zealand is simply gorgeous. Lush rainforest, coastal walks, island cruises, snowfields, glowworm caves and bubbling mud – there's plenty to enjoy on a short trip from Auckland! Drive to the dunes at Cape Reinga, where Maori spirits depart for ancient Hawaiiki, or explore the black sands of the wild West Coast and giant tree ferns in Waitakere Ranges on a great outdoors eco walking tour. The beautiful coastal walkway at Coromandel is abundant with lush vegetation, wildlife, and amazing views.
Dreaming of an island paradise? A thirty minute flight by light plane over the sparkling waters of the Hauraki Gulf brings you to majestic Great Barrier Island. Walk on boardwalks over unique wetlands, past rare native flora and fauna to the Kaitoke natural thermal springs.
Relax on the tranquil waters of the Bay of Islands, cruising, swimming and snorkeling through 144 islands on an overnight or 3-day tour. Head along the Hibiscus Coast to the town of Paihia and the historic Waitangi Treaty Grounds, explore the port town of Russell and travel along Ninety Mile Beach to northernmost Cape Reinga.
Intrigued by what lies beneath New Zealand? Head south to the Waitomo Glowworm Caves, view stalactites formed over thousands of years, and take a magical boat ride through the naturally illuminated glowworm grotto.
Travel on to the famous thermal baths and mud pools of Rotorua and Te Whakarewarewa Thermal Reserve to indulge in a mud bath and thermal soak.
Take in the thrill of Turoa and Whakapapa's stunning ski fields at Mt. Ruapehu an adventurous wonderland for skiers, snowboarders and partygoers.
Finally, drop into the capital of Wellington and visit the Museum of New Zealand Te Papa Tongarewa. New Zealand has that rare combination of natural beauty, lovely people, culture, and exciting activities that make for a top vacation destination and happy travelers.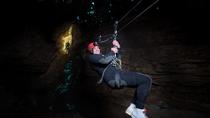 45 Reviews
If you seek an adventure tour that plays with your senses and provides an unforgettable thrill then this tour is for you. Choose between the Black Abyss or the ... Read more
Location: Waitomo, New Zealand
Duration: 3-hours or 5-hours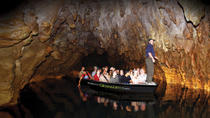 317 Reviews
See all the highlights of the Waitomo Caves and Rotorua in one day. You'll take a guided tour of Waitomo Caves stalactites and glowworms, and see Rotorua's ... Read more
Location: Auckland, New Zealand
Duration: 13 hours (approx.)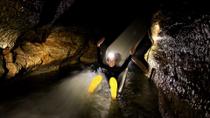 5 Reviews
Want to up the ante when it comes to inner tubing? Now you can float along a subterranean river in the Waitomo Caves! Thousands of glowworms flicker on the ... Read more
Location: Waitomo, New Zealand
Duration: 2 hours (approx.)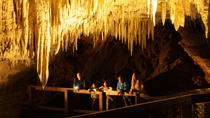 4 Reviews
Experience a glowworm light show among the fantastical rock formations of Footwhistle cave, an extensive cave system in Waitomo. Glowworms create a starry glow ... Read more
Location: Waitomo, New Zealand
Duration: 60 minutes (approx.)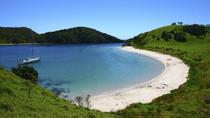 129 Reviews
Explore the Bay of Islands on a full day trip from Auckland and discover the historic sites of Waitangi and Russell. You'll visit the Waitangi Treaty Grounds, ... Read more
Location: Auckland, New Zealand
Duration: 12 hours (approx.)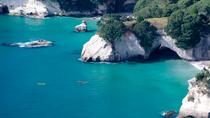 17 Reviews
Enjoy a small-group day trip out of Auckland and visit Coromandel Peninsula, with its stunning landscapes of rugged mountain terrain nestled against idyllic ... Read more
Location: Auckland, New Zealand
Duration: 12 hours (approx.)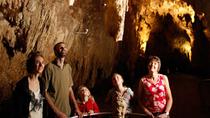 19 Reviews
Leave the city bustle behind to witness a fabulous light show at the Waitomo Glowworm Caves. Marvel at the shimmering glow worms in the caves as you learn ... Read more
Location: Auckland, New Zealand
Duration: 7 hours 54 minutes (approx.)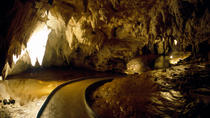 31 Reviews
Explore New Zealand's famous Waitomo Glowworm Caves on a one-way day trip from Auckland to Rotorua! Ride a boat through the Glowworm Grotto, see the Karapito ... Read more
Location: Auckland, concludes in Rotorua, New Zealand
Duration: 6 hours (approx.)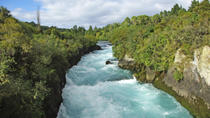 3 Reviews
Discover the best attractions of the North Island on this 3-day trip from Auckland. See thousands of tiny glowworms on an underground boat ride at Waitomo ... Read more
Location: Auckland, New Zealand
Duration: 3 days (approx.)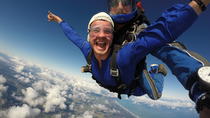 2 Reviews
We offer the highest tandem skydive in New Zealand's North Island where you can jump from 16,500ft! Attached to your instructor you will freefall for 75 ... Read more
Location: Auckland, New Zealand
Duration: 3 hours (approx.)