New Zealand might be part of Polynesia, but don't be fooled into thinking it's tropical. New Zealand can become legitimately cold during the winter months of May-September, and the South Island gets so chilly and receives enough snow that the skiing on the South Island is some of the best in the Southern Hemisphere. Meanwhile, on the North Island in the capital city of Auckland, even though snow or frost is rare, the winter months can still be wet and temperatures rarely top 60 degrees. Despite the brisk and often blustery conditions, however, there are still enough things to do in Auckland in winter to craft an enjoyable trip out of the inclement conditions.
If you can't make it all the way to the South Island but are still wanting to ski during your time in Auckland, the closest skiing around Auckland is nearly a four hour drive away. If you don't have that sort of time in your itinerary but still want some time on the slopes, Snowplanet is New Zealand's only indoor, artificial skiing area which is open all year round, and is conveniently located only 20 minutes north of the city center.
Or, if skiing simply isn't your winter plans, one of the best things to do in Auckland in winter is to head indoors and experience one of the city's many cultural performances. While there are a number to choose from, one of the most popular options is the Maori cultural show at the Auckland Museum and Institute. The museum itself is free (and is a great way to spend a rainy day), although the cultural show will incur a separate charge that is well worth the price of admission.
If, on the other hand, the cold weather is getting to you and all you want is a little warmth, you can consider taking a
day trip to the Bay of Islands
where temperatures in the Northland can often be 10 degrees warmer than neighboring Auckland, and this is the closest you will get to a tropical holiday in the depths of a New Zealand winter.
In the city center itself, while activities such as cruising the waters of Waitemata Harbor won't be as comfortable as they are during the summer, you can still spend the day shopping in the city's urban boutiques, strolling along the yacht-lined waterfront, gambling in the festive SkyCity casino, taking a tour of the Auckland SkyTower, or hunkering down in a trendy suburban cafe for a hot drink and a filling meal.
Contributed by Kyle Ellison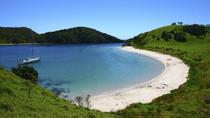 129 Reviews
Explore the Bay of Islands on a full day trip from Auckland and discover the historic sites of Waitangi and Russell. You'll visit the Waitangi Treaty Grounds, ... Read more
Location: Auckland, New Zealand
Duration: 12 hours (approx.)