The Waitomo Caves are undoubtedly—and justifiably—one of the most popular attractions on the North Island. In addition to millions of stalactites which drip from the ceiling in a fascinating display of color, imagine a subterranean river which weaves its way through a silent and gaping cave. Now, in the depths of this cave where traces of light can't enter, you look up to find a ceiling of glow worms you could mistake for a sky full of stars.

For as enchanting as the caves can be, however, visiting the Waitomo Caves can be a bit of a logistical undertaking. The King Country where the caves are located has very few services and accommodations, and most travelers choose to visit Waitomo as day trip from Rotorua or Auckland—both of which are over two hours away. When visiting the Waitomo Caves, it's also important to arrive early in the day for the greatest amount of activities. While the basic tour package includes a descent into the caves and a ride in the subterranean grotto, there are numerous other Waitomo adventures you can partake it when visiting the area.

Much more than just the single glowworm cave, Waitomo is rung by volcanic formations and a densely-forested jungle. Two additional caves named Ruakuri and Aranui are also located nearby, and you can spend a full day exploring the depths of the three different underground wonderlands. Or, for the adventurous, spend a day cliff jumping, spelunking, and blackwater rafting through a rushing underground river. Grab a paddle, strap on a headlamp, and jump feet first into a full-day adventure that is unlike any in the country.

Given the amount of options for exploration, visiting the Waitomo Caves involves a bit of planning so you know what adventure to sign up for. Regardless of what tour you partake in, however, the long journey is worth the effort for the chance to experience the caves. Waitomo is a place where Maori spirituality, outdoor adventure, and adrenaline-pumping excitement all combine with a sense wonder to create one of the most memorable places in New Zealand.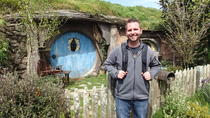 270 Reviews
See two magical places come to life on this day tour from Auckland. First explore the Waitomo Glowworm Caves and be entranced by the thousands of twinkling ... Read more
Location: Auckland, New Zealand
Duration: 11 hours (approx.)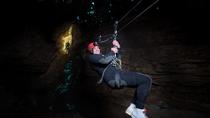 45 Reviews
If you seek an adventure tour that plays with your senses and provides an unforgettable thrill then this tour is for you. Choose between the Black Abyss or the ... Read more
Location: Waitomo, New Zealand
Duration: 3-hours or 5-hours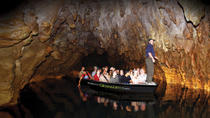 317 Reviews
See all the highlights of the Waitomo Caves and Rotorua in one day. You'll take a guided tour of Waitomo Caves stalactites and glowworms, and see Rotorua's ... Read more
Location: Auckland, New Zealand
Duration: 13 hours (approx.)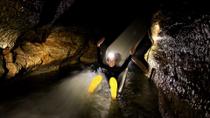 5 Reviews
Want to up the ante when it comes to inner tubing? Now you can float along a subterranean river in the Waitomo Caves! Thousands of glowworms flicker on the ... Read more
Location: Waitomo, New Zealand
Duration: 2 hours (approx.)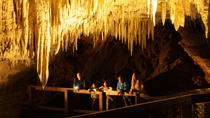 4 Reviews
Experience a glowworm light show among the fantastical rock formations of Footwhistle cave, an extensive cave system in Waitomo. Glowworms create a starry glow ... Read more
Location: Waitomo, New Zealand
Duration: 60 minutes (approx.)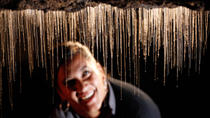 9 Reviews
Travel from Rotorua to Auckland and discover one of New Zealand's top attractions on this 7.5-hour tour of the Waitomo Caves from Rotorua. Travel through the ... Read more
Location: Rotorua, concludes Auckland, New Zealand
Duration: 7 hours (approx.)
47 Reviews
Immerse yourself in the otherworldly beauty of New Zealand's North Island on a two-day escape from Auckland. From Rotorua's famous geysers and the glowing ... Read more
Location: Auckland, New Zealand
Duration: 2 days (approx.)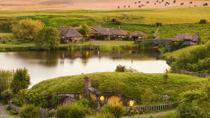 20 Reviews
Do and see it all on a five-day adventure from Auckland that takes you to Waitangi, Rotorua, Waitomo and Middle-earth! Your journey reveals the history and ... Read more
Location: Auckland, New Zealand
Duration: 5 days (approx.)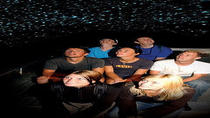 8 Reviews
Explore the mystical Waitomo Glowworm Caves, discover the galleries and lofty chambers and take a boat ride through the Glowworm grotto – lit up by thousands ... Read more
Location: Rotorua, New Zealand
Duration: 6 hours (approx.)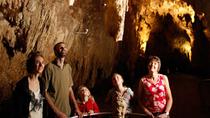 19 Reviews
Leave the city bustle behind to witness a fabulous light show at the Waitomo Glowworm Caves. Marvel at the shimmering glow worms in the caves as you learn ... Read more
Location: Auckland, New Zealand
Duration: 7 hours 54 minutes (approx.)