On April 25, 1915, in the moments just after dawn, nearly 20,000 soldiers from Australia and New Zealand stormed Gallipoli, Turkey. By the end of the day, over 620 Australian soldiers lay dead on the Turkish battlefield, and a campaign had begun that would claim thousands of lives over a period of nearly eight months. Collectively, the soldiers were known as ANZAC forces representing the two nations, and April 25 is a holiday representing all the members of the nations' armed forces who have fought while serving their country. 
On April 25, 2015, Australia will commemorate the 100th anniversary of that fateful morning at Gallipoli. While all state capitals will have separate events, the largest gathering will be at the Australian War Memorial in the nation's capital of Canberra. The events begin at 4:30am, where a solemn dawn service recounts the brutal realities of being at war. The larger National Anzac Day Ceremony begins at 9am, and at 4:45pm, the traditional "Last Post" service will feature a wreath ceremony and the singing of the national anthem. Crowds are expected to be large for the event, and visitors are encouraged to arrive early and come prepared with water and food. As a show of respect and commemoration, sprigs of rosemary are occasionally worn on the lapels of a suit or coat.
In Sydney, crowds of over 20,000 people are expected for the annual Anzac Day march through the city's central business district. For a moving and traditional start the day, attend the dawn service at Martin Place Cenotaph, beginning at 4:30am. For a more upbeat way to commemorate the holiday, and spend time as the soldiers once did, playing "two-up" in an Australian pub is a gambling tradition that dates all the way back to the soldiers who'd play on the ships. Essentially betting on heads or tails while flipping a coin in the air, the game is only legally allowed on a handful of national holidays, and large gatherings are held in The Rocks and The Coogee Bay Hotel. 
Elsewhere in Australia, from Melbourne and Darwin to Adelaide and Perth, similar services will be held all day from 4:30am. While Anzac Day and the role of the military was once a call for controversy, today there's resurgence in national pride that accompanies the 100-year-old holiday.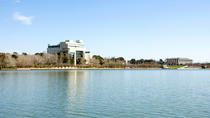 94 Reviews
Explore beautiful Canberra, Australia's capital city, on a full-day trip from Sydney. Visit famous sights including the Australian War Memorial, Parliament ... Read more
Location: Sydney, Australia
Duration: 13 hours (approx.)
46 Reviews
Enjoy this comprehensive day tour of Canberra, Australian's capital city. Travel south by coach from Sydney through the Goulburn region, one of Australia's ... Read more
Location: Sydney, Australia
Duration: 13 hours (approx.)