Ayers Rock – a pinnacle rock formation 280 miles southwest of the nearest town, in otherwise starkly desolate landscape - rises a sharp 348 meters (1141 feet) above the earth. At 3.6km (just over 2 miles) long, it's an impressive expanse that no other formation in the world can rival. Known for its dramatic presence and near mystical ability to change colors in varying degrees of sunlight, a trip to Ayers Rock is not to be missed, nor is it forgettable.

Named Ayers Rock by European explorer William Gosse in 1873, it wasn't until 1985 (112 years later) that the aboriginal significance and name-right was granted back to the decedents of the Anangu tribe. Thus Ayers Rock is now commonly referred to as its original name – Uluru, and it is precisely here where many sacred Anangu sites lie.

If you've come to this northern corner of Australia to see this rock in person, you won't be disappointed. From freshwater springs to rock caves to watering holes, to ancient paintings, there are plenty of ways to enjoy Uluru. Here are ten great ways to experience Ayers Rock (Uluru):

1) See the sunrise

Walking the base of Uluru at sunrise is one of the best experiences you'll have in Australia. The sun is just beginning to peek above the horizon and the colors that dance and play on Uluru are magical indeed. From charcoal to auburn to purple and then an iridescent red to finally the burnt orange it's famous for, the sunrise and sunset on Uluru are truly awe-inspiring.

2) See Uluru from Above

A visit to Uluru has its peaks and valleys – quite literally. See them all on a helicopter tour of Uluru where you'll be flown over this mighty structure and get an eagle-eyed view of the Australian Outback. You'll also get to explore Uluru's sister range, the Kata Tjuta (aka "The Olgas") formations. Known to look like little heads, these formations are distinct and majestic in their own right.

3) Have an Outback Barbeque

What better way to explore the famed Australian Outback than "putting another shrimp on the barbie?" Whether you're camping by yourself or decide to take a tour with optional barbeque you're sure to have an excellent time and enjoy some traditional Australian fare like soft rolls, kangaroo sausage, and sparkling Australian wine – a great respite from a hot day in the brush.

4) Sleep Under the Stars

There are few things more romantic than watching the stars come out at night under that big Aussie sky. Camping at the Ayers Rock Campgrounds or Resort makes this easy, whether you prefer open-aired tents or cabins. Though you can't actually sleep at the site, the nearby service town of Yulara is just a stone's throw away, snuggled between Uluru and Kata Tjuta, and has great amenities.

5) See the Rock Domes of Kata Tjuta (The Olgas)

Sister formation of the mighty Uluru, the rock domes of Kata Tjuta huddle together to form a cluster of large domed shaped formations and precipitous valleys. Kata Tjuta technically means "many heads" in the aboriginal language, for that is precisely what the numerous domes look like. Taking these trails during sunset or sunrise is particularly rewarding due to the interesting light play on the rocks, the reduced crowds, and the bird song that accompanies you on your hikes.

6) Learn About Aboriginal Culture

The aboriginal culture that surrounds Ayers Rock is remarkable. So holy are some of these sites that they are forbidden to be spoken about – their very knowledge to outsiders is verboten. Still, with the right guide you can journey into Cave Hill, the land of the Australian aboriginals, where you'll hear all about ancient customs, aboriginal creation folklore, see ancient rock paintings, and gain an intimate perspective on these indigenous people and their customs from real, modern-day aboriginals. Easily one of the most heartfelt and memorable experiences of any trip to Ayers Rock (Uluru), Cave Hill is just a short 4WD adventure away.

7) 4 Wheel Drive (4WD)Safari and Camping Adventure

Climb aboard your 4-wheel drive truck for an adventure in the Outback bush and explore the icons of central Australia by hiking, driving, swimming, in this amazing landscape. See Kata Tjuta, Kings Canyon, Uluru, and the West MacDonnell Ranges, sleep under the stars by campfire, and live like an Australian in the outback.

8) Kings Canyon

Often seen as a side attraction to Ayers Rock (Uluru), Kings Canyon is a fantastic trip in its own right. If you've made the long trip out to Ayers Rock, head back toward civilization through Kings Canyon. The walls of the spectacular canyon reach more than 100 meters (328 feet) above Kings Creek at the bottom.  The Aboriginal site has hiking trails of several lengths and difficulty levels, and is home to a variety of birdlife.

9) Sounds of Silence Experience

Part of the indelible charm of any visit to Ayers Rock (Uluru) is the pristine quiet of the desert landscape and the majestic beauty that seems to change color with the sun. To celebrate this, the Sounds of Silence Restaurant offers dining under the stars on white linen with candlelight. Sip champagne, enjoy a marvelous meal, and listen as the sounds of a didgeridoo fill the air.

10) Experience Nature

From walking the base of Uluru and hearing the majestic bird calls, to riding a camel on a sunset tour your experience with Ayers Rock and Uluru will be all the better when you're out experiencing Mother Nature. Dingos, monitor lizards, black cockatoos, eagles, wallabies, and more are out on the trails at Uluru. And this is, after all, the greatest part about any visit to Uluru – a chance to experience the wilderness like you never have before.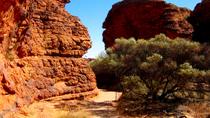 67 Reviews
Travel into the heart of Australia on a Kings Canyon day trip from Ayers Rock. Your journey takes you to a classic outback cattle station at Kings Creek ... Read more
Location: Ayers Rock, Australia
Duration: 12 hours 30 minutes (approx.)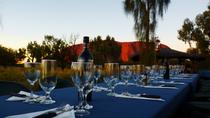 84 Reviews
Enjoy an Aussie-style barbecue dinner with views of Australia's most recognized natural icon, Uluru (Ayers Rock). Unwind with a complimentary glass of wine as ... Read more
Location: Ayers Rock, Australia
Duration: 3 hours 30 minutes (approx.)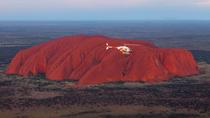 145 Reviews
Appreciate the sheer magnificence of the Red Centre, Uluru (Ayers Rock) and the stunning Kata Tjuta (the Olgas) formations from the air with your choice of ... Read more
Location: Ayers Rock, Australia
Duration: 60 minutes (approx.)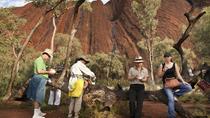 67 Reviews
Come and join your guide on a trek around the base of Uluru as you explore the most profound and culturally significant monolith in Australia at sunrise.
Location: Ayers Rock, Australia
Duration: 6 hours (approx.)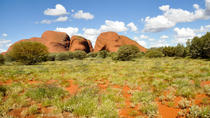 22 Reviews
Spend your days hiking, swimming and exploring, and sleep under the southern stars on a four-day Australian outback camping tour. Traveling by off-road 4WD ... Read more
Location: Alice Springs, Australia
Duration: 4 days (approx.)